Suction cup signs
Print better online!
Have suction cup signs printed
There is a very simple, clean and quick solution to attach signs to smooth surfaces: suction cups. So you can attach suction-cup signs to doors or whiteboards without leaving any residue and without drilling. Simply press on and you're done.
The signs can be used in many ways. Suction cup signs are popular for flexible signposting of rooms for training courses or for use as information signs when, for example, rooms at teaching institutions are occupied. A practical sign with suction cups can also be used at events, trade fairs or in sales. Here you can have suction cup signs printed at a low price.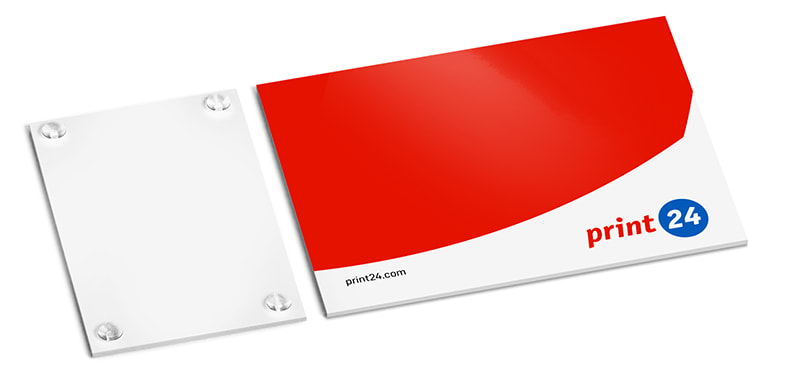 Robust signs made of polypropylene with practical suction cups
For printing, a 300 x 400 millimetre, 2.5 millimetre thick twin-wall sheet is available for your suction cup sign. The sign is made of tear-resistant polypropylene in a grammage of 450 gsm, which makes your boards very robust.
Thanks to the suction cups, no drilling is required, so you can use the entire surface of the sign for printing in the CMYK process. The four-colour process offers you maximum flexibility in your choice of motif. So graphics and photos can be printed on the signs as well as lettering.
For a solid hold, we use a suction cup on each corner of the sign. By pressing on, the boards can be attached in no time by vacuum and removed just as quickly. After removal, there is no residue on the surface. Thanks to the robust material, your suction-cup signs can be used several times without any problems.