Magnetic Stripe Cards
Print better online!
Product
Properties
Quantity
Delivery
Standard estimated by 20./21.10.2022
data
Transfer print data later
Selected product configuration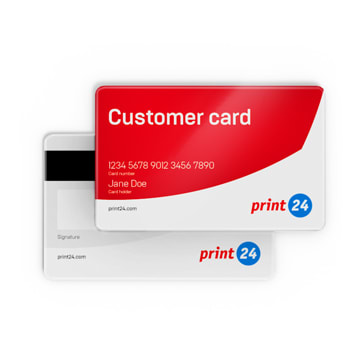 Magnetic Stripe Cards
Double-sided
85.6 x 54 mm Landscape
4/4-coloured CMYK
Laminated plastic gloss
Swipe cards
100 Pieces
1 Theme
Delivery in Greece
Estimated by 20./21.10.2022
Transfer print data later
Free print data check
266,13 € | 330,00 €
Net | Gross plus 4,80 € | 5,95 € Dispatch
Magnetic Stripe Cards
Double-sided , 85.6 x 54 mm Landscape, 4/4-coloured CMYK, Laminated plastic gloss, Swipe cards, 100 Pieces, 1 Theme, Delivery in Greece, Estimated by 20./21.10.2022, Transfer print data later, Free print data check
266,13 € | 330,00 €
Net | Gross plus 4,80 € | 5,95 € Dispatch
Have magnetic stripe cards printed
There is probably not a wallet today that does not have a magnetic stripe card in it. This is not surprising, as these cards can be used in many ways, e.g. as an access card at the fitness club or as a bonus card at your favourite bakery. Magnetic stripe cards are also very practical as gift cards or vouchers. At the same time, these cards can also be used for branding. Here you can have magnetic stripe cards printed with your motifs and with exclusive finishes such as holograms at low cost, in high quantities and excellent quality.
Practical credit card format for your magnetic stripe cards
We print your motifs and graphics on the 85.6 x 54 millimetre magnetic stripe cards. Please note the recess for the magnetic stripe when creating the print data. The cards can be printed in landscape format. Both sides are available for printing as standard. To give you the greatest possible flexibility in your choice of motif, we print in CMYK. This means that photos as well as company colours or logos can be printed on the plastic cards in high colour depth and brilliance.
Your card comes with a HiCo magnetic strip as standard. This allows you to use the cards as security cards or employee ID cards, for example. Thanks to the High Coercivity, data can be stored much longer thanks to the robust strip. The cheaper LoCo magnetic strips are ideal for hotel door keys. The abbreviation stands for "Low Coercivity", which corresponds to a lower flux density of the magnetic field. LoCo strips are particularly popular for applications with many write operations and frequently changing data.
Practical accessories for your cards with magnetic stripes
If you want to use an additional security feature, we can add a writing field for the cardholder's signature on the card. To attach the card, a round or slotted hole on the left-hand side is ideal. In this way, the magnetic stripe card can be attached as an access card to a yoyo, which you can optionally order from us.
To protect the magnetic stripe from scratches, soft PVC covers are available in addition to badge containers. These can be conveniently ordered along with metal clips for attaching the cards to jackets or shirts. The clips are available with a plastic or textile pocket.
For even more attractive magnetic stripe cards - our finishes
Get more out of your magnetic stripe cards with our finishes. You can have lettering or logos hot stamped in gold or silver. In addition, you can optimise the look of your cards with holographics in rainbow foil, making them even more exclusive. On request, we can add the globe symbol or a VIP lettering as a hologram foil on the left or right of the magnetic stripe card. A real eye-catcher for club cards or membership cards. If you want to number your cards, we recommend thermal transfer printing for consecutive numbers or barcodes EAN 128 also with consecutive numbers.
For an extra tactile effect, we can add gold or silver embossing to your magnetic stripe cards. Have magnetic stripe cards printed now - low prices, excellent quality with print runs of up to 50,000 pieces - print24.com!