Promo Products
Print better online
Sweet messages to your customers
With individually printed candies and fruit gums from print24 you send sweet messages to your customers.
Packed in high-quality metal cans and individually printed with your design, the candies from print24 are high-quality freebies that your customers also like to use in everyday life and thus increase the reach of your message.
The fruit gums are ideal for companies of all sizes and can be placed as a sweet surprise orders or designed as a perfect give-away with your advertising message at trade shows.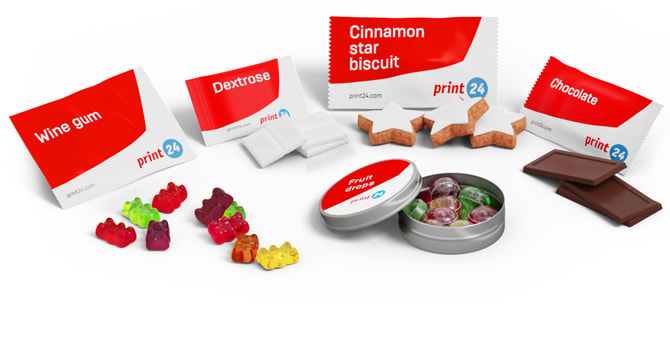 Practical helpers for everyday life in your design
Trolley Coins & Lighters are practical helpers that your customers often and happily use in everyday life. With print24 printed individually with your logo, you ensure that you stay permanently in the memory of your customers.
Trolley Coins as a key ring or in the chip holder are inexpensive advertising material and popular giveaways for a variety of occasions.
The lighters from print24 are not just popular giveaways for smokers. In addition to disposable lighters and electronic lighters are available that can be refilled environmentally friendly.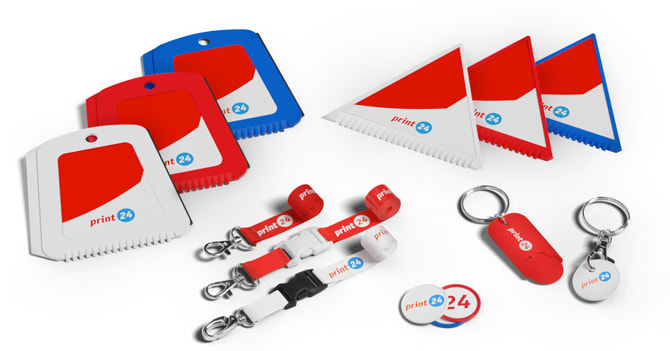 Exceptional promotional products not only for artisans
Individually printed rulers and folding rulers are exceptional advertising materials that will not only impress you as a craftsman. The rulers, available in three different colours and equipped with a 16 cm scale, can be individually printed on print24 from run 1 onwards.
The folding rulers from print24 are available in 2 different finishes. Made of plastic, individually printed with your logo and, depending on the version, also available in different colours, the yardsticks are an original advertising medium not only for craftsmen.