Desk calendars
Better print online!
Personalised desk calendars
A desk calendar is a practical assistant for your everyday life, both in the office and at home. That's why they are perfect as promotional gifts or to furnish your workspace or office. At print24.com, you can have customised desk calendars printed, with print runs starting at just one piece. You can choose from a wide range of finishing options for the cover sheet and a selection of premium papers for the calendar. If you have your print file to hand, you can start the configuration of your order right here online.
The desk calendar is a real classic. Whether it is on the counter at the chemist around the corner, in the customer area of ​​the garage or on the desk at the office, these handy calendars can be found on display everywhere. Custom printed, they are suitable as promotional gifts or for the furnishing of business premises. However, they are also perfect as personalised photo gifts to mark birthdays, anniversaries and Christmases. At print24.com, you can design your calendars according to your requirements and print them quickly and at low prices. There are two practical formats to choose from: 105 x 296 mm and 148 x 180 mm.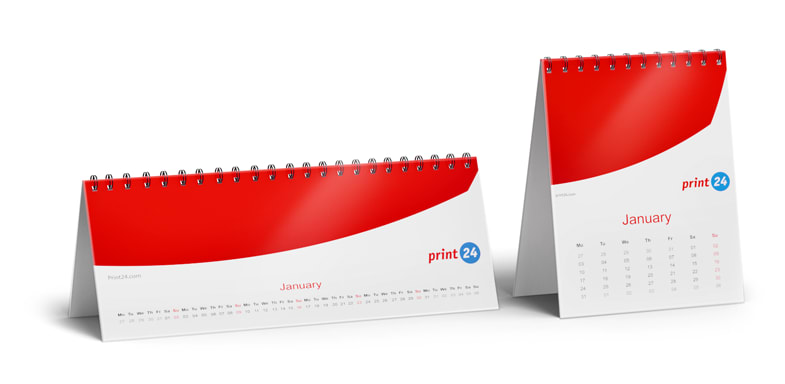 Your paper options for desk calendar printing
We can print your calendar cover sheet design on any of five different premium papers in different thicknesses. You can choose between three bright-white coated printing papers in weights of 135 gsm, 170 gsm or 250 gsm. Additionally, you could have your calendar printed on premium linen or premium ribbed paper, both in a weight of 120 gsm. The latter two papers are also suitable for printers.
The unprinted back cover of the calendar is made of robust cardboard with a triangular frame. A high-quality metal wire-o binding ensures stability. It is affixed to the top of the calendar and is available in white, black or silver. The desired version can be selected in the configuration menu.
Your printing and finishing options
We use the CMYK four-colour process for printing as standard. This means you can be very flexible in your choice of design; photos can be printed on the calendar in just as high quality as other graphics or logos. When it comes to individual text elements or the inclusion of your corporate design as a background element or discrete area of the printing surface, Pantone spot colours can be combined with CMYK printing. Simply select your desired colour in the configuration menu.
For an even more appealing look and feel, print24.com offers different finishing options. For example, you can emphasise individual elements of the design with blind embossing, hot-foil or hot-foil relief embossing. Relief varnish is also an option. The entire surface of the calendar can be given a UV surface varnish or a cellophane coating with a gloss, matt, soft-touch or linen structure finish. UV varnish can also be applied as a spot varnish.