Labels on rolls
Better print online!
Have Labels on rolls printed
Label on rolls offer retailers and manufacturers a practical way to quickly label products by hand or by machine. The stickers on the roll are just as suitable for labelling bottles as they are for machine labelling of mailing bags. In general, labels on rolls are always useful when many labels are needed at once.
At print24.com you can configure your labels on rolls directly online. All you need is a suitable print file. You select all details such as label size, design, print colours and shipping option with just a few clicks. We take care of the high-quality and cost-effective printing of your adhesive roll labels. You benefit from the flexible capacities of our print shop, where we can create up to 50,000 pieces per order for you.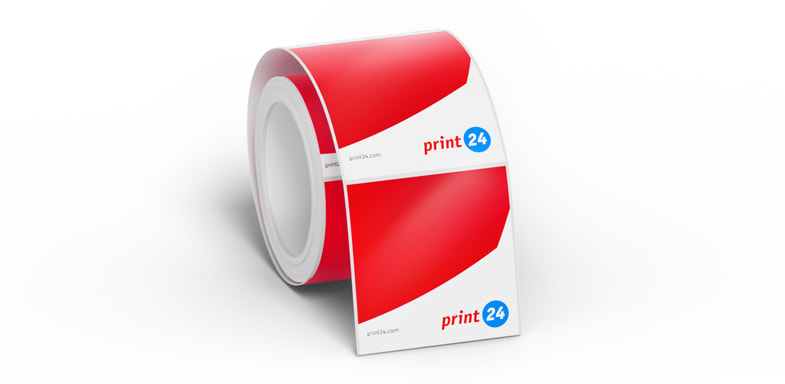 Wide range of formats for your self-adhesive labels
We offer 28 different formats of labels on rolls. The smallest format is square and measures 20 x 20 millimetres. These stickers are very suitable, for example, for sticking product information on packaging. If you want the adhesive labels to be a little larger, you will find seven more square labels up to a size of 275 x 275 millimetres.
Alternatively, you can choose rectangular adhesive labels, which are available as a practical roll. Rectangular labels are available in sizes from 20 x 50 to 280 x 500 millimetres. These labels can be printed in landscape or portrait format. Rectangular labels are great for labelling ingredients in bottles or packaging, or can be printed as shipping labels for returns.
Very practical are our labels in DIN sizes. They are available in DIN A9 to DIN A4 and are ideal when paper in DIN sizes is to be completely covered.
Round labels, which you can format in three sizes with us, with a diameter of 20, 50 and 80 millimetres, are suitable for warning notices.
Oval labels are something special. They can also be used for labelling bottles. The entire surface of the label can be printed. Please take note of the bleed on each side.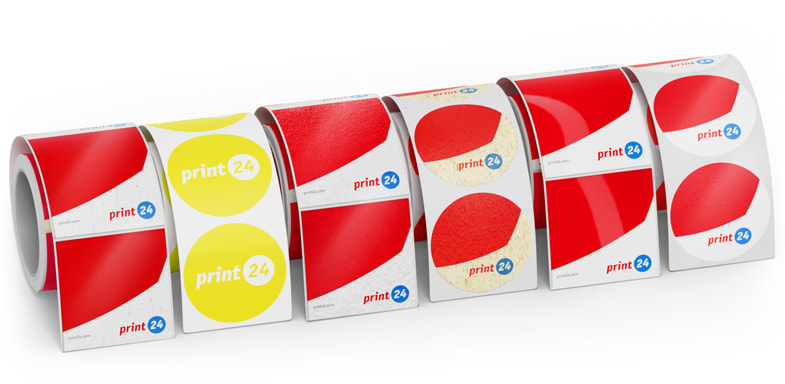 Various paper variants for your labels on rolls
If you want your labels to stand out not only visually but also haptically, felt-marked uncoated paper in white is a good choice. At the same time, it convinces with its naturalness. If sustainability is a priority for your print products, we recommend labels made of grass paper or our recycled adhesive paper.
Adhesive films are a classic choice. These can be used to create labels in neon green, neon yellow or neon red. Or you can choose the white, permanently adhesive film, which is characterised by a strong hold.
If you want the labels to be easily removable, configure your labels on rolls with removable, white adhesive paper. It is also available as a permanently adhesive version in white or opaque.
Depending on the paper variant you choose, you also have a choice of two attractive finishes with UV surface varnish or stabilising protective varnish.
Flexible CMYK printing process
If you choose neon labels made of adhesive film, simple black printing is the best option. On white foils or adhesive paper you can print photos, graphics and slogans with CMYK. This way you are flexible in your choice of motif. In addition, we offer printing with CMYK plus white. This allows you to design the background of the sticker in a homogeneous colour area and the text in white.
Depending on the format, we can apply the labels on rolls with the narrow or wide side first, according to your choice.