Sticker sheets
Better print online!
Printing sticker sheets
Stickers are versatile. As gift stickers they round off a gift wrapping, as collectible stickers they delight young and old. Stickers can be used for marketing purposes, or prices and other important information can be quickly stuck on products. No matter for what purpose you need your stickers and labels, we print them for you cheaply and in high quality on sheets.
We can produce up to 50,000 sticker sheets for you per order. So we have the right offer for all customers, for resellers as well as for large companies or private customers. Do you already have a nice motif at hand? Or would you like to print stickers with your company logo? Then configure your print job online here with just a few clicks.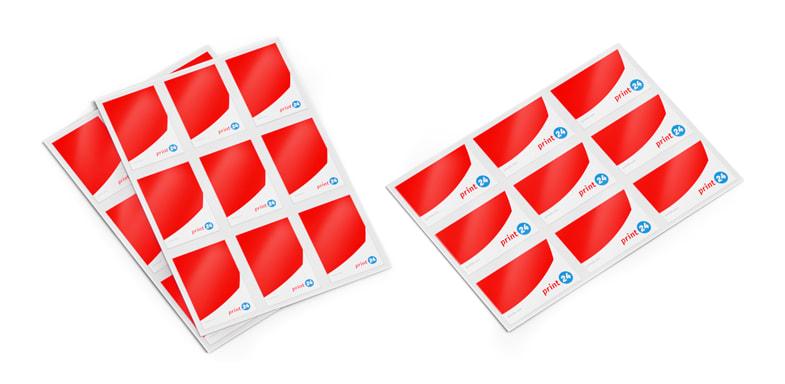 We print round, square, rectangular and oval stickers for you
We create stickers in over 20 different sizes. The oval stickers are very popular. They have long been used as car stickers for country codes, for example, but they are perfect for advertising because the special format is more eye-catching. With us, you choose the right size from three oval stickers. Stickers in DIN formats are also very practical. From DIN A9 to DIN long and DIN A6, we offer practical rectangular formats that are perfect as return stickers for online shops, for example.
Square stickers are available in five different formats from 20 x 20 millimetres up to 250 x 250 millimetres. If you decide on round stickers, there are three sizes from 20 to 80 millimetres in diameter. Rectangular stickers can be printed in portrait or landscape format. Depending on the size you choose, your stickers will be printed on A4 or A3 sheets.
Various paper options for stickers
Your stickers will become something very special if you choose felt-marked uncoated paper in white. This paper is not only visually appealing, but also convinces with its special feel.
If your focus is on sustainability, permanent grass paper is a good choice. Grass fibres are added to the paper, which come from mown public areas and not from fodder production. Our white recycled sticky paper is also sustainable.
A classic is the robust adhesive film in white, also permanently adhesive. The stickers in neon green, neon yellow or neon red provide colourful highlights. They are ideal for warning notices or effective advertising stickers, for example.
If you want the stickers to be easy to remove, choose white, removable adhesive paper. This option is recommended for gift stickers, for example. If you opt for permanent adhesive paper, it is available in white or opaque.
Get stickers printed in sheets with up to five colours
We print your stickers in black or use the CMYK process, which allows up to four colours. In addition, CMYK plus white is available. It is ideal if you want to choose a colourful motif and add white lettering.
Your stickers are printed on sheets in DIN A4 or DIN A3 sizes, depending on the sticker format you choose. After printing, the stickers are die-cut so that they can be easily removed from the paper and used.