Advertising Equipment
Print better online!
Great attention packed by hand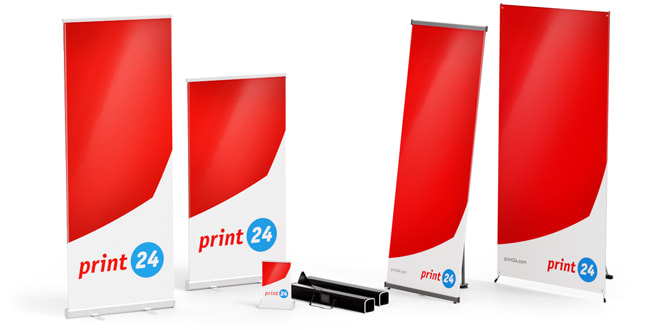 Whether at conferences, trade fairs or at the point of sale - with individually printed banners and roller banners from print24 you attract attention. Packed by hand in a practical carrying bag, quick and easy to set up and lightweight, they are ideal for mobile use.
Available in various designs, formats and materials, print24 also has the right roller banners, L-banner or X-banner for your application.
Robust large format for a super low price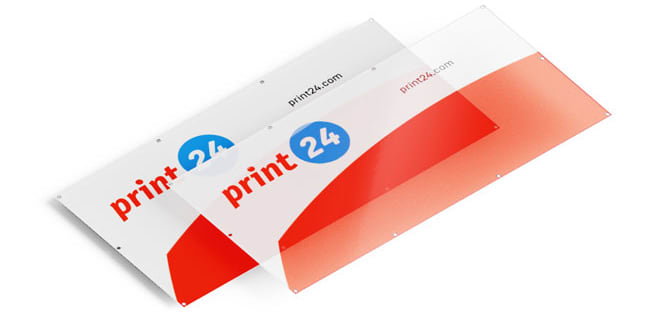 Durable PVC tarpaulins, air-permeable mesh or opaque blockout banners are classics of large-format advertising. Optionally equipped with eyelets, edge reinforcement and hemstitch, they are the ideal resistant advertising medium for outdoor weatherproof advertising.
The tarpaulins can also be easily attached using additional accessories such as eyelets and eyelet clamps. The B1 certification allows the tarpaulins to be used in public buildings or at events.
Impressive outdoor advertising with style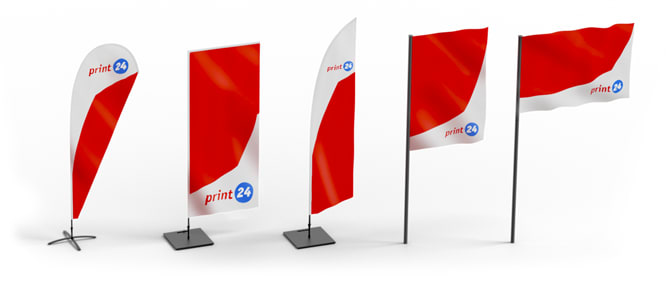 On the beach, as an eye-catcher in front of the shop or as large-format outdoor advertising in front of the company's location - printed beach flags and flags from print24 are individually applicable advertising media for attractive outdoor advertising.
The Beachflags are optionally equipped with a floor cross or a solid but heavy base plate and thus can be used both outdoors and indoors. Both beach flags and flags are B1 certified and thus comply with the fire protection regulations for use in public buildings or at events.
Your impressive appearance to take away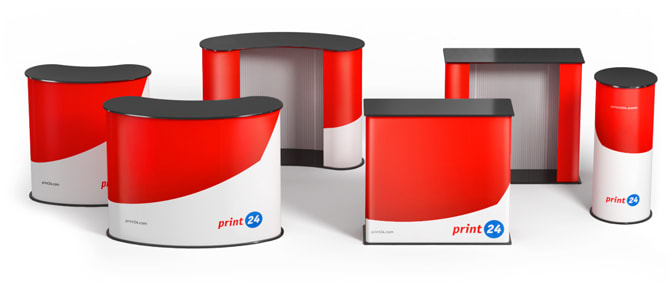 Counters and pop-up stands for your mobile trade fair stand can be printed at print24.
Straight, curved or round, made of sturdy PVC or fine textiles or with lighting - at print24 you will find the ideal counter and pop-up stand for a convincing appearance at trade fairs, promotions or at the point of sale. Handily packed in a practical carrying bag and quick and easy to set up, these are ideal for mobile use.
Many forms & materials for every purpose
Whether advertising signs, stand-up signs, license plate inserts, or wall cladding - at print24 you can print signs for any purpose.
Available materials such as lightweight foam, hard foam, corrugated plastic sheets, Aludibond and Plexiglas, many formats and freeforms and optional accessories for attachment such as spacers, wedge bars, plate holders, suction cups and feet, making print24 the ideal partner for the printing of individual signs.