Poster
Print better online
Poster printing
Posters and billboards are versatile advertising products that can be used for indoor or outdoor advertising, depending on the variant. At print24.com you can have posters for advertising pillars printed as well as large-size posters for large advertising placards, twin-wall posters for election campaigns and events or handy DIN A4 and DIN A3 posters for displays in universities or public buildings.
With us, you not only benefit from a huge selection of different formats and special formats, but you can also choose between many different paper variants, printing inks and finishes.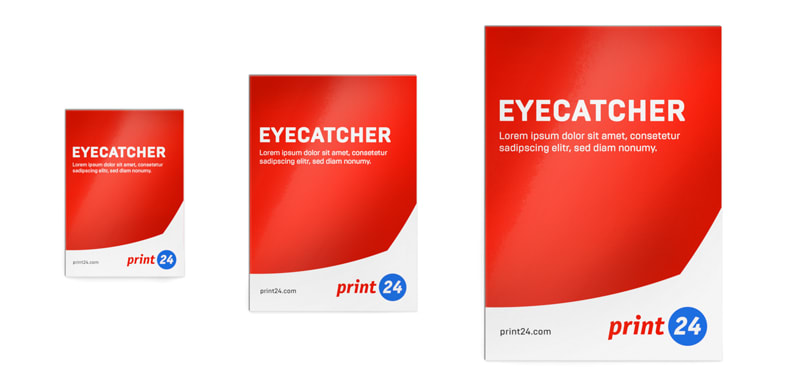 Print posters in many different formats
We print posters for you in different standard formats from DIN A4 (210 x 297 mm) to the 6-sheet billboard with 1,800 x 1,200 mm. For smaller surfaces, the sizes DIN A0 (841 x 1.189 mm) up to DIN A4 (210 x 297 mm) offer the perfect size. If you want to advertise on billboards, we can also print your posters in the appropriate format 4-sheet (1,524 x 1,016 mm) or 6-sheet (1,800 x 1,200 mm).
On request, of course, posters in special formats are possible. The printing of your posters is possible from just one piece. As a printing partner for large promotions, we are also suitable, because we can create up to 50,000 posters for you. If you opt for corrugated plastic posters, the formats A3, A2, A1, A0, B2 and B1 are available in portrait and landscape format.
Suitable paper for your posters
A very cheap, but at the same time eye-catching poster is possible with neon paper in 80 gsm thickness and the colours red, yellow or green. The budget area also includes posters made of offset and recycled paper. These papers have the advantage that you can process them yourself with a laser or inkjet printer.
If you want an optimised reproduction of images with more depth and brilliance, you should have your posters printed on coated art paper. This premium paper is available in five different thicknesses from 115 to 350 gsm and in glossy or matt finishes.
Only the Affichen paper is suitable for wet placarding.
If you want your posters to be more robust, we recommend the 400 gsm thick premium cardboard in matt.
STAFIX®STATIC is an adhesive-free 50 micron thick polypropylene film that adheres to virtually all clean smooth surfaces by means of a static charge. The material is easy to apply and remove without leaving any residue.
Refine posters during printing
You can have your posters refined with cellophane wrapping. This additional film is laminated onto the surface of the back or on the front and gives your posters additional stability. With gloss or matt you can also choose the right look. If you wish, we can also treat your posters with UV surface varnish to achieve a glossy effect.
Alternatively, only individual motifs or lettering can be highlighted with UV spot varnish or relief varnish. You can also combine UV spot varnish with a cellophane coating!
Various printing options also with special colours
We can print classic posters on coated art or offset paper in CMYK or black in combination with Pantone, gold or silver. It is recommended to choose special colours, especially for full or large-area ink application on larger formats. They guarantee an even colour image without large deviations.
With gold or silver you can highlight individual elements of your posters. This applies, for example, to concert announcements when the artist names are realized in gold or silver.
With the exception of affichen paper and twin-wall posters, double-sided printing is possible.
As a special highlight, we offer two options for printing gold or silver inks. First the classical method in offset printing and second in digital printing. With the latter, it is also possible to use with small print runs. Printing of Gold Digital/Silver Digital is done using metallic toner with special pigments that create a reflection. As a result, it is in no way inferior to offset printing and enables metallic effects even in gradations. With the "Gold/Silver Digital" option, four-colour printing can be enhanced with gold and silver at the same time! The luxurious silver and gold decorations complete your professional appearance. Whether delicate highlights or full-surface printing - silver and gold inks can mean the difference between just looking at and wanting to keep.
FAQ about product Posters
Are the posters suitable for outdoor use?
For outdoor use, we recommend the use of Affichen paper. The specially coated, white Affichen paper of the posters is wood-free, wet and alkali resistant. The reverse side is blue. It is particularly suitable for printing outdoor posters.
What effect do the posters have if there is adhesive residue from previous posters on the substrate?
In principle, it is optimal to place posters on fresh, unused surfaces. Since this is often not the case, the use of Affichen paper is recommended for outdoor advertising for this reason as well. Posters that are pasted over do not shimmer through due to the blue back of the poster paper.
When are posters delivered rolled and when plano?
That depends entirely on the quantity ordered. For small quantities, 25-30 pieces can be packed in a roll. Larger quantities, on the other hand, are delivered plano.
What are the colour values of the neon colours used in poster printing?
Neon red corresponds approximately to Pantone 805, Neon green Pantone 802 and Neon yellow Pantone 80
Is the poster paper waterproof?
The poster paper is not waterproof in the actual sense. For outdoor use, however, we recommend affichen paper as it is weather repellent. In contrast to conventional printing paper, affichen paper does not roll immediately when it comes into contact with water.
Is poster paper UV-resistant?
Again, no guarantee can be given here, as posters generally fade when they are exposed to the sun for a long time. However, the use of affichen paper is a good choice in this respect.
Which paper do I choose for display cases?
If the display cases are illuminated from behind, a picture printing paper or backlit film are recommended. The poster paper is blue on the back and would not allow the light to shine through well.
Which format is suitable for poster advertising, in outdoor advertising?
The A1 format is particularly suitable as a common format. Please note that larger formats such as A0 or larger may not be approved in all cities.
What is a 4-sheet poster? What is poster hoarding?
Posters whose overall appearance results from the use of several posters glued together. A 1-sheet, corresponding to 508 x 762 mm, is the basic format. All other formats are calculated according to the ratio of how often the basic format fits into the individual poster. A typical poster format is the 4-sheet (1016 x 1524 mm), which is equivalent to four 1-sheets in portrait format.
How do you attach posters to walls?
There are manufacturers who offer adhesives specially designed for poster paper. These adhesives can be used to soak affiche paper posters and then stick them cleanly and without creases onto fresh hardboard. For use under extreme conditions, adhesive strength enhancers and frost protection are also available on the market, which can be added to the glue.