Pop Up Counter
Better print online!
Have pop-up counters printed
Want to present your company at a trade fair or create a trade fair stand for one of your customers? Then leave the task of printing your pop-up counter to the pros at print24! Whether for trade fairs, sales stands, reception rooms or promotional stands, we allow you to configure and order the pop-up counter suited to your needs online. No matter in which design or configuration you order your counters - In a flexible curved shape, as a robust, straight promotional pop-up counter or with additional lights: our printed products are sought after by event organisers and advertisers alike. Because we meet all the standards for low-cost manufacturing and simultaneously high professional quality!
Need to set up additional check-outs at your shop in the lead-up to Christmas? Planning a special sale in a pedestrian zone and need another point-of-sale? Or want to sell your products at an event and need a mobile pop-up counter? We offer you the perfect product in all three cases with our printed trade fair counters! Robust yet versatile, you can move your point-of-sale wherever you need it. If you have any questions about the materials or shape, you can contact us by telephone 9-5 Monday to Friday!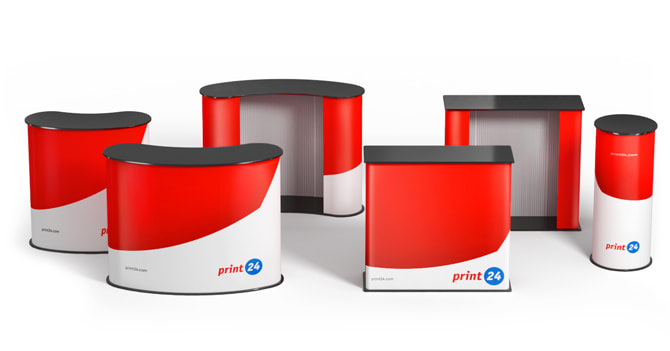 Straight , curved or round – our formats
At print24.com, you can order your trade fair counters online in different shapes. The straight counter is available as versions with PVC, fabric or backlight. The lightness of the first two makes them particularly suitable for mobile use, and their straight shape is perfect for placement in front of exhibition panels. The illuminated version has a backlight covering the whole surface of the pop-up counter and is wrapped with a special translucent fabric.
The curved PVC pop-up counter is always an advantage if it is at one location for a longer period of time, e.g. as a point-of-sale, or if you want to attract attention through its unique shape.
The round PVC pop-up counter, on the other hand, is particular suitable for small spaces and if you want to have close, barrier-free conversations with your customers.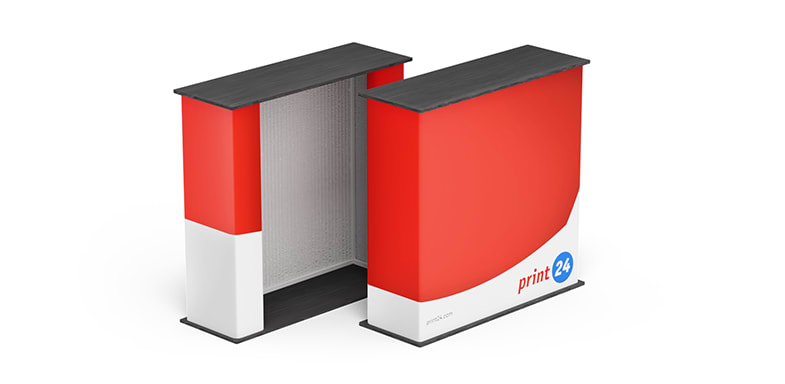 Counters PVC (Straight)
1000 x 930 x 400 mm, Print area: 1949 x 898 mm, 16.55 kg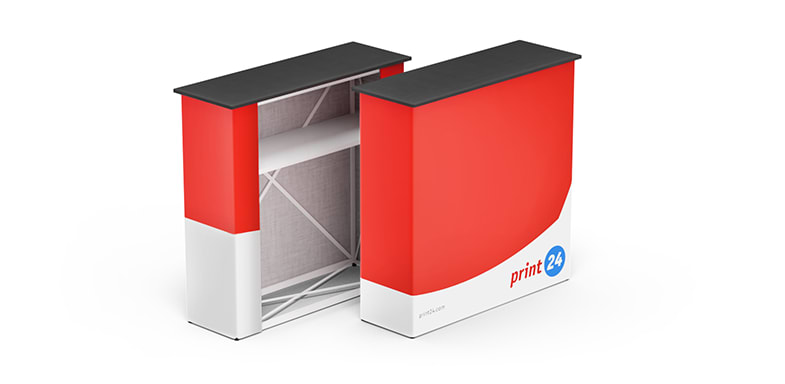 Counters Textile (Straight)
1000 x 1000 x 320 mm, Print area: 1060 x 1060 mm, 10.45 kg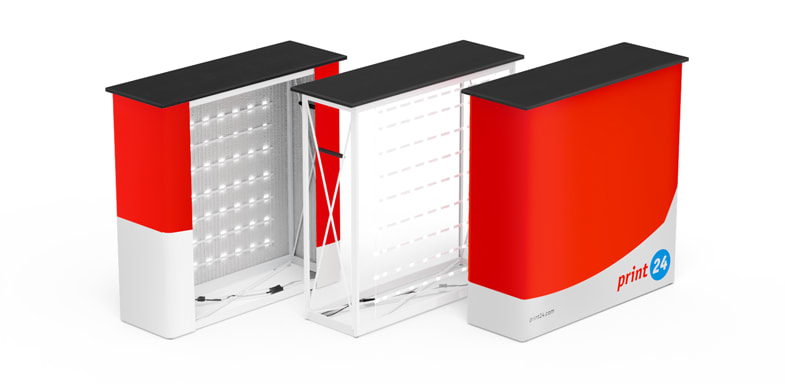 Counters Illuminated (Straight)
1000 x 1000 x 355 mm, Print area: 1060 x 1060 mm, 18.45 kg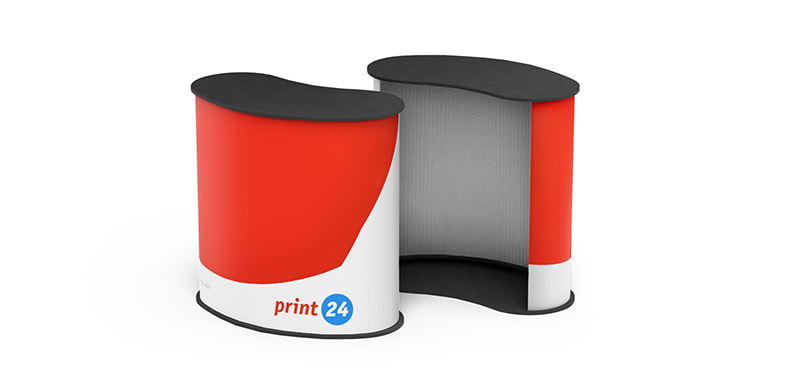 Counters PVC (Curved)
910 x 930 x 480 mm (Size M), Print area: 1855 x 898 mm, 15.75 kg
1200 x 930 x 480 mm (Size L), Print area: 2195 x 898 mm, 15.90 kg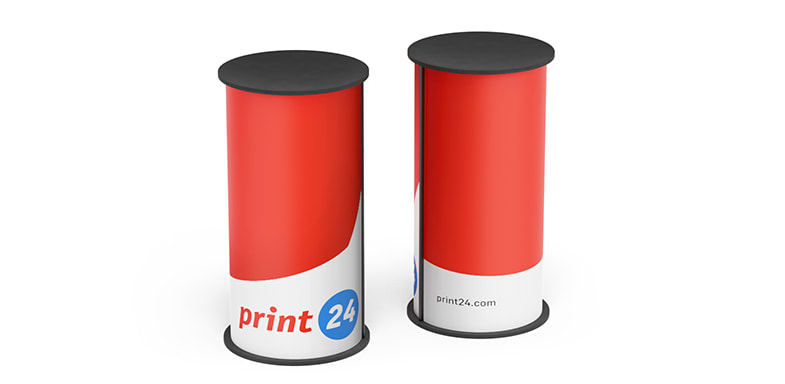 Counters PVC (Round)
450 mm round x 930 mm, Print area: 1280 x 898 mm, 8.50 kg
Flexible or fixed – the materials
To ensure your counters Textile remain flexible, we use Dekotex Stretch, a non-creasing display material which can be stretched without wrinkling. With a thickness of 220 gsm, it is particularly robust. The illuminated counters are covered with a non-creasing translucent fabric. It has a thickness of 270 gsm which makes it sturdy but still lets the light of the backlit-system shine through.
To achieve the best results we suggest covering the counter from all sides. For our PVC pop-up counters (curved, straight and round) we use 450 µ Solvent Polypropylene. This material is not only exceptionally dimensionally stable, but also scratch-proof, allowing your stand to cope even better with repeated assembly and dismantling!
Counter on its own as a print, or ready-made with fastening system
At print24.com, you can either buy your trade fair stand online as a complete set with print and fastening system, or select the print/system/accessories separately.
If you buy a straight counter with system (Textile or Illuminated), you'll receive solid rodding, a countertop made from light grey MDF, and shelving serving as storage space. The illuminated counter includes a backlit led-system, while the fabric counter includes a transparent shelf for storage.
The printed material is fastened using velcro. Once dismantled, these counters (Textile and Illuminated) can be transported in the practical carry bag. If you choose the solid PVC trade fair stand with fastening system (straight, curved, round), you'll get a black countertop and base plate with shelving.
The print on tambour pole wrap, is affixed to counter top and base plate by using magnetic tape. For easy transportation we provide bags with pockets for the two boards and a quiver a soft-case trolley for easy transportation.
High-quality print
To ensure your trade fair stand can maintain its impact for a prolonged period of time, we use premium printing inks which are applied to the respective material using the 4/0 CMYK printing process. You can count on our print products' excellent colour quality even with frequent use.
When creating the print file, observe the specifications in our data sheet. In this way you avoid unnecessary complications during printing and we can complete all tasks for you smoothly and promptly.
Accessories for counters
Accessories such as shelves can also be ordered separately from us if you wish to extend an existing counter. Depending on the type and size of the counter you can choose between:
Shelf plastic: Suitable for pop-up counter PVC (straight) and pop-up counter PVC (curved) size M
Shelf wood: Suitable for pop-up counter PVC (curved) size L