Pop-up towers
Better print online!
Printed pop-up towers
The pop-up tower has many names. It is also known as a marketing pillar, a pop-up advertising display column or a cylindrical folding advertising stand. However, its effect is unambiguous. Its size alone means that this advertising medium and trade show accessory is sure to attract attention. Here at print24.com, you can have pop-up towers printed at a low price. If required, we can also supply the appropriate presentation system and a matching lighting set. Do you already have your print file to hand? Then you can start configuring your print job here online right away!
What is the most space-saving way you can advertise while still drawing attention to yourself and your products at trade shows or at the point of sale? The pop-up tower offers a simple yet ingenious solution. The cylindrical folding advertising stands take up very little space and, because of their format, are very eye-catching. Includes a full LED light-set to distinguish yourself from the grey look of your competitors! If you have any further questions about this printed product and its possible uses, please feel free to give us a call or get in touch by email. We are at your disposal during our opening hours.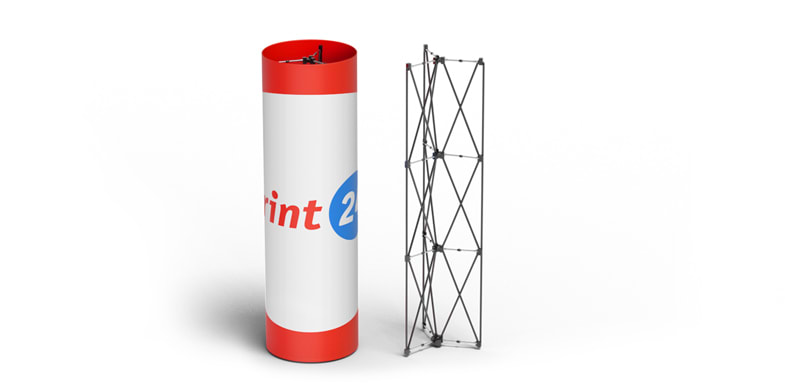 Huge format for maximum impact
With a pop-up tower, you have a fantastic 2,016 x 2,236 mm surface area available. That is more than four square metres for your advertising messages, information, slogans or images. The format specified here in the configuration menu corresponds to the available print area. When creating your print file, please make sure you include a sufficient bleed on every side that is going to be trimmed.
Order pop-up towers with or without a stand
At print24.com, as well as having pop-up towers printed you can also order the complete package including the stand if required. In this case, you can set up your tower immediately. Please note that the frame is delivered unassembled. If you already have the appropriate displays in the right format, you can also order just the stand from us online.
LED spotlight as accessory
You can order up to three additional LED-spotlights per pop-up tower. These spotlights are designed for PVC material of the tower and will get you the attention in a crowded exhibition. Just choose the required quantity in the accessory drop-down menu.
Robust material for your pop-up towers
For pop-up towers, we print your designs on 450-μm thick solvent polypropylene. This display material, with a crystal laminate, is especially dimensionally stable and scratch resistant. This means that you can easily use your pop-up tower for multiple trade show appearances.
Tried-and-tested CMYK printing for pop-ups
We print pop-up towers using the CMYK four-colour process. This allows the printing of lettering, logos, graphics and photos. Please ensure that your graphics have a sufficiently high resolution to avoid any pixelation of the print. You will find all the necessary specifications in the PDF data sheet. If you select the screen proof option, you will receive a digital preview of your pop-up tower. For a small surcharge, we will create a preview of your printed product.