Cardboard mailers
Better print online!
Cardboard mailers for online retailers and offices
Cardboard mailers are popular products for sending important documents, brochures or presentation folders. Whether in a law firm, tax office, architect, doctor or plumber's office, larger envelopes are needed in all industries and companies whenever larger documents are sent unfolded by post. In addition, due to their strong paper, cardboard mailers are suitable for online shops that send books or DVDs and CDs.
At print24.com you can individualise your envelopes or have them printed in your corporate design. Printing is possible from as little as 100 pieces. Start right here with the configuration of your print job!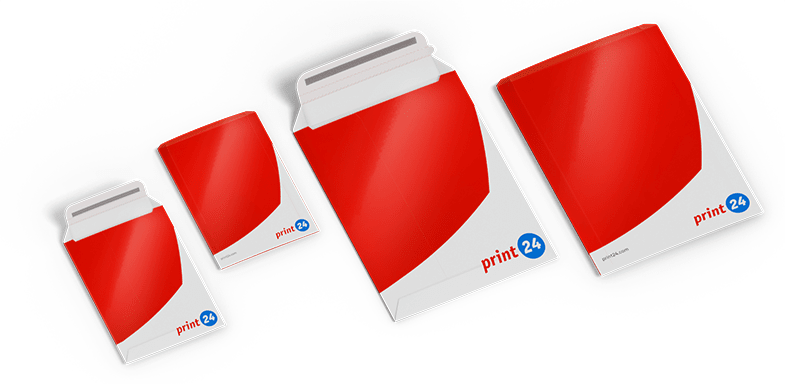 Formats for cardboard mailers
At print24.com you can create large envelopes in two different standard sizes. If you opt for DIN B5 envelopes, they measure 117 x 245 millimetres and offer space for an unfolded DIN A5 sheet. When we create DIN B4 envelopes, they have the dimensions of 248 x 346 millimetres after processing. This is sufficient to send DIN A4 documents unfolded.
All envelopes are produced without windows, so you can use the entire outer surface for printing. Printing always takes place in landscape format. Due to their height, print24.com mailing envelopes are also suitable for sending media such as DVDs, CDs or thinner books and magazines.
Robust chromo board for highest stability
We create your cardboard mailers from high-quality, 450 gsm strong chromo-sulphate cardboard. This makes your envelopes particularly stable and robust. In addition, the matt cardboard can be printed on very well thanks to its coating. Due to the large formats, a very large printing area is available for your motifs, your company logo or slogans.
Their sturdy mailing envelopes have a self-adhesive flap. To seal the item, a cover strip is pulled off and the flap is pressed on. The recipient opens the bag easily and cleanly with the help of a tear strip.
Proven printing process for flexible motif selection
We use the proven CMYK four-colour process for printing your cardboard envelopes. This allows you to benefit from a very high degree of flexibility in the choice of motif, as well as from high colour depth and attention to detail.
High-resolution photos, as well as detailed graphics, can be produced with CMYK. You should only bear in mind that there may be slight colour deviations with full-surface CMYK printing.
If you have any questions about your artwork and printing in advance, please do not hesitate to call our service hotline.