Wall calendar
Better print online!
Wall calendar printing
Even in the digital age, the good old wall calendar has lost none of its popularity. One glance is enough to quickly get an overview of the current month - without any cables or WLAN. In addition, the wall calendar offers the sight of a new appealing graphic, a photo or a motivating quote every month. It' s no coincidence that wall calendars are popular give-aways or Christmas gifts for customers in pharmacies or other businesses. At print24.com you can have your wall calendars printed as a reseller for sales, as a company and retailer for customer loyalty or as a private individual as a personal photo gift.
In our print shop we can produce up to 50,000 wall calendars per order for you. This means we have sufficient capacity for large marketing campaigns, e.g. before Christmas. Of course, printing is possible for as little as one calendar. This makes our offer also suitable for private individuals who want to give a personalised photo wall calendar as a gift.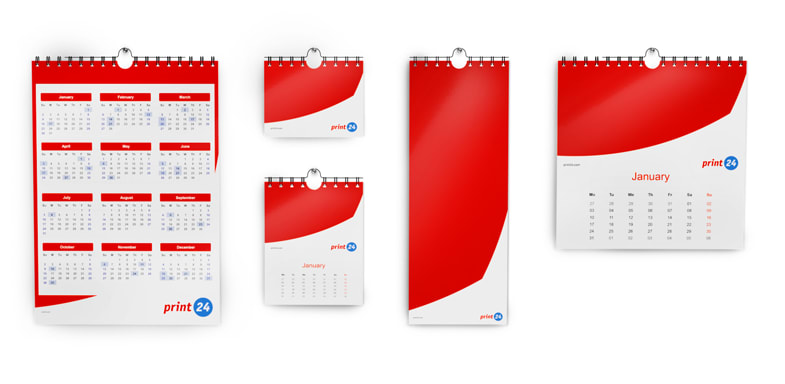 Wall calendars in various formats
With us you can create wall calendars in 14 different formats, including six DIN formats and four square sizes. DIN wall calendars in A4 or A3 are among the classics. If you opt for a DIN long wall calendar, you can send it perfectly to customers or business partners with a conventional envelope. The "maxi" is DIN A3 or DIN A2. Here you have plenty of space for your motifs. When choosing photos, make sure they have a sufficiently high resolution to avoid pixelation. Square wall calendars are something special because they deviate from the standard. They are also suitable as photo calendars.
All rectangular formats can be printed in both landscape and portrait format. The landscape format is ideal for using panoramic images for the calendar, e.g. of skylines, landscapes or the workforce. Our wall calendars are available with 13, 14 or 15 sheets. The additional sheets are suitable for either starting with the previous year so that the calendar can already be hung up at the end of the year. Or you can print an overview of all months on one sheet or use the 14th and 15th sheets to print the first month of the following year. Ultimately, you are free in the design and can use the sheets for your creative ideas.
High quality paper for calendar pages and back cover
At print24.com you can choose from eleven different paper variants for designing your wall calendars. Classic is the coated art paper, which is available in 4 grammages from 135 to 250 gsm.
If you want your calendar to be a little more premium, choose fine paper in the "linen" or "ribbed" version. Like the inexpensive offset papers in grammages of 130 and 250 gsm, our fine papers are also suitable for the printer.
If sustainability is your priority, grass paper and recycled paper are the first choice for your wall calendars. All papers can be configured in both glossy and matt finishes.
For the back board, you can choose from solid grey board or elegant 300 gsm chromo board. If you wish, we can finish the surface of your calendar pages with UV surface varnish. If you would like to give the back a special design, both sides can of course be printed.
CMYK and special colours for printing your calendars
You have the greatest possible flexibility in designing and printing with the CMYK four-colour process. This allows you to print photos as well as simple graphics in high brilliance and colour depth. You can combine CMYK with special colours such as HKS or Pantone. These colours are ideal if, for example, you have a defined colour coding for your corporate design. Then you can print your logos or company colours in true colours on the wall calendar. Silver and gold are ideal for highlighting lettering in a particularly elegant way.
All wall calendars come with a metal Wire-O binding. Conveniently select in the configurator whether the binding should be white, black or silver. It is best to choose the colour to match your calendar page motifs.