Brochures Perfect binding PUR Budget
Better print online!
Selected product configuration
Brochures Perfect binding PUR Budget
Brochures Budget printed online
If you want to print brochures at a good price, print24.com is the place for you. With this offer, you will conserve your budget while maintaining material and print quality. At a low price, you can choose from various types of paper, cover refinements as well as standard and special formats. Due to the great price-performance ratio our brochures Budget are excellently suited to print instruction manuals. Our customers also use the inexpensive print products with practical perfect binding for the cost-saving printing of guidebooks
Configure your inexpensive brochures with up to 1,400 pages here. Despite small prices, you do not have to do without service. Your print products will be produced and delivered up to 1,000 copies within five working days.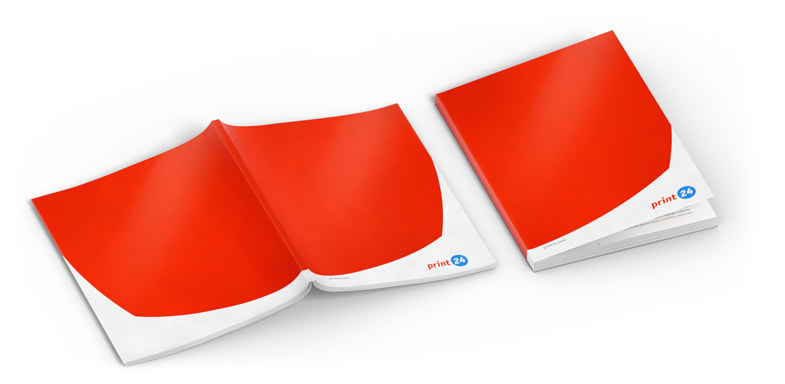 In which formats and orientations can brochures Budget be printed?
We have already made a preselection for you for the low-cost brochure printing. You can have your brochures printed in DIN A5 (148 x 210 millimetres) or DIN A4 (210 x 297 millimetres) in portrait or landscape format. Thanks to their handy format, DIN-A5 brochures are perfect for creating manuals. Even with a large number of pages, the books remain easy to handle. The DIN A4 format is ideal when illustrations should also be clearly displayed in operating instructions, for example for furniture assembly. Both DIN formats have the advantage that the booklets can also be stored in conventional folders or presentation folders. Of course, you can also select a special format for your brochures Budget at print24.com.
What is the difference between PUR Budget and PUR Classic?
Both versions are processed with a high-quality PUR adhesive binding, which offers longer durability and greater robustness. The only difference lies in the printing technology used: While the PUR Classic brochure version is produced using the classic offset printing process for orders of 500 or more, the PUR Budget version is produced using the digital inkjet printing technology. This makes PUR Budget brochures suitable for smaller, more cost-effective print runs.
What papers are available for the Brochures Budget?
You can choose from six different paper options for the content of your brochures. If, for example, you want to print very large manuals, you should rather use thin paper such as the 70 gsm coated art paper. This enables us, for example, to create catalogues with up to 1,400 pages for you. Even with 90 gsm thick coated art paper, volumes of up to 1,200 pages are still possible. The higher the quality and thicker the paper, the smaller the maximum possible number of pages.
However, especially with less voluminous brochures such as illustrated instructions, more stable papers are recommended anyway. For this purpose, we offer coated art paper with 115 and 140 gsm paper thickness. If the individual pages of the brochure are to be printed later, you should choose 80 or 100 gsm thick offset paper. Regardless of the paper selection, brochure printing starts at 40 pages.
PUR binding - a cost-effective alternative to staple binding
The PUR adhesive binding uses hot-melt polyurethane adhesive, which is processed at around 130 °C and applied to the back in its melted state. When cooled in the air, the bond solidifies and is then unaffected by heat and moisture. Since a back is required for gluing, this binding is only suitable from 40 pages. It is particularly suitable for gluing large runs and heavy papers. This adhesive binding is an inexpensive alternative to staple binding and is of higher quality than other PUR adhesive bindings on the market. Both binding technologies have advantages and disadvantages. Which one to use depends primarily on the later application.
Cover design and processing of your brochures Budget
With our brochures Budget you can design the covers on four pages. This means that the inside surfaces of the cover are also available for printing. The cover is printed on 200, 250 or 300 gsm thick coated art paper, which you can choose in matt or glossy. On request, we can also refine the surface of the brochure cover for these inexpensive products. With the full-surface application of dispersion varnish, the outer surface of your brochures is additionally protected. If we laminate the cover with matt or glossy foil, your brochures will be even more robust.