Compliment slips
Better print online!
Compliment slips printing
Compliment slips are more than just abbreviated DIN A4 sheets; they can be used to print flyers, invitations, promotional mailings or small menus. With its many different printing, paper and refinement options, print24.com offers you lots of ways to configure your compliment slips according to your individual requirements. With our printing inks alone, you can combine 25 special colours, incl. silver and gold, with conventional four-colour or black-and-white printing.
And with a minimum volume of just 25, our compliment slips are suitable for both business customers and private customers, who may want to send professionally printed invitations as compliment slips.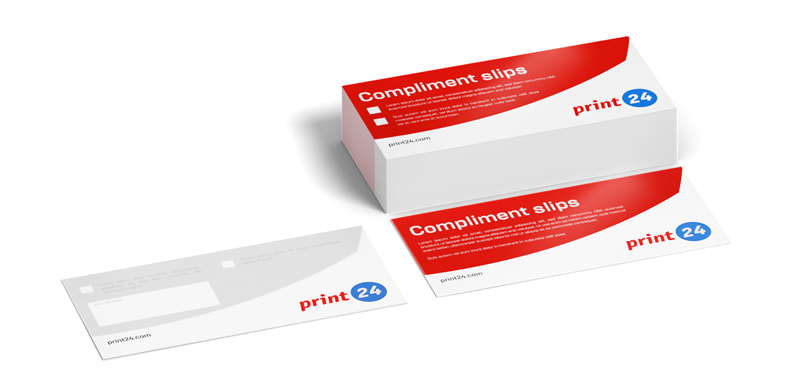 One third A4 – the classic compliment slip format
It has been established that compliment slips are generally a third of the length of a DIN A4 sheet, i.e. 100 x 210 format. This means they can also fit perfectly in a standard DIN Long envelope.
At the same time, the format ensures that short letters can also be used for many other purposes, such as flyers. We print your compliment slips in landscape as well as portrait format.
Get more out of your compliment slips – types of paper
At print24.com, you can choose from many different types of paper for your compliments slip in different grammages, so that you have the right material for every task.
We offer you the entire spectrum of a modern printing company, from the particularly favourable variant for flyers or advertising mailings to exclusive papers for invitations to banquets or weddings.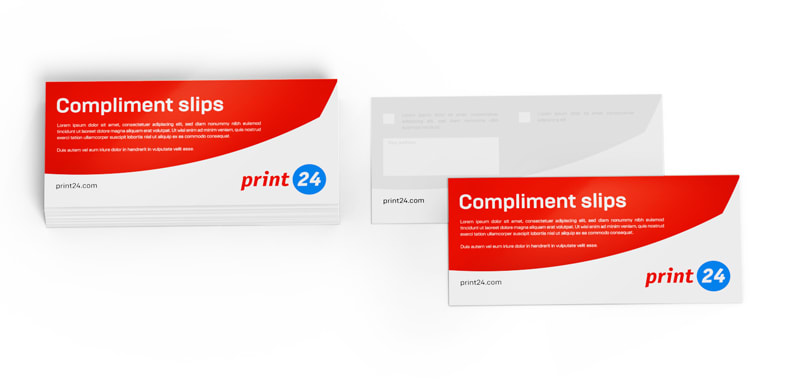 The wood-free offset paper is distinguished by very high whiteness and an even surface. It can be easily used in all conventional ink-jet and laser printers. The bright-white premium recycled paper is FSC-certified, and bears the "Blue Angel" environmental seal.
Choose from the following standard paper types:
80 gsm Offset
90 gsm Offset
100 gsm Offset
170 gsm Offset
350 gsm Offset
400 gsm Offset
80 gsm Recycling white
170 gsm Recycling white
300 gsm Recycling white
Premium papers are ideal for special events or promotional mailings where details are crucial.
When it comes to premium papers, you can choose from the following:
100 gsm Premium Chamois
300 gsm Premium Chamois
120 gsm Premium Ribbed
350 gsm Premium Ribbed
115 gsm Premium Bright white
340 gsm Premium Bright white
130 gsm Premium Linen
350 gsm Premium Linen
Your printing options – from simple to exclusive
We can print very simple compliments slips in black for you or we can also realise complex colour combinations for you. With the help of Pantone colours, you can choose from 25 special colours. They can also be combined with conventional CMYK four-colour printing as well as silver and gold. In combination with fine papers, you can create particularly attractive and exclusive compliments slips for your mail to customers or, for example, a wedding party! With print24.com you can have your short letters printed on one or both sides. You can choose from these combinations:
Black
Black + Pantone
Black + Gold
Black + Silver
As a special highlight, we offer two options for printing gold or silver inks - offset printing and digital printing. With the latter, it is also possible to use with small print runs. Printing of Gold Digital/Silver Digital is done using metallic toner with special pigments that create a reflection. As a result, it is in no way inferior to offset printing and enables metallic effects even in gradations. With the "Gold/Silver Digital" option, four-colour printing can be enhanced with gold and silver at the same time! The luxurious silver and gold decorations stylishly complete your professional appearance.
CMYK
CMYK/Black
CMYK + Pantone
CMYK + Gold
CMYK + Gold Digital
CMYK + Silver
CMYK + Silver Digital
CMYK + Gold/Silver Digital