File dividers
Better print online!
Product
Properties
Format For A4, 230 x 297 mm
300 gsm Coated art paper Matt
Lamination (Cellophane coating)
Quantity
Delivery
Standard estimated by 14./17.10.2022
data
Transfer print data later
Selected product configuration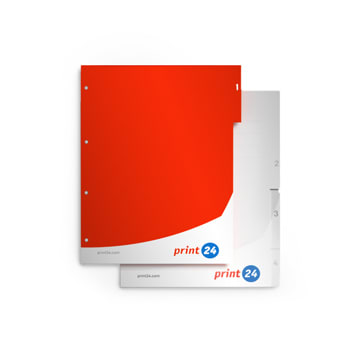 File dividers
For A4, 230 x 297 mm Portrait
300 gsm Coated art paper Matt
4/0-coloured CMYK
4-pieces
Double hole-punched
1 Piece
Lamination (Cellophane coating)
Single-sided Glossy
1 Theme
Delivery in Greece
Estimated by 14./17.10.2022
Transfer print data later
Free print data check
62,73 € | 77,79 €
Net | Gross plus 4,80 € | 5,95 € Dispatch
File dividers
For A4, 230 x 297 mm Portrait, 300 gsm Coated art paper Matt, 4/0-coloured CMYK, 4-pieces, Double hole-punched, 1 Piece, Lamination (Cellophane coating), Single-sided Glossy, 1 Theme, Delivery in Greece, Estimated by 14./17.10.2022, Transfer print data later, Free print data check
62,73 € | 77,79 €
Net | Gross plus 4,80 € | 5,95 € Dispatch
Personalised file dividers
File dividers don't always have to look the same! At print24.com, you can have your personalised dividers printed with your design. Whether for your shop, your office, or simply for your private folders, our online print shop is ready to take your order at any time. Choose how many dividers, how you want them punched, and your desired type of lamination. Then upload your file, place the finished item in the shopping cart, and start your order. Even during configuration, you'll be able to see when you can expect your printed dividers to be delivered to your desired address. Enjoy perfect value for money with print24.com, and order high-quality dividers easily online.
Folders often aren't enough to provide the necessary order when sorting and archiving. That's where paper dividers come in, allowing you to quickly locate all your documents again after they've been filed away. If you use a standard design for your office equipment, we can print this on the dividers for you. With the ability to go up to 10,000 sheets per order, we also offer sufficient printing capacities for large businesses. The outstanding printing and material quality means you can even use our print shop to create dividers when you want to sell these as customised items, allowing many small stationery shops to benefit from our service!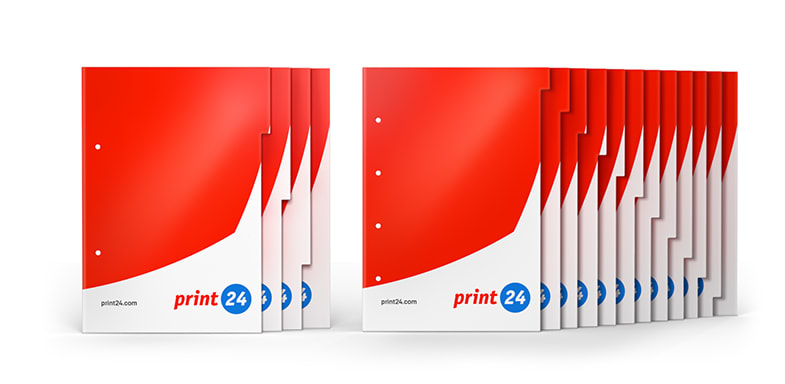 Dividers for DIN A4 format
print24.com manufactures your dividers for DIN A4 format, as 230 x 297 mm, making them suitable for filing in ring binders of the same format. Other, smaller sheets with the same punching can of course also be stored there.
Your print on strong, high-quality cardboard
At print24.com, we use high-quality matte coated art paper for your dividers. It has a solid grammage of 300 gsm. The paper's thickness is perfect for dividers, as it is high-strength without being so rigid that it affects page-turning. Depending on the type of folder being used, you can order your dividers with double or quadruple punching.
Want your dividers to be scratch-proof too?
To give your dividers the necessary protection, the paper comes laminated as a standard. You can then decide on the specific lamination properties. The matte style is plain and simple, while the glossy version is the most popular. Clicking on scratch-proof lamination in the configuration menu
Matte: Providing elegant, stylish understatement in your everyday office activities.
Matte, Scratch-proof: This refinement makes the dividers harder wearing and more robust.
This will give you added strength and robustness, and will make your dividers consistently flawless, even when the folder is in constant use. If you want a unique touch and feel, have your dividers laminated with a linen finish.
Glossy: Allowing your dividers to visually enhance your office.
Linen-finish: The classic linen finish looks varied, and is also practical.
Up to a maximum of 12 dividers per set, printed individually
You can order multiple dividers in sets, with the advantage being that each sheet can be printed with different motifs. For example, with the "12-piece" option, you can create each sheet with the name of the months and a matching image.
Depending on which setup is best for you, choose the corresponding sheet number quickly and easily in the configuration menu. The options range from 4 to 12 sheets, in single steps.
CMYK – A tried-and-tested printing process
We use the tried-and-tested CMYK four-colour printing process for your dividers. This gives you maximum flexibility when choosing your motif and text. The four basic colours can be used to create any desired colour directly while printing, while the high quality of our inks ensures your photos or high-resolution graphics remain true to detail, with great colour depth.
Please note, however, that we can only print one side of the dividers. Got more questions about your printing options, or want to know more about other print products available from our online print shop? Then don't hesitate to email or call us! Our friendly service team will answer all of your questions about our products!