Plastic sleeves
Better print online!
Personalised plastic sleeves
Plastic sleeves are an essential part of everyday working life for many people. Whether as practical, versatile holders for documents or brochures, as robust sheet protectors for filing, these sleeves made from strong film are used by doctors, business people, teachers and students alike. Here at print24.com, you can have your plastic sleeves printed with your own personal text or design, not only securing yourself top product quality, but also the best printing results at low online prices. As one of Europe's largest online printers, your plastic-sleeves orders will be handled professionally, regardless of whether you're buying one or 1,000.
There is no conclusive proof as to who invented the simple plastic sleeve used to store documents. What we do know, however, is that this invention has made office and business tasks a whole lot easier. These versatile, originally transparent items can be used to hold a number of different contents, from bills and important documents like contracts or certificates to delivery lists, bulletins or abstracts. What will you be using your plastic sleeves for? Here at print24.com, you can personalise this practical product, e.g. with your corporate design.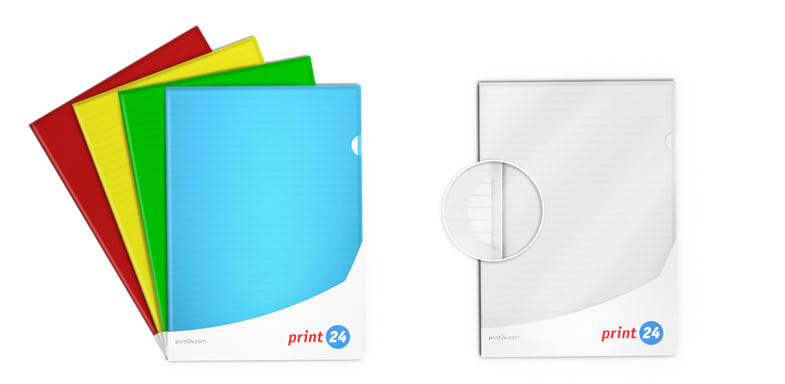 Printing sheet protectors or clear folders?
At print24.com, you can choose from two different types of plastic sleeves. The classic version is perfectly suited to filing documents away cleanly and safely in folders. These sleeves have a band of four punch holes on the left-hand side, allowing them to be easily used in ring binders.
Our non-punched, transparent sleeve-like folders are ideal for quickly gathering together documents to take to a short meeting. Our transparent sleeve folders are folded on the left for practicality and are open on the right and at the top. A solidly welded seam at the bottom keeps the documents safely inside.
Ideal for A4 sheets
Our transparent sleeves are perfectly designed for papers in DIN A4 format. The sheet protectors in 232 x 305 mm format can conveniently be filed in a folder. In addition to DIN A4 sheets, papers with smaller margins can of course also be inserted.
The printed clear folders work best with DIN A4 sheets too, which can be stored and transported optimally thanks to the dimensions of 220 x 307 mm. Smaller formats can of course also be stored there.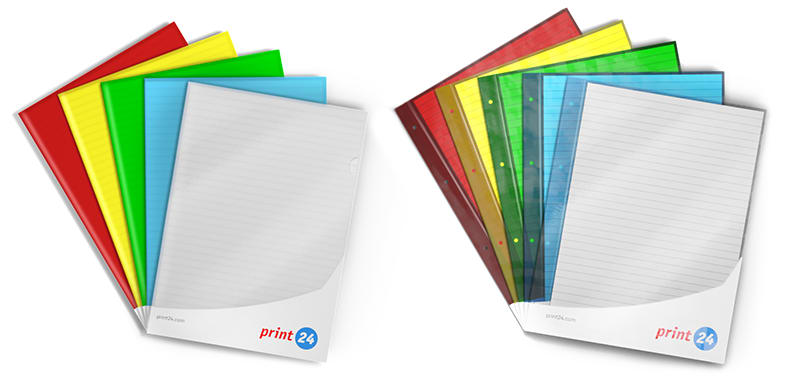 High-quality film in different colours
We offer plastic sleeves in six different colours, which you can print and order online. All sleeves are made from high-quality film, which perfectly protects your documents from marks and stains.
Clear film: This version is ideal for when you want to copy the documents inside without taking them out of the cover.
Frosted white film: This option is ideal if you don't immediately want everyone to see the documents inside the sleeve.
Blue, yellow, green and red film:
You can mark the contents with different colours, e.g. red for "particularly important" or green for "actioned". But it is of course up to you how you create your colour-based categories.
Your printing options for plastic sleeves
We can print your plastic sleeves or punched pockets on one or two sides. Choose from two classic, standard colours in black and white. Or if you want to add some colour, use the well-established CMYK four-colour process.
One-sided printing:
1/0-coloured Black
1/0-coloured White
4/0-coloured CMYK
When selecting your printing inks, however, bear your background colour in mind. Our service staff will be glad to help you choose the right colour option by telephone.
Below is another overview of all colour options available when printing plastic sleeves:
Front and back:
1/1-coloured Black
1/1-coloured White
4/4-coloured CMYK