Stickers die-cut
Better print online!
Order die-cut stickers online
Stickers are very practical print products that can fulfil a variety of functions. The right sticker can be used to stick notices on products, spread advertising slogans or label bottles. But die-cut stickers have the advantage, especially in marketing, that they can be distributed individually, for example. They are often used at trade fairs or events, but are also practical for election campaign advertising or private events such as weddings and anniversaries.
We can print up to 50,000 stickers per order. You can choose from different quantities in the configurator. So it is also possible to order individual cut stickers, e.g. as a special, personal gift or to compare different variants for a bulk order.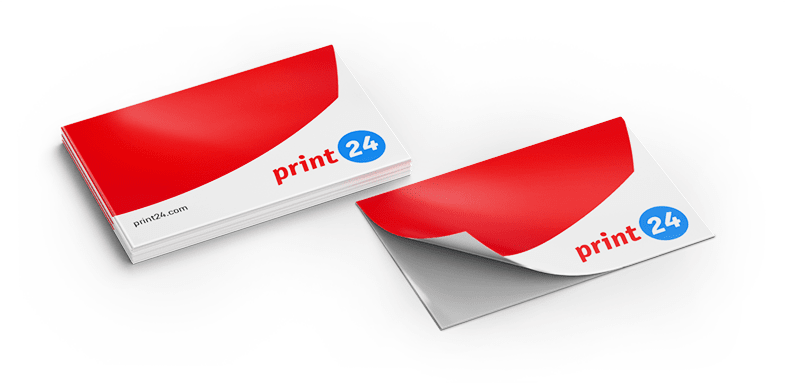 Your stickers cut in rectangular shape - ready to use
Die-cut stickers are available from us in many different formats. There are nine formats to choose from, including 8 DIN sizes from DIN A9 (37 x 53 millimetres) to DIN A3 (297 x 420 millimetres). The large stickers are ideal for covering larger areas, for example. Thanks to the practical DIN formats, folders or brochures can also be provided with a matching sticker over the entire surface, e.g. with the details of a specific branch of your company.
All stickers can be printed in both portrait and landscape format. When selecting, please note that a specific orientation can only be ordered for stickers on a roll.
Various paper options for stickers
Classic stickers are made of adhesive film. These products are available from us in white, permanently adhesive or in visually eye-catching neon green, yellow or red. Ideal colours to really stand out with the next marketing guerrilla campaign, for example. For customers with high demands on sustainability, we recommend stickers made of grass paper or recycled paper. Felt-marked stickers made of natural paper create a special haptic impression.
To mark packaging only temporarily with a sticker, it is best to choose removable adhesive paper. Transparent stickers with colourful lettering look very appealing. In this case, choose Opaque adhesive paper. You can also have die-cut stickers made of adhesive paper finished with UV surface varnish.
Proven CMYK printing for maximum flexibility in motif choice
We print your stickers in CMYK four-colour process as standard. This gives you the option of having photos, graphics, slogans, logos or other motifs printed in high brilliance. If you choose neon stickers, for example, printing in black is the best option.
You can also combine CMYK with white, e.g. to colour the background homogeneously and add a font in white. After printing, your stickers are cut to the desired size and delivered individually.