Ballpoint pens
Better print online!
Printed ballpoint pens
The ballpoint pen is, despite increasing digitisation, probably the most popular writing implement in the world today. Take advantage of this popularity and create promotional items that leave a lasting impression: have ballpoint pens custom printed. Your online printing company, print24.com, can print your slogans and advertising copy on pens at fair prices and in top quality. See for yourself: start your online print job here right now!
"Do you have something to write?" How often have you heard this question? It is often asked if a telephone number needs to be quickly noted down, but, just as frequently, the pen is employed for signing contracts or signing off invoices. Many people use ballpoint pens almost exclusively when they have to write something down. With custom-printed ballpoint pens from print24.com, you can offer your customers, business partners or trade show visitors the chance to always have a good pen to hand. Here, it's not simply about having "something" to write with, but a ballpoint pen with your slogan, logo or advertising message! Take advantage of this popular and efficient advertising medium for your business and have ballpoint pens professionally printed!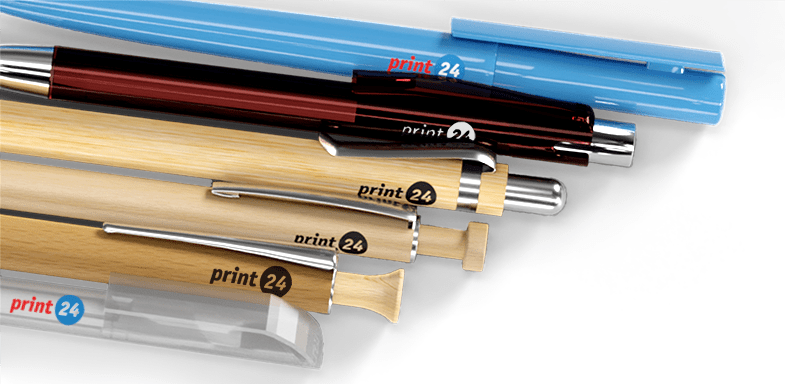 Different print areas for your advertising message
For printing your texts or slogans, the following printing areas are available on the shaft of the ballpoint pen:
The Simply and Touchscreen ballpoint pens can be printed with your motifs on an area of 45 x 5 millimetres respectively 40 x 5 millimetres. With the Silversurfer you have 30 x 6 mm surface available.
High-quality writing instruments with your personal imprint
The ballpoint pen is available in three versions: Simply, Silversurfer and Touchscreen. All three are approximately 14-cm-long plastic ballpoint pens that activate the nib by a click mechanism. The rubberised tip of the ballpoint pen Touchscreen can be used as a capacitive stylus while the nib is deactivated. All three versions have a soft-grip-handle and an ergonomic shape to ensure comfortable handling when writing. The ballpoint pens Simply and Touchscreen come with a blue X-20 refill, while Silversurfer has a big blue refill.
Thanks to a practical clip, the ballpoint pen can be attached to a shirt or jacket pocket.
The ballpoint pens are available in:
Simply: White/Blue, White/Red and White/Black
Silversurfer: Silver/Blue, Silver/Red and Silver/Black
Touchscreen: Blue, Red and Anthracite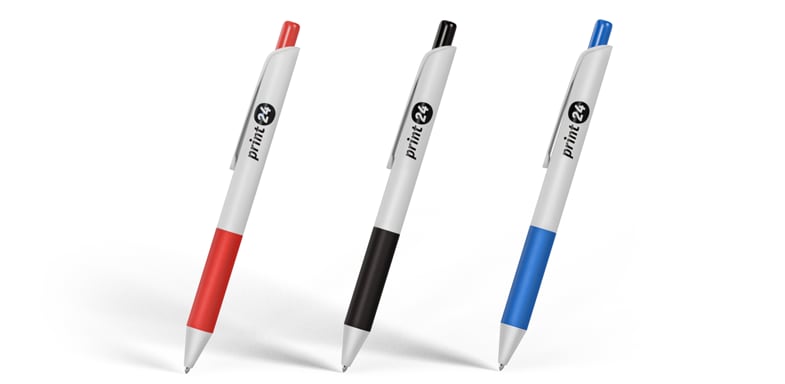 This is how the ballpoint pens are printed
The Simply and Touchscreen ballpoint pens can be printed in full tone or black. The Silversurfer can be printed in CMYK. The print is therefore 1/0-colour or 4/0-colour. If you opt for the special colours, you can choose from many strong and colourful shades. It is important that the colour selection for the print job is clearly defined and that the tonal value is 100 percent, for example "Pantone 295 C". For this reason, halftone values or colour gradients are not suitable for printing on ballpoint pens. Transparent areas are also not possible. With the proven CMYK four-colour process, you are very free to choose your graphics. From the photo over the slogan up to the logo we can print all possible pictures on your Silversurfer ballpoint pen.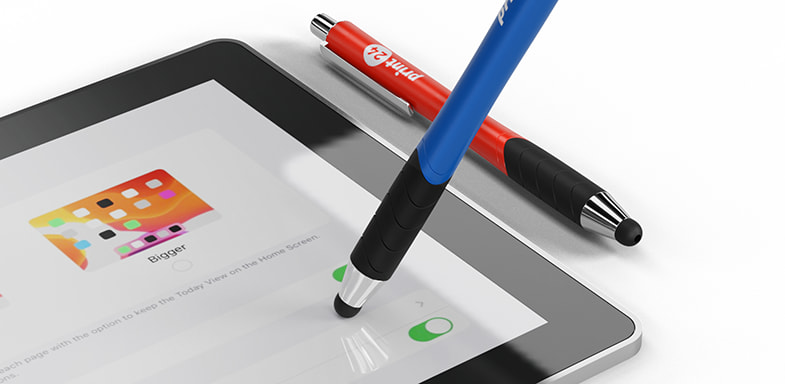 When creating the print file, make sure that you make the data available in PDF format. Text must be created as vectors. To ensure the best possible print result, lines must have a minimum thickness of 0.2 mm and the text itself must be converted into paths. Also, make sure that the font has a height of at least 1 mm. We recommend avoiding serif fonts because the serifs often do not appear on printed ballpoint pens.