Jackets
Better print online!
Have jackets printed or embroidered
Fleece or Softshell jackets and windcheaters are functional while also looking sporty and chic. Here at print24.com, you can have these jackets custom-printed or, if you prefer, custom-embroidered. Whether it is for trade shows, events or as promotional gifts, with us you benefit from jacket printing or embroidery in perfect quality and at low prices. Configure your order right here online!
Functional jackets are versatile jackets that can be worn when doing sports, at work or during leisure time. Their versatility makes these jackets perfect as an advertising medium because they allow your advertising message to be seen by a wide audience. At the same time, functional jackets like Softshell or fleece jackets and windcheaters make a great corporate uniform.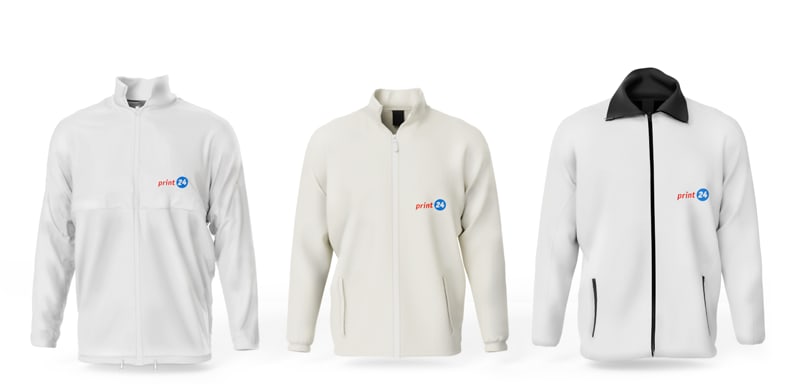 Custom-print windcheaters for events or as company outfits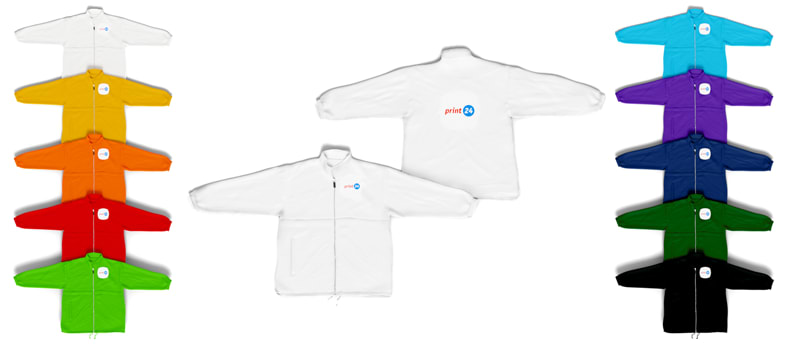 Windcheaters are highly functional: they repel water and are wind- and rainproof. At the same time, the garments are extremely light and, when folded up, can be easily stowed away. All this makes these jackets perfect for event teams who need to work outdoors. At print24.com, you can have your windcheaters custom-printed, for example with your company logo or simply the word "Crew". To print your designs onto the windcheater, we use tried-and-tested digital transfer printing. This allows us to use the CMYK four-colour process to reproduce photos, graphics or simply just lettering on the front or back of the jacket.
Our Windbreaker jackets have not only excellent characteristics but also many details, for example, a hood with velcro fasteners integrated into the collar. Furthermore, the Windbreakers have a full-length 2-way zipper with zipper drawstring and an adjustable waistband with elastic drawstring. The Windbreaker jacket can be folded and stored in an integrated pocket - this is not only practical but also space-saving!
Have fleece jackets embroidered for club members or as a promotional gift
Fleece jackets keep you warm when hiking or doing sports outdoors, or can serve as a practical leisure jacket. At print24.com, you could, for example, have fleece jackets embroidered for the members of an association or sports club. Equally, these jackets could be embroidered to create uniform clothing for sales or consulting teams. Tradesmen's businesses could also have this fleece clothing professionally embroidered for their employees. For example, it can look very appealing if a collar or cuff is embroidered with your company logo.
Our fleece jackets are made of 100% polyester and have a lined stand-up collar. The fleece jackets also have two zip pockets with flaps and elastic wristbands. In the shoulder area, the outer seams are a real eye-catcher, forming this classic half moon yoke at the back. In order to be able to adjust the fleece jackets individually, they also have an elastic cord on the waistband.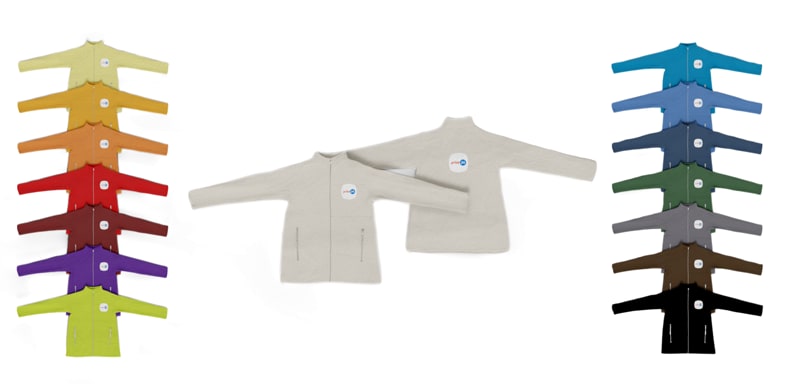 Have Softshell jackets printed for customers or employees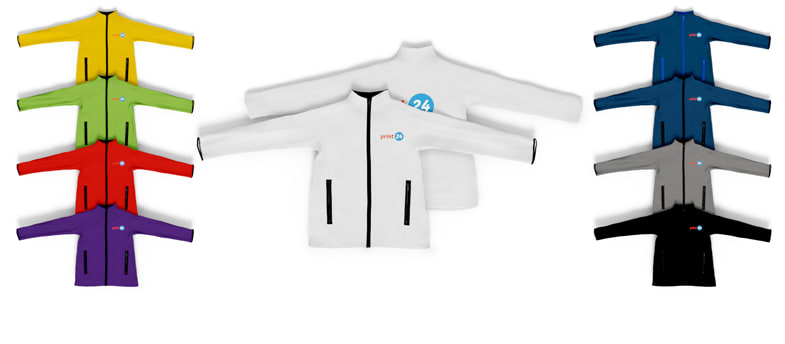 Softshell jackets are considered to be the classic outdoor jackets. If you have a roofing company or a domestic services company or work in horticulture or landscaping, Softshell jackets make perfect work clothes. If they are printed or embroidered with your designs, your employees will make a flawless impression. Likewise, you can use printed Softshell jackets as gifts for customers or as freebies.
For the printing of your Softshell jackets, we rely on high-quality products. The jackets are made of 100% polyester on the outside and 100% polyester Microfleece on the inside. They also have a full-length zipper with chin protection, zipped front pockets and elastic wrist bands. The decorative stitching completes the fashionable design of the Softshell jacket.
Wide range of sizes
For printing, we offer windcheaters in the sizes S to XXXL, for men and women. We embroider your designs on fleece jackets. The jackets are available in the sizes XS to 5XL for men and S to 2XL for women.
Fleece jackets Women
Small, Medium, Large, X-Large, XX-Large
Soft shell jackets Women
X-Small, Small, Medium, Large, X-Large, XX-Large
Windbreaker Women
Small, Medium, Large, X-Large, XX-Large, XXX-Large
The Softshell jackets available for printing come in the sizes S to 4XL for men and XS to XXL for women.
Fleece jackets Men
X-Small, Small, Medium, Large, X-Large, XX-Large, XXX-Large, 4X-Large, 5X-Large
Soft shell jackets Men
Small, Medium, Large, X-Large, XX-Large, XXX-Large, 4X-Large
Windbreaker Men
Small, Medium, Large, X-Large, XX-Large, XXX-Large
A huge range of jacket colours
Depending on which version you choose, you can choose from a variety of beautiful colours. Windbreakers are available in ten different colours. You can choose between 15 different colours for fleece jackets and nine different colours for Softshell jackets.
Soft shell jackets
Blue, Yellow, Grey, Green, Purple, Navy, Red, Black, White
Windbreaker
Blue, Yellow, Purple, Lime, Navy, Orange, Red, Black, Fir green, White
Please consider the chosen jacket colour when choosing your printing colours, so that your motif is shown to its best advantage. Simply choose the colour that best suits your needs.
Fleece jackets
Aqua, Beige, Blue, Burgundy, Brown, Greying, Purple, Lime, Navy, Neon yellow, Neon orange, Orange, Red, Black, Fir green
This is how we process your personalised jackets
Embroidery
While motifs are applied to surfaces by printing, embroidery enables them to be woven directly into textiles. This particularly durable embroidery, which is also resistant to washing and light, is particularly suitable for heavy-duty clothing, such as workwear. The use of high-quality yarn colours creates colour-fast and noble-looking embroidery designs. At the same time, a unique look and feel is achieved, which makes your clothing look exclusive. For your jacket embroidery, threads in up to 12 different colours can be used simultaneously. Pantone spot colours are available. So if, for example, you want to reproduce your company logo on the jackets, embroidery is a great choice.
Transfer printing
In the digital transfer printing process, motifs and fonts are printed in CMYK on a backing paper and then transferred to the fabric with a transfer press. Flat colours as well as the finest colour gradients, for example in photos, can be brilliantly represented. By printing on a white transfer film, colours are reproduced perfectly, as the background does not shine through. Furthermore, transfer printing is characterised by high contour sharpness and coverage. A further advantage is undoubtedly the independence of fabric and colour, which is achieved by transfer printing. Regardless of which textiles are printed, the appearance of the print is identical on every fabric.
Numerous placement options for your designs
We can print your designs onto the front or back of the jackets. For the placement of the print or embroidery area, depending on the product the collar, cuff or breast pocket are available.
Embroidery
Front - left or right:
100 x 100 mm
80 x 80 mm (ladies fleece jacket)
Neck: 80 x 50 mm
Simply select the desired position in the configuration menu. If you need any help with the selection, please feel free to give us a call or get in touch by email.
Transfer printing
Front - left or right: 100 x 100 mm
Neck: 100 x 50 mm
back: 250 x 150 mm