Towels
Better print online!
Have towels embroidered
Embroidered towels are perfect for hotels or dining establishments but are also a great gift for baptisms, weddings or births. Here at print24.com, you can have shower towels, guest towels and classic towels custom-embroidered in up to 12 colours. Start your order right here online with just a few clicks.
Embroidering towels, primarily for the household or for a girl's bottom drawer, was important a few decades ago. This tradition has been somewhat forgotten since then, but embroidered towels for the home are coming back into fashion. Guest towels embroidered with the family initials exhibit a simple, stylish elegance. At print24.com, you can have towels embroidered as a private individual or for a business.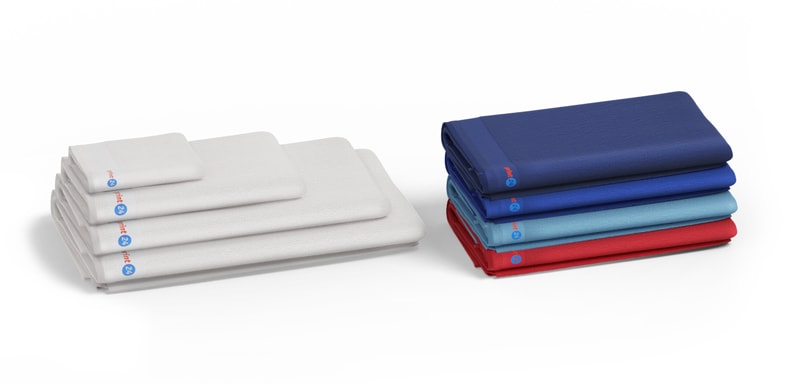 Embroidered towels for hotels or spas
Do you run a hotel, guesthouse or bed and breakfast establishment? Then, at print24.com, you can have the towels used in your business embroidered in your corporate design. We can embroider your guest towels or shower towels with your company logo or the lettering of your choice. Thanks to the modern embroidery technique, even multicoloured embroidery is possible.
The customised embroidery also lends itself to use in wellness locations, fitness centres or by physiotherapists. It will help you create a professional image, and you can pamper your customers with high-quality towels.
Embroider towels for weddings, baptisms or births
Towels embroidered with a child's name and date of birth make a very individual gift. For example, shower towels in this design are a perfect present for births or baptisms. Embroidered towel sets are also a very nice gift idea for weddings. Here, the first names of the bridal couple or their shared last name could be embroidered. Sayings or emblems also make good embroidery options.
High-quality material and excellent workmanship
You can choose between two materials for your towels: Frotee or Velour. Depending on the choice, different sizes and processing types are available in each case.
For the embroidery of your towels we use high-quality terry cloth made of 100% cotton with a thickness of 400 gsm. You can choose between a shower towel measuring 700 x 1,400 mm, a towel measuring 500 x 1,000 mm and a guest towel measuring 300 x 500 mm.
The products have a practical sewn-on hanger and can be machine-washed at 60°C. Please follow our washing instructions so that you can enjoy your product for a long time to come.
Velour versions are made of 50% cotton (absorbent back) and 50% polyester (front for printing) with a weight of 280 gsm. These are available as a 500 x 1000 mm hand towel, a 700 x 1500 mm shower towel and a 1500 x 2000 mm sauna towel.
We recommend machine washing the velour towels at 30°C and not using bleach. Please follow our washing instructions so that you can continue to enjoy your product for a long time.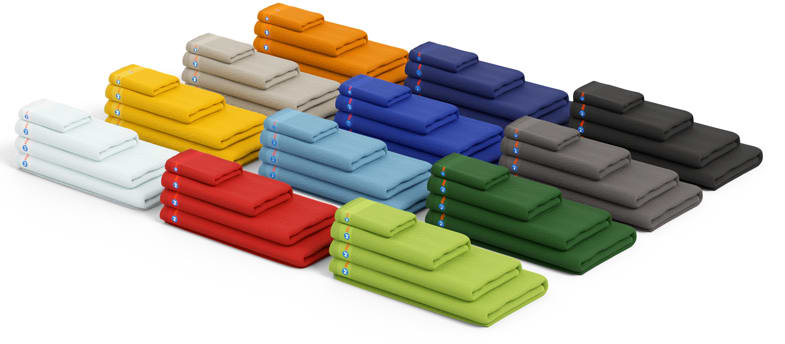 Strong colours for your towels
At print24.com, the towels can be embroidered or printed in various colours, regardless of the version selected:
Beige, Blue, Dark grey, Dark green, Yellow, Light green, Dark blue, Turquoise, Orange, Red, Black, White
Please consider the chosen towel colour when choosing your embroidery colours so that your motif is shown to its best advantage.
Modern embroidery in up to 12 colours
While motifs are applied to surfaces by printing, embroidery enables them to be woven directly into textiles. This particularly durable embroidery, which is also resistant to washing and light, is particularly suitable for heavy-duty clothing, such as workwear. The use of high-quality yarn colours creates colour-fast and noble-looking embroidery designs. At the same time, a unique look and feel is achieved, which makes your towels look exclusive.
At print24.com, you can choose up to 12 colours for the embroidery of your towels. Thread colours can be selected from the Pantone spectrum, so even complex graphics can be transformed into embroidery. We would be happy to help you further with your choice of colours. For information on how to create the colours for your order, please see the data sheet.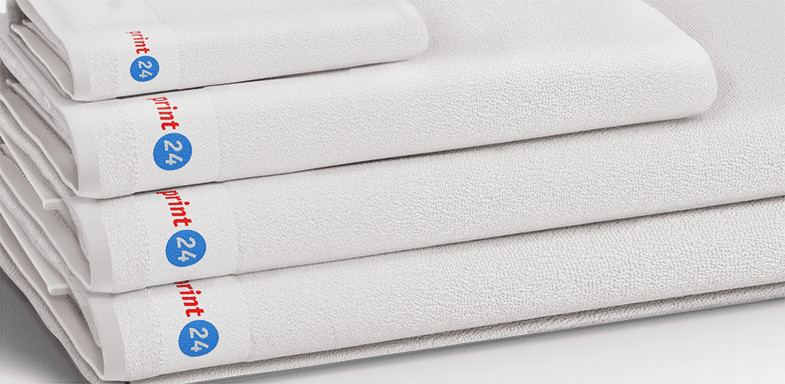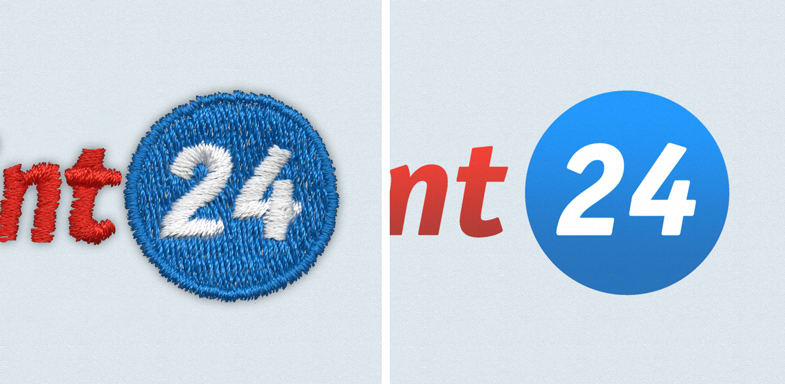 High-quality sublimation printing for excellent colour reproduction on fabric
With the digital transfer process, motifs and fonts are printed in CMYK on a backing paper and then transferred to the fabric with a transfer press. In transfer printing, flat colours as well as the finest colour gradients, for example in photos, can be brilliantly represented. By printing on a white transfer film, colours are reproduced perfectly, as the background does not shine through.
Furthermore, transfer printing is characterised by high contour sharpness and coverage. A further advantage is undoubtedly the independence of fabric and colour, which is achieved by transfer printing. Regardless of which textiles are printed, the appearance of the print is identical on every fabric.
Sufficient space for your personalisation
When embroidering, your motif is placed on the border of the Frotee towels. The area for embroidery measures 170 x 40 mm. This applies to the classic towels as well as the guest or shower towels.
You can have the velour towels printed over the entire surface of the front. This gives you enough space for your creativity and motifs.