Fabric banners
Better print online!
Fabric banners printing
Fabric banners are characterised by both their versatility and durability. Whether it is for advertising or decoration, or for inside or outside, fabric banners can be used anywhere. At print24.com, you can have fabric banners printed in many different sizes. Choose from various formats, as well as from individual special formats. You can configure your print job online with just a few clicks. Start right here!
Fabric banners are, like flags and beach flags, one of the many textile advertising products. However, while flags are designed exclusively for outdoor use, fabric banners are also suitable for indoors. Textile banners are popular with advertisers as well as with companies and private clients.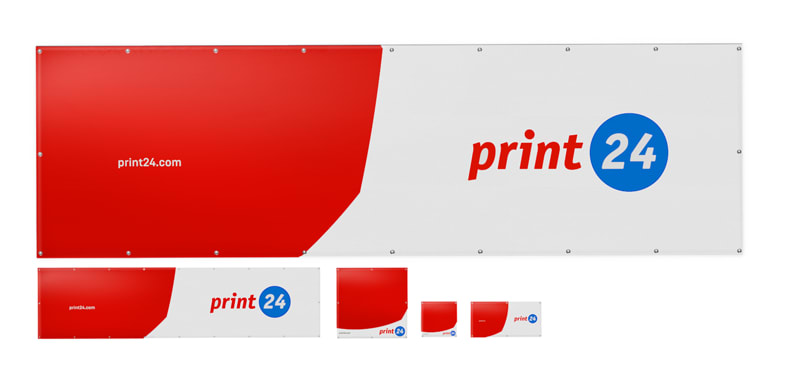 Various standard formats as well as special formats for your textile banners
At print24.com, you have versatile design options for your fabric banners. You can have standard fabric banners printed in sizes starting at 500 x 500 mm. The largest format has an area of ​​3,000 x 10,000 mm. The rectangular formats can also be designed in landscape or portrait format. For square designs, we offer the 500 x 500 mm or 1,000 x 1,000 mm format.
However, in addition to these standard formats, we can also print special formats in sizes from 500 x 500 mm right up to 3,000 x 10,000 mm.
If you have any questions about fabric banner printing, formats or delivery, please contact us by email or by phone. Our service team is looking forward to assisting you.
Robust fabric banners for outdoor or indoor use
We print your graphics, slogans and designs on decorative fabric with a weight of 185 gsm. The matt white material made of 100% polyester is B1 certified, crease-resistant, tear-resistant, elastic, does not fray and has a good lay flat quality. For better printing, it is also pre-fixed for sublimation. This means that these fabric banners are also suitable for use in public places or at public events. Thanks to their robust design, you can hang the banners outdoors.
In addition, we also offer the 220 gsm antiviral decorative fabric with HeiQ Viroblock® by CHT and the antislip coated decorative fabric with a gsm of 245 gsm. Both fabrics have the same properties as the traditional decorative fabric. Due to their special properties, both materials are also suitable as tablecloths, table runners or placemats.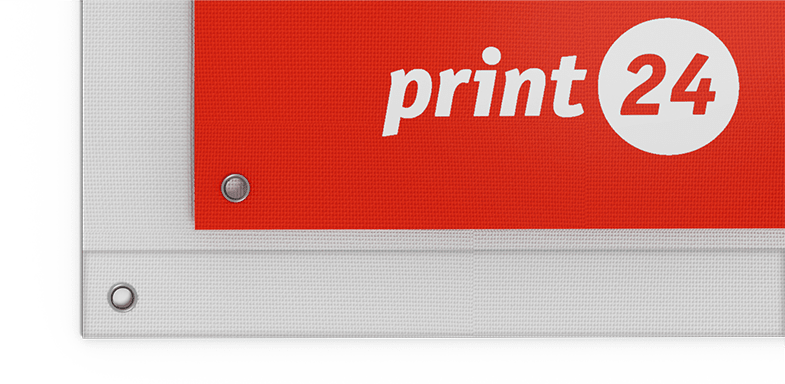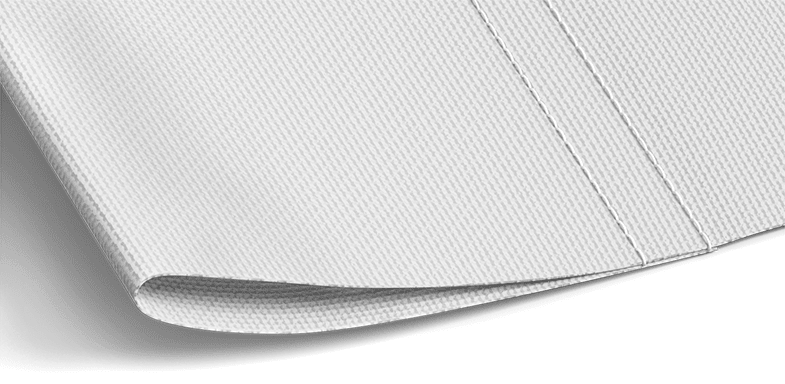 Processing after printing
Optionally, your textile banner can also be given a 10-cm-wide hemstitch along the top and bottom or left and right, allowing it to be mounted, for example, on rods. Another processing option is the fully hemmed edge reinforcement with 12 mm eyelets every 50 cm or metal bars made of steel at the top and bottom.
Have your fabric banners printed now - at a low price, quickly, professionally and in top quality. Order from one up to 100 pieces per order at print24.com!
This is how we print your fabric banners
By using print24.com's 4/0 CMYK four-colour printing process, you are also quite free in your choice of subject matter. We can print photos, as well as graphics, slogans and texts, in consistently high quality on your fabric banners. Due to the large formats, you should only use photos with a very high resolution to ensure that image definition is not lost.
When creating the print file, observe the specifications in our data sheet. In this way you avoid unnecessary complications during printing and we can complete all tasks for you smoothly and promptly.