Signs Aludibond
Print better online!
Signs printed on Aludibond
Are you looking for an elegant way to display your company sign at the company entrance? Or do you need signage that can be used multiple times? Then signs made of Aludibond are a very good choice. The impact-resistant products are weatherproof and can be used both indoors and outdoors.
Aludibond signs can be used for signposting systems at trade fairs or for consumer information at points of sale. But you can also use the signs in shops or at events. We print your motifs on Aludibond signs at favourable prices and in excellent quality. We create single signs as well as several hundred pieces per order.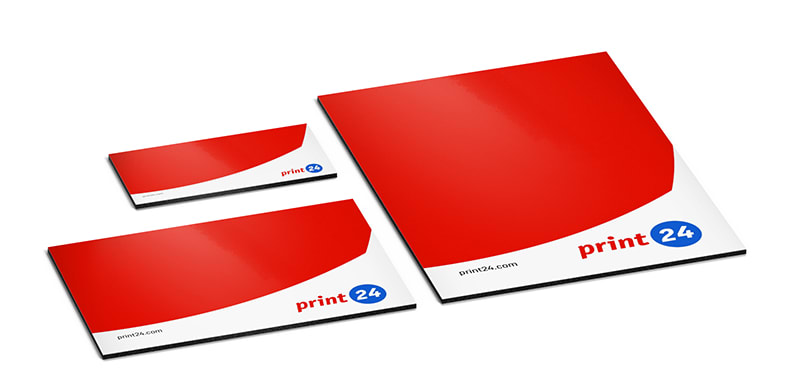 Aludibond signs for an exclusive look
An Aludibond panel consists of a composite material. The core of the panel is made of polyethylene and covered with a layer of aluminium. This surface can be printed with the appropriate technology. This gives motifs and lettering a matt, elegant appearance. We print Aludibond signs in a thickness of three millimetres and in over 20 formats from 100 x 200 to 700 x 1,000 millimetres (DIN B1). Special formats or free forms are also possible. The material has a density of 3,500 gsm and is weather-resistant.
On request, we can print both sides of your panels so that the signs can be set up with an aluminium stand and used on both sides. Alternatively, we can insert four corner holes. This gives you the option of permanently fixing your sign to the wall with screws. Suction cups offer a flexible solution that can be removed or attached to smooth surfaces in a few simple steps. With CMYK printing according to the Euroscale, many different motifs can be applied to the signs. We can produce your Aludibond signs for your company or event from just one piece.