Bottle tags
Better print online!
Printed bottle tags
Bottle tags are a popular print product among advertisers, though many wineries, oil producers and other manufacturers also rely on our expertise when it comes to printing bottle tags, as these are an attractive way to provide extra information on products. The only limits set when designing bottle tags are those of the paper format. You'll also benefit from the perfect combination of top quality and fair prices. No matter if you're printing 25 or 50,000 bottle tags!
Recipe ideas are a classic when it comes to bottle tags. We put your ideas on a 65 x 140 mm tag, which is then attached to bottles of water, wine, oil or spirits. For example, print the hip new cocktail on your tag if you want to make your spirits more attractive, or add a tasty recipe for a great salad to your fresh and tangy olive oil! The team at print24.com will ensure your ideas are printed in top quality. If you have any questions about printing your bottle tags, you are welcome to contact us on our competent hotline by telephone.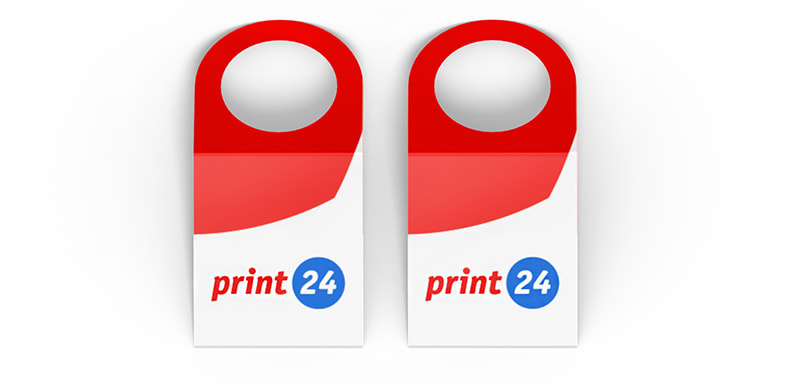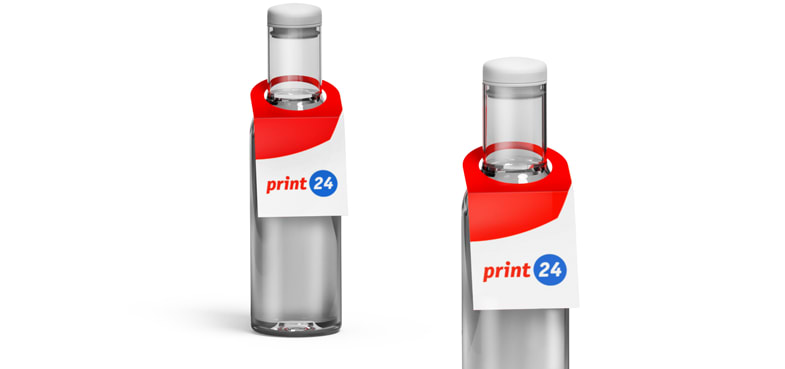 For vineyards or vegetable oil producers
It may also be worthwhile to print bottle tags for wineries, champagne producers and oil mills. For example, you can add extra information to your wine, detailing the growing regions or latest promotions. They work well for oil producers too, providing references to other oil products under the same brand. Whatever your reason for using bottle tags, we'll ensure they're printed professionally and in top quality!
A practical format – printable on one or two sides
There's no need to spend time experimenting with format selection when it comes to bottle tags. That's why we've pre-selected the 65 x 140-mm format for you, which we print in portrait style.
After printing, your bottle tags are punched and creased (flat). They are delivered to you unfolded.
Different types of paper for your bottle tags
When it comes to bottle tags, it's important to use strong paper. At print24.com, you can choose from various different types.
You can choose between picture printing paper from the inexpensive 170 gsm to 400 gsm for higher demands. A particularly robust variant is the 400 gsm premium board.
The classic papers for tags are the 350 gsm and 400 gsm offset papers.
Bottle tags made from refined paper
If you want to refine your bottle tags, print24.com gives you a variety of options, which in turn depend on your choice of paper.
UV varnish/Lamination: These two special refinement options not only give your bottle tags an attractive surface but also protect the print with an additional coating. Our 170 gsm, 250 gsm and 350 gsm coated art papers are ideal for this type of refinement.
Blind embossing/Hot foil flat embossing/Hot foil relief embossing: If you choose 250 gsm or 350 gsm coated art paper, we can give your bottle tags added textures. Amazing effects can be achieved in combination with special colours or gold and silver.
Simple and purist or elaborate and elegant: Your colour options
print24.com offers all the options of a modern print shop for single-sided or double-sided printing. If you want to keep your bottle tags simple, serving purely as labels, you can have them printed in plain black and white. But if you want added effect, you can use the special Pantone colours, as well as gold and silver, allowing us to create 25 special colours for you.
Combining different types of colours generates even more effects. The following combinations are available at print24.com:
Black, Black + Pantone, Black + Gold, Black + Silver
CMYK, CMYK + Pantone, CMYK + Gold, CMYK + Silver