Menus
Better print online!
Menu printing online
Menus are standard print products in the food and beverage industry. At print24.com, you can print your menus at low prices and excellent quality. Whether you need fresh and funky ice-cream menus for your ice-cream parlour, a classy menu card for your gourmet restaurant, or a large number of menus for your restaurant chain, we'll gladly take care of your order. You choose the design and quantity – and we'll get going! print24.com prints in small volumes starting at 25 menus, up to bulk quantities of half a million at a time.
An ice-cream menu is more than just a piece of paper listing various types of ice creams. Create an irresistible design with pictures of your most amazing sundaes to get your customers' mouths watering. With high print quality thanks to high-quality inks, we print your ice-cream menus in a manner which accentuates your photos and texts. Special colours and refinement options enable you to add more effects and stand out from the crowd.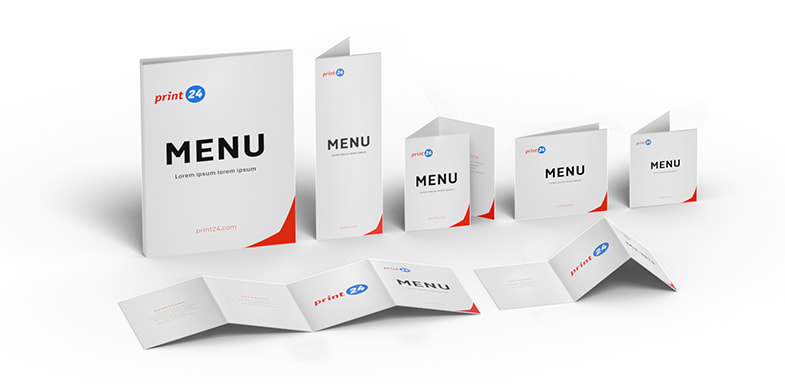 Many perfect formats for your menus
When designing your menus, print24 gives you seven different formats to choose from. You can perfectly print your food or ice-cream menus in standard DIN Long, A6, A5 and A4 formats. These menus can also be filed away in standardised menu folders. We additionally offer the following menu formats: 100 x 210 mm, 105 x 297 mm and 120 x 120 mm.
When selecting your format, please note that the desired format always refers to the closed/processed or folded product. For optimum results, create your print file with a 2-mm bleed. By the way: All formats can be printed both portrait or landscape.
Even more room for creativity with different paper types
Once you have decided on a format, you can make a decisive impact on the effect of your menus or drinks by choosing the right paper. All formats can be printed on the following paper types:
With coated art paper, you have a choice of various grammages, from the inexpensive 115 gsm to 350 gsm for higher demands. The offset paper is available in the classic versions of 80 gsm, 90 gsm, 100 gsm and 170 gsm.
Particularly environmentally conscious customers opt for the white 80 gsm and 170 gsm recycled paper because it is equipped with the Blue Angel certificate.
For more elegant menus, we recommend our high-quality coated art paper in different grammages. You can also configure your coated art paper menus with a glossy or matte finish online. If you want to be able to add further designs to your menus later on using conventional printers, e.g. as a template for your weekly menu, simply select offset or bright white recycled paper. The recycled paper has the Blue Angel certificate.
Your refinement possibilities
Paper finishes provide even more stability and protection. For example, protect your ice cards with cellophane lamination. This makes your products more resistant and therefore more durable. Depending on your requirements, this foil achieves a glossy, matt, velvety or linen-like surface effect. You can choose this finish for 170 gsm, 250 gsm and 350 gsm coated art papers.
You can achieve high-gloss and perspective effects with UV surface coatings. This surface refinement also makes the product resistant and protects it from scratches. This option is available for all coated art papers from 115 gsm to 350 gsm.
Your processing options
Print24.com allows you to gear your menu design around intended use. For example, if you choose 1 or 2-page printing, your menus will be cut to size. When it comes to 4-page printing, your product will feature a fold. In the case of the 6-page option, you can choose between a letter fold or concertina fold.
For the 8-page menus, we offer you a double parallel fold, 3-break letter fold or 3-break zig-zag fold. Not sure which one's for you? We will gladly answer all your menu-design questions by telephone!
Your printing options – with special colours, if you wish
When it comes to printing ink options, it doesn't matter which type of paper you choose, because print24 allows you to enjoy its full range. We offer both classic black printing, as well as the contemporary CMYK four-colour process. The special feature here is that you can combine both black printing and CMYK with special colours such as Pantone. We also offer gold and silver for special colour effects. Depending on the configuration, this gives you 25 special colours to choose from!
As a special highlight, we offer two options for printing gold or silver inks.
First the classical method in offset printing and second in digital printing. With the latter, it is also possible to use with small print runs. Printing of Gold Digital/Silver Digital is done using metallic toner with special pigments that create a reflection. As a result, it is in no way inferior to offset printing and enables metallic effects even in gradations. With the "Gold/Silver Digital" option, four-colour printing can be enhanced with gold and silver at the same time! The luxurious silver and gold decorations invite you to touch, marvel at and browse the pages and stylishly complete your professional appearance. Whether partial or full-surface printing - silver and gold inks can mean the difference between just looking at and wanting to keep.