Placemats
Better print online!
Placemat printing
Placemats don't necessarily have to be made from plastic or cloth to look stylish. Paper placemats allow you to provide your guests with additional information, surprise them with great motifs, or inform them about desserts and events. At print24.com, we create your placemats in batches ranging from 25 to 50,000, so both private and business customers can benefit from our high product and printing quality, which we can combine with fair prices thanks to modern, efficient printing processes.
Paper placemats are ideal for dining establishments. Since you can use a new paper for each guest, these placemats are not only visually attractive but also very hygienic. For example, it can be very practical to print your restaurant's or bar's entire menu on the mat, as this allows guests to choose directly what they'd like to eat without separately asking for a menu. It is also possible to advertise delicious desserts or additional services like a smokers' lounge or upcoming events on the mat using relevant photos. And you can of course also print special placemats for children; they're ideal for doodling or puzzles. Regardless of the options and motifs you choose, we'll be glad to cater to your requests! Just contact us during our service hours, and we'll assist you further!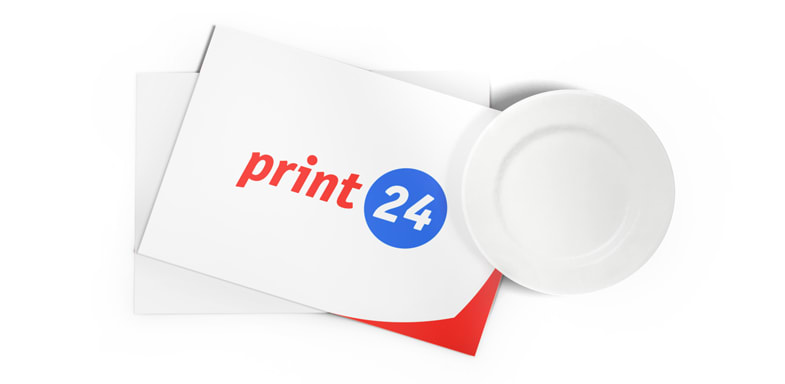 Standard format with lots of space for your motifs or texts
If you choose to print placemats at print24.com, the DIN A3 (297 x 420 mm) format will automatically be selected.
We print the paper mats in landscape format, creating the perfect size for plates, cutlery and glasses to be placed on them.
Your paper options – perfect for further designing
The recycling and offset papers are suitable for use in conventional printers, so individual sheets can easily be personalised with your own prints later on. The offset paper is FSC-certified and wood-free. It is characterised by a high degree of whiteness, as well as a very smooth, even surface. Environmentally friendly customers can choose the high-quality premium recycled paper which has been certified with the "Blue Angel" environmental seal. With our high-quality coated art paper you have the choice between a glossy or matt refined surface.
We print your placemats on different types of paper:
80 gsm white recycled paper
90 gsm offset paper
115 gsm coated art paper
135 gsm coated art paper
170 gsm coated art paper
Refine your personalised placemats!
When printing your placemats at print24, you can enjoy the full repertoire of modern printing technology for your colour schemes. By choosing one of the Pantone colours, you'll have access to a wide spectrum of special colours, which you can combine with classic black printing or the traditional CMYK four-colour process. You'll also be able to create additional effects with gold and silver.
We offer the following colour combinations for placemat printing:
Black, Black + Pantone, Black + Gold or Silver
CMYK, CMYK + Pantone, CMYK + Gold or Silver
They are selected via the configuration menu on print24.com. The placemat prices adjust automatically as you change your colour options.
Processing after printing
After printing, depending on the type of paper and your preferences, the single sheets are glued together at the top. A grey backboard is added in the glueing process to provide the necessary strength. Depending on your needs, you can order blocks of 25 or 50 placemat sheets or as single sheets starting from 25 units. Before printing, make sure your graphics file has at least a two-millimetre bleed on each of the sides due to being cut.