Hanging banner
Better print online!
Hanging banner printing
Hanging banners or ceiling banners are indispensable at both trade shows and at the point of sale. At print24.com, you can have hanging banners printed in ten different formats. The banners can then be used straight away as frame bars and hangers are also supplied. Do you already have a print file? Then you can start configuring your hanging banner print job right away!
Ceiling banners are perfect presentation systems for events, sales areas or trade shows. Firstly, the hanging banners do not take up any floor space because they are fastened to the ceiling. Also, because of this, the banners can be positioned in a very noticeable way, meaning that your advertising messages and information are certain to attract a great deal of attention. At trade shows and events, hanging banners are ideal to draw visitors' attention to promotions or strengthen the corporate identity of the trade show. For sales areas, space-saving hanging banners can be used in many ways, whether it is to present prices and product information in a visitor-friendly way or to optimise the appearance of your point-of-sale with slogans and logos.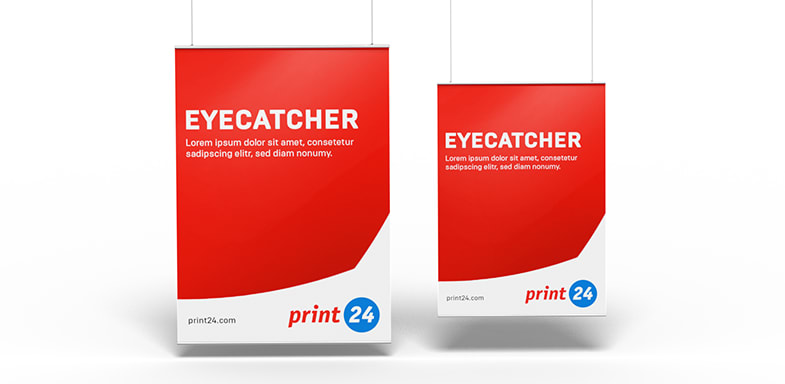 Different formats, suitable for your requirements
We can print your hanging banners in ten different formats, including seven standard formats. The printing of handy A3 ceiling banners is possible, as well as banner printing in A0 or B2. In addition, you can have square hanging banners printed in a size of 1,000 x 1,000 mm or choose large rectangular formats such as 1,000 x 2,000 mm or 1,000 x 3,000 mm.
No matter which of the available banner sizes you choose, they will be delivered with frame bars for the top and bottom edges as well as a hanger. You can then use your finished printed ceiling banner immediately. All you need to do is mount the banner on the frame bars.
Three different high-quality materials for your ceiling banners
For banner printing, you can choose from three different tried-and-tested materials at print24.com. All materials are B1-certified and thus meet the high fire protection requirements for public buildings and exhibition areas.
If you choose the mesh fabric, we will print your banners on a very light, tear-resistant and air-permeable vinyl. The material, with a weight of 300 gsm, is suitable for both outdoors and indoors as it is weatherproof and UV-stable. Your designs and texts can, therefore, be exposed to sunlight without fading.
Alternatively, we can print your hanging banners on PVC tarpaulin with a weight of 500 gsm. This tear-resistant material is also scratch resistant and has a high tensile strength. These robust ceiling banners can be used indoors and outdoors.
The 800-gsm blackout banner is a very robust ceiling banner. The weather-resistant and tear-resistant material consist of polyester coated on both sides with PVC. A black barrier layer inserted between the two sides ensures that a printed design on one side will not be visible from the other. This means that you can use both sides of the hanging banner for your designs and texts.
Classic CMYK printing
We use the tried-and-tested CMYK-colour process for the printing of your banners. This allows images, graphics and texts to be reproduced in very high quality. When creating the print file, please note that a resolution of 70 to 150 dpi is required for large formats and a resolution of 300 dpi is required for small formats. All text should be converted to paths. The mesh fabric and the PVC tarpaulin can be printed on one side. Only the blackout banner can be printed on both sides.
If you would like a digital preview of your printed hanging banner, simply select the screen proof option in the configuration menu for a small surcharge. We will send the preview to your customer account. The advantage for you is that, if you are not satisfied with the result, you can cancel the order easily online. If you are happy with the preview, then you can start the printing of your hanging banners with just one click. If not, you can modify your print.