Scaffolding banners
Better print online!
Having scaffolding banners printed
Scaffolds usually cover an entire building front for weeks or months on end. PVC banners give companies the ideal opportunity to advertise on them on a large scale. At print24.com you can have scaffolding banners printed that impressively present your advertising message to the public. You can not only choose between various formats for your scaffolding banner, we also provide you with safe and reliable mounting systems.
There are prettier things to look at than a big wall of scaffolding. So all the better when they are effectively "veiled" in something eye-catching that gives the building site an optical upgrade, and that protects pedestrians and vehicles passing by from construction debris. And the people on the site can go about their work undisturbed, so it's a win-win situation for everyone! To top it off, if you have your scaffolding banners made by print24.com, you benefit from our low prices, which takes pressure off your advertising budget.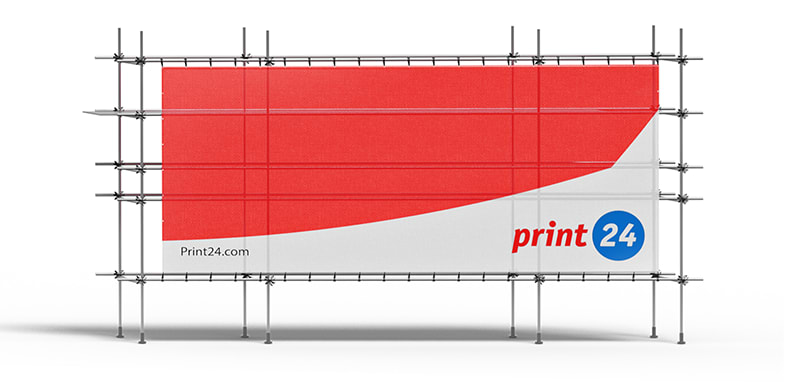 The perfect size for your scaffolding banner
We recommend the format 2,050 x 2,050 millimetres for your scaffolding banner. That equates to the customary gap between scaffold levels. But you can, of course, choose any size for your PVC banner in the configurator menu, up to 3 x 10 metres.
We can also print other special formats you may need. Another benefit of printing at print24.com: We can add clamp eyelets and straps to your printed scaffolding banners, so that they can be affixed to the scaffolding as soon as we deliver.
Weatherproof PVC sheets for an unfading advertising effect
Rain, sunshine, wind – all weather conditions that will do nothing to diminish the effect of your construction site banners, because we use an extremely robust material for scaffolding banners: a PVC sheet 500 gsm thick. Among the key features of this vinyl fabric are tear resistance, scratch resistance and tensile strength.
And it is UV stable so that it does not become brittle even in the sunniest of summers. With its B1 certification, this PVC scaffolding sheet meets all fire prevention regulations.
What accessories are available for the scaffold banners?
In order for you to attach your construction fence banners perfectly and securely, we offer you the appropriate accessories. You can choose from practical cable ties as well as eyelets clamps and fastening loops. For the longest possible durability, we recommend that you have the banners further processed by us after printing. For this you can select in the configuration menu whether you want to receive your banners with eyelets or hemstitch. If you choose the eyelet variant, these are attached all around at the edge of the banner and you can fasten the banners with cable ties, fastening loops or also ropes at the construction fence.
The variant with the hemstitch is suitable if you want to thread a pole or a rope through the hem to attach the banners directly to the construction fence.
Our tip: The correct suspension with eyelets presupposes that you really attach the building plans to each eyelet. This decreases the probability that the banner will detach from the fence on stormy days due to the increased wind load.
Tried-and-tested printing process CMYK
We use the tried-and-trusted CMYK printing method when creating your scaffolding banners. This procedure allows you to choose virtually any motif for your banner. Large multicolour lettering is just as much an option as are graphic designs and images. Make sure to observe the specifications in the printing spec sheet to ensure your motif can be reproduced just as you want it. For a small surcharge, a digital preview can be obtained by selecting the "Screen proof" option in the configurator.