Construction hoarding banners
Better print online!
Selected product configuration
Construction hoarding banners
Have construction hoarding banners printed
With the help of construction fence banners, building site fencing can make great advertising space. At the same time, the banners, which are perfectly designed for standard mesh fencing, serve as a reliable privacy measure. Here at print24.com, you can have sturdy PVC tarpaulin construction fence banners printed. In addition to the classic building site fencing format, you can also choose from many other sizes and special formats. Start your print job right here online and configure your print file with just a few clicks.
Construction fence banners fulfil a practical dual function on every building site. While the outer surface can be used as advertising space for other companies or for the construction project itself, the dense material provides an important visual barrier. At the same time, people passing by the building site are protected from flying debris and dirt.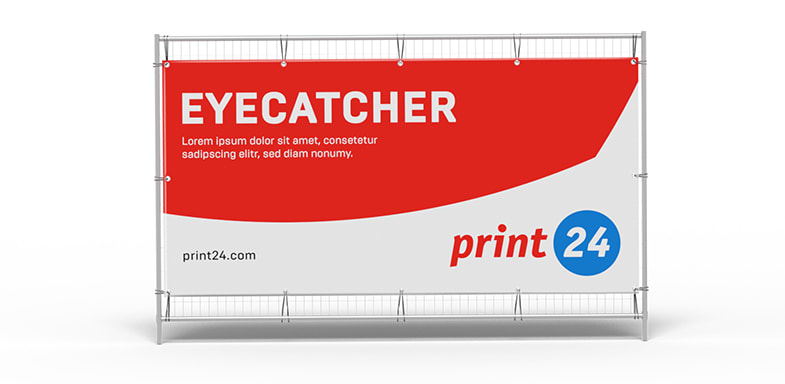 Which format should it be?
If you only want to cover a small area of your building site fencing with banners, we can offer you print formats starting at 500 x 1,000 mm. However, we recommend our standard format of 1,730 x 3,400 mm, which is suitable for standard site fencing with dimensions of 2 x 3.5 metres.
If the dimensions of your building site security fencing deviate from the standard sizes, you can, of course, also specify a special format in the configuration menu. Please note that at print24.com, we also offer the standard sizes for crowd barriers and scaffolding.
Robust material for building site use
We print your graphics and designs on 500-gsm PVC tarpaulin using the CMYK process. The scratch-resistant vinyl is also tear-resistant and has a high tensile strength. In addition, these construction fence banners can be used in any weather conditions.
The UV-stable material does not become porous, even after prolonged exposure to sunlight. At the same time, the banner material has B1 fire safety certification and is thus suitable for use in public spaces.
Various mounting accessories for your construction fence banners
In order for you to attach your construction fence banners perfectly and securely, we offer you the appropriate accessories. You can choose from practical cable ties as well as eyelets clamps and fastening loops. For the longest possible durability, we recommend that you have the banners further processed by us after printing. For this you can select in the configuration menu whether you want to receive your banners with eyelets or hemstitch. If you choose the eyelet variant, these are attached all around at the edge of the banner and you can fasten the banners with cable ties, fastening loops or also ropes at the construction fence.
The variant with the hemstitch is suitable if you want to thread a pole or a rope through the hem to attach the banners directly to the construction fence.
Our tip: The correct suspension with eyelets presupposes that you really attach the building plans to each eyelet. This decreases the probability that the banner will detach from the fence on stormy days due to the increased wind load.
Proven printing process CMYK
We create your construction fence banners using the proven CMYK-colour process. This printing technique has the advantage that you are completely free to choose your motif. For example, it is also possible to print photographic images. In order to achieve optimum image reproduction, however, you should always pay attention to the specifications in the print data sheet. A digital preview can be obtained by selecting the "Screenproof" option in the configurator for a small surcharge.