Gable boxes
Better print online!
Printed gable boxes
If you're looking for unusual packaging for your promotional gifts, or want to package your products in a stylish box, gable boxes are a good choice. The practical bags not only provide sufficient space for all kinds of contents, but also protect them. Their handle means they are also perfect for carrying, making them the ideal trade fair giveaway. If you already have a print file with your desired motifs or lettering handy, you can start configuring your gable box right now.
Anyone wanting to give visitors or potential customers info-material or samples at trade fairs is always faced with the question of how to package these attractively. Gable boxes are a perfect option. Fitted with a handle, and providing enough space for flyers, extensive information material, keyrings or other promotional items, these bags are very handy and, with the right print, very valuable.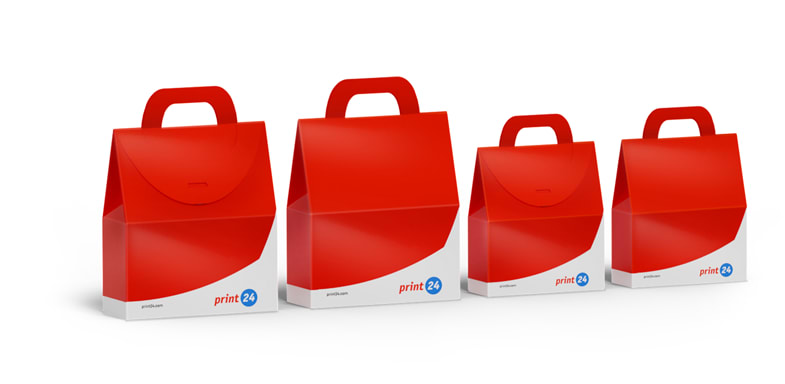 Handy format for your gable box
We print your gable boxes in two formats. Measuring 180 x 65 x 210 mm, the small bag is extremely handy. Its smaller size may be particularly favourable for your customers or interested parties at trade fairs, while the large box, measuring 250 x 100 x 300 mm, creates added effect. When setting up your print file, please be sure to leave a 2-mm bleed. Ideally use our PDF template, which will allow us to process your print order smoothly.
High-quality chromo board for optimum strength
We only use GC2 chromo board to print your gable boxes. Double-coated on one side, this cardboard provides excellent rigidity and high volume. In the smaller version of our gable boxes, the board has a grammage of 300 gsm, while the larger versions are even more solid thanks to a grammage of 350 gsm.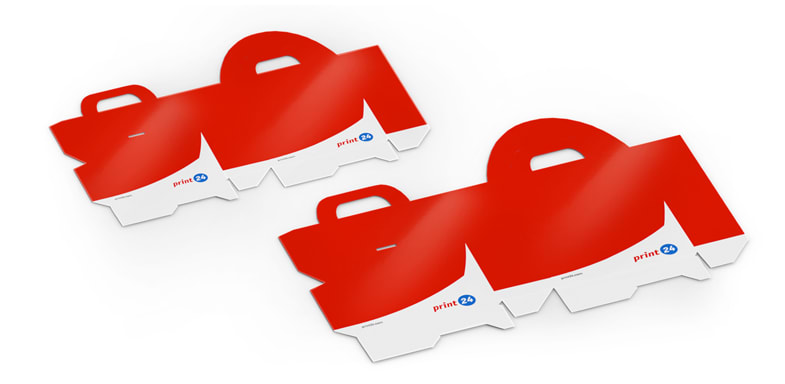 Tried and tested printing options
As a standard, we only print the outside of your gable boxes, and you can choose from the classic CMYK four-colour system for this, allowing you to print all possible colours or even photos onto your cases.
Processing of the gable boxes after printing
Your gable boxes are delivered punched, glued on one side, and creased flat. For logistics reasons, they are delivered unfolded. The boxes are easy to fold, as they have an instant base. As soon as the box is set up, the base forms automatically, hence its name.
For the best impression: Your refinement options
We can also laminate your gable boxes upon request. This involves applying an additional coating on the outside. Choosing the gloss option gives your boxes a particularly attractive look. The soft-touch surface creates a pleasant feel, while the matte lamination provides added protection, as the exterior becomes scratch-proof.
We will gladly combine lamination with UV spot varnish. Please note there that, for soft-touch and matte lamination, one side is coated with UV spot varnish, and the other is laminated.