Wine bottle boxes
Better print online!
Wine bottle boxes printing

Regardless of their content, attractive and high-quality wine-bottle boxes ensure you can present your wine gift in style. A personalised wine-bottle box not only shows appreciation, but also has a very pragmatic feature in that it provides the perfect protection for the contents. We'll take care of printing your wine-bottle boxes – reliably, professionally and in top quality, up to a quantity of 50,000 in up to 10 different versions (= 500,000 boxes) per order.
A bottle of wine is a popular gift, for it can be easily scaled, especially for companies. When it comes to wine, sparkling wine or champagne, there are many different levels available, from simple to exclusive. A personalised wine-bottle box is the best way of ensuring your gift is well received. Whether as a promotional gift for loyal customers, or a corporate gift to your staff, we can print the relevant wine-bottle boxes for you! All you need is a print file with your motifs, slogan or company logo, which you can then use to configure your boxes directly online on your computer.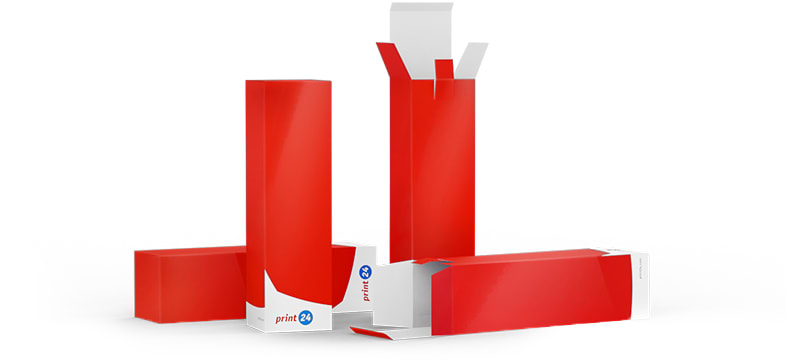 Formats: for wine or sparkling wine bottles and piccolos
Choose from four different formats for your wine-bottle boxes at print24.com. The 56 x 56 x 202-mm format is perfect for piccolo boxes, while the 87 x 87 x 322-mm format provides enough space for sparkling wine or champagne gifts. Classic wine bottles fit in 76 x 76 x 305-mm boxes, while there's enough space for two in the 152 x 76 x 305-mm version.
Please ensure you create a 2-mm bleed on each print file. To avoid complications during printing, you are advised to use the PDF template provided by us when creating your print file. You are welcome to contact our service team if you have any queries about the printing process.
After printing, your wine-bottle boxes are die-cut, creased flat and glued. They are delivered unfolded. The product base consists of an insert pocket and automatic base.
Printing your wine-bottle boxes
We use the tried-and-tested CMYK four-colour process to print your boxes, which perfectly reproduces your print motifs. Whether it be a company logo or other multi-coloured graphics, we make sure your wine-bottle boxes turn out great. As wine-bottle boxes are usually gifts, this option is very popular amongst our customers as a way of giving the boxes a more exclusive feel.
We print your wine-bottle boxes on 0.72-mm, coated chromo board, which has a plain brown back. Its high rigidity and tear resistance makes this material ideal for your boxes, for not only is the cardboard robust, but it also reliably protects the wine bottles inside.
We use GC2 chromo board with a grammage of 400 gsm for piccolo boxes, while an even stronger cardboard with a grammage of 480 gsm is used for all other formats. After printing, your wine-bottle boxes are punched, creased flat and glued. They are delivered unfolded. The product base consists of an insert pocket and automatic base.
Achieve added effect with refinements
Your wine-bottle boxes will look even more effective and elegant with a refinement. Choosing lamination creates a unique feel, with three grades to choose from. The gloss finish results in a completely smooth, laminated exterior, while the soft-touch finish adds an unusual tactile element.
Matte laminating protects your box with a scratch-proof coating. UV spot varnish is available as an additional refinement, allowing you to accentuate individual motifs or text. We can easily also combine UV spot varnish refinements with matte or soft-touch lamination.