Clipboard folder
Better print online!
Custom clipboard folder printing
Clipboard folders play a key role in business or customer service. At print24.com, we can print personalised clipboard folders for you. A batch from as small as 1 is enough to start the order, but our print shop can also easily cater to up to 10,000 folders at a time. As a customer, you'll benefit from consistently high printing and material quality from the first to the last item processed by our printers. Another bonus is the fact that we combine top quality with attractive prices. You too can enjoy this perfect combination, and get us to print your clipboard folders. Start the order and super easy configuration here!
Whether you're in a seminar, attending a trade fair or engaging in customer talks, a clipboard folder always ensures you have all your important documents handy. They're the perfect solution for taking quick notes at a meeting, or for promotional and informational material distributed to your customers. Many of our customers also use these folders when selling high-quality products, as they store all the relevant, important documents, such as invoices, instruction manuals and guarantees.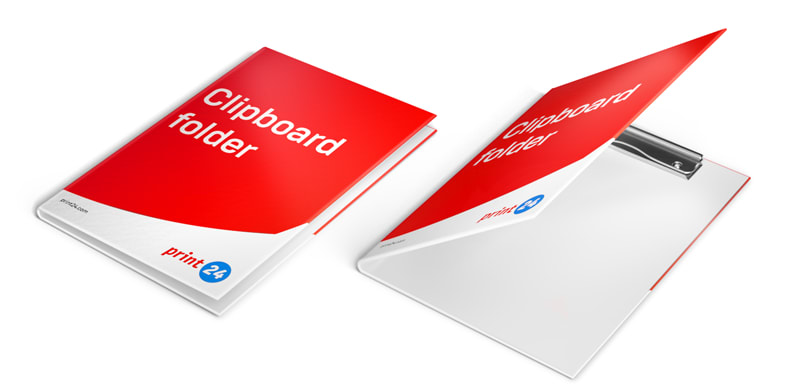 Perfect for DIN A4 sheets
print24.com makes your clipboard folders from 1.9-mm-thick, laminated cardboard, making them suitable for DIN A4 sheets, though smaller formats can of course also fit inside. All folders have a clip and a pen or pencil holder as a standard. The exteriors are printed as per your specifications, while the interior has a white mirror which is left blank.
Clipboard folders in your corporate design
Our clipboard folders are often printed in companies' corporate designs, making them very versatile. Your staff can take them to conferences or meetings, while your customers can be given the same product filled with brochures or flyers. Already got some suitable graphics files for your corporate design, your logo or a catchy slogan for your company? Then start configuring your clipboard folders here now! We will print them in top quality!
Lamination for optimum protection
We offer lamination as a refinement option for many of our print products. Because this special surface finish makes your items stronger and more robust. That is why lamination comes as a standard for clipboard folders.
The following lamination options are available to further adjust the folder's look or create added strength: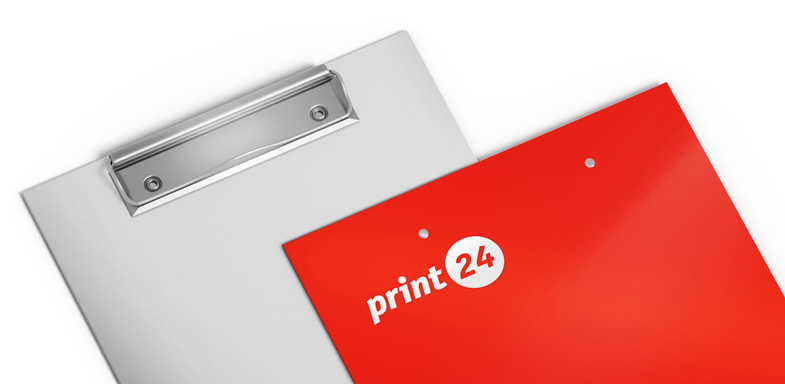 Matte: Choosing a matte surface creates a subtle elegance for your clipboard folders.
Matte, scratch-proof: The scratch-proof material ensures your clipboard folders still look great even after frequent use.
Gloss: The glossy surface gives your clipboard folders a great look.
Linen finish: The linen finish not only provides a stylish design, but also a pleasant feel.
With practical accessories upon request
Get more out of your clipboard folders, and order them with an additional business-card pocket at print24.com. The plastic pocket is self-adhesive and comes separately, so you can place it wherever you like.
Clipboard folders with business-card pockets are particularly suitable if they are due to be distributed to customers. Salesforce staff can simply leave their business card in the folder as they hand it over.
High-quality printing for added effect
We print the exteriors of the clipboard folders in the tried-and-tested CMYK four-colour process, which enables us to print almost any motif you or your graphic designers create. Photos can also easily be printed with CMYK.
If you have any questions about the printing process or want to know whether your graphics file is suitable for flawless printing, contact our friendly customer service by email or telephone.