Clipboards
Better print online!
Personalised clipboards
Even though tablets have now found their way into many areas of our personal and professional lives, classic "analogue" products like clipboard continue to be in demand. These products are still a standard element of surveys, trade fair booths or logistics centres. The practical format and fast availability are just two of the benefits offered by classic clipboards. You can now print your personalised clipboards at print24.com. Our service is aimed at both small and large customers from industry and business, who value maximum quality and cost-efficient production. As one of Europe's largest online print shops, print24.com easily and gladly meets both these requirements.
Clipboards are an essential accessory for surveys conducted on the street or at trade fairs. The practical clip fastens all questionnaires to the board quickly and simply, while the solid design means the print24.com clipboards can also be used as firm writing surfaces – a detail not to be underestimated when standing in pedestrian zones or at events. With printing capacities of up to 10,000 clipboards at a time, we provide enough scope for large companies wanting to conduct opinion surveys. The clipboards are equally suitable for fundraisers or signature collections for petitions etc. Our customers incidentally include many skilled trade businesses which equip their staff with clipboards in corporate design. These products are similarly popular among controllers and logisticians, enabling delivery or inventory lists to be perused or checked in the blink of an eye. Schools and unis are other possible areas of application. We offer attractive printing prices for a minimum batch of just 1 clipboard!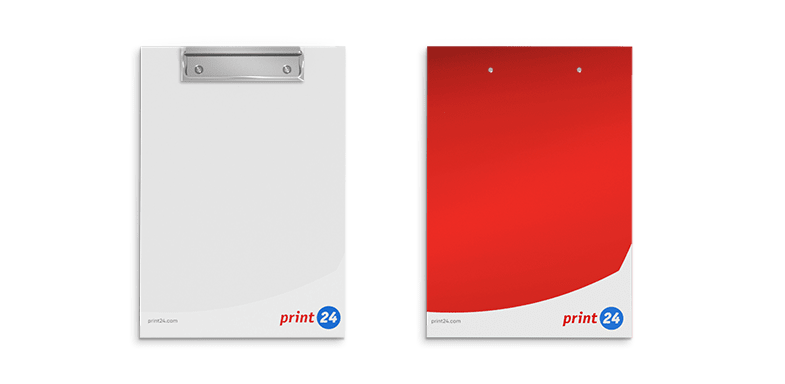 Perfect for DIN A4
Our clipboards consist of a two millimetre thick cardboard, which is additionally laminated with cellophane. With a size of 225 x 325 mm, the boards are ideally suited for A4 paper blocks.
Thanks to the strong clamp, you can also attach all smaller DIN paper formats as well as smaller special formats to the board.
Adapt the lamination to your needs
Your clipboards come with a laminated finish as standard. This refinement provides added strength and robustness. You can also set your desired lamination option in the configuration menu:
Still got questions about the refinement options? Then email our service advisors or call our hotline!
Matte: This version makes your clipboard both stylish and robust.
Matte, scratch-proof: This refinement is particularly suitable for harsher working environments or are used frequently.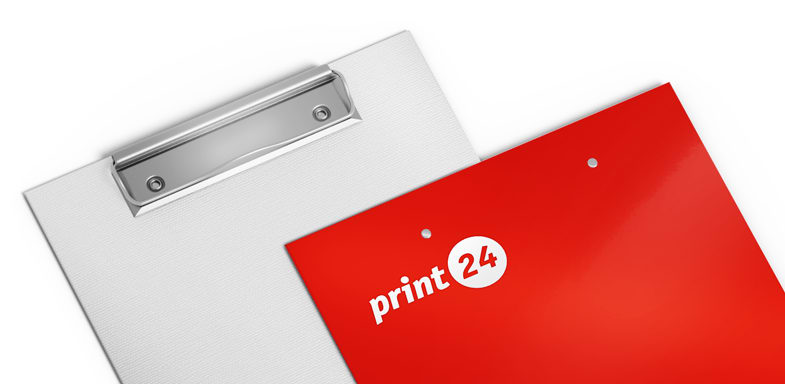 Gloss: The classic. These clipboards are not only better protected against stains, they also create attractive light reflections.
Linen finish: This form of lamination also creates a unique feel.
Modern printing for all your motifs
We use the tried-and-tested CMYK four-colour process to print your clipboards. High-quality printing inks allow us to achieve excellent colour and motif reproduction. Enjoy maximum flexibility when choosing your motifs; we can even print photos or graphics onto the clipboard. We print on both sides of the clipboards. When creating your print order, please bear in mind that the clip panel also needs space, so leave room for this in your print motif.
Accessories for your clipboards
You can also add a self-adhesive business-card pocket upon request, which you can affix to the board wherever you wish. The business-card pockets come separately in the order.