Loose-leaf collection
Print better online!
Have loose-leaf collections printed
Do you need an attractive presentation of data for the board of your company? Or do you want to have legal texts loosely printed and compiled? With a loose-leaf collection, you have found a practical solution for this. It is also suitable for training courses or collecting product data sheets.
Up to 500 individual sheets can be bundled in DIN A4 or DIN A5 and, if necessary, punched and filed in a file folder. When you have your loose-leaf collection printed, we offer you a wide range of paper variants and finishing options. We can produce individual sets or even several dozen sets for you. Start your print order conveniently online here.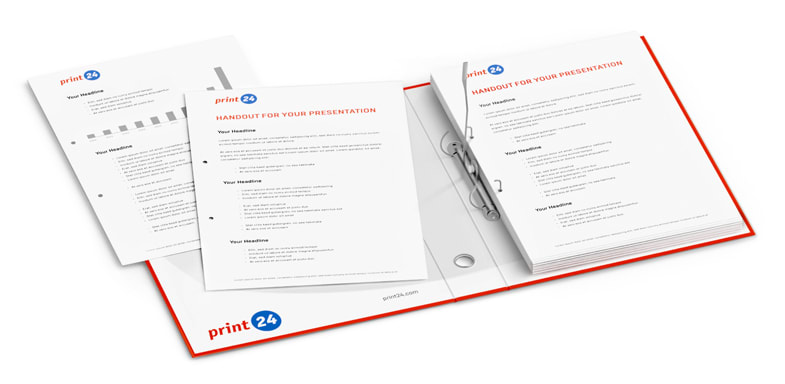 Practical DIN formats for filing
We print your loose-leaf collection in DIN A5 (148 x 210 millimetres) or DIN A4 (210 x 297 millimetres), in portrait or landscape format. The landscape format is ideal for loose-leaf collections, e.g. for product sketches or data sheets.
If you wish, we can punch holes in the sheets for you. This means that after the presentation, training or seminar, they can be conveniently filed away in a conventional file folder.
Over 60 paper options for your loose-leaf collection
We print your loose-leaf collection on 13 different types of paper. Together with different grammages and matt or gloss finishes, you have over 60 paper options to choose from. Coated art paper is a classic. It is available with a grammage of 90 gsm or in seven other weights of up to 350 gsm. If the loose-leaf collection is about an important presentation, we recommend premium paper or premium cardboard. Our premium papers are available in Chamois, Ribbed, Bright White or Linen. They not only make a higher-quality impression but also offer a special feel.
If the sheets of paper in the collection are to be processed later in the printer, select offset paper. If you are looking for sustainability, you should choose our recycled paper. For a special impression, we recommend grass paper, kraft paper, gold paper or felt-marked uncoated paper. These papers create a lasting impression on the recipients of your loose-leaf collection without any additional finishing. We can print these for you in sizes from four to 500 sheets. For collections with many pages, it is best to choose a low grammage paper to make the collection easier to handle.
Enhance presentations with high-quality finishes
Have the surface of your loose-leaf collection refined if you want to give the paper additional protection and make it more appealing. In addition to protective varnish, you can also choose between cellophaning and UV surface varnish.
Premium papers and the use of special colours exclude protective varnish. You should take this into account when creating your print data.
After printing, your sheets are cut to size and punched if desired. The holes are punched 2 or 4 times on the left. For loose-leaf collections in DIN A5, only 2-hole punching is possible.
A wide range of printing options
We print simple loose-leaf collections with product specifications or legal texts for you at a reasonable price in black. Regardless of the colour choice, we can print only the front or front and back of the sheets.
With CMYK, the printing of photos or graphics as well as illustrations is also possible. For special presentations, we recommend the combination of CMYK and gold, gold digital, silver or silver digital.
With Pantone, an even, full-surface colour print is possible. In this way, the corporate design, for example, can be reproduced in true colour with the loose-leaf collection.
Please note that special colours, as well as gold and silver, are not possible with kraft paper and grass paper.