NCR pads
Better print online!
Custom NCR pads printing
NCR pads have for years been well established office products both for businesses and administrative authorities. These practical pads for forms, contracts or invoices allow you to create up to five copies in just one step. Customers, clients or accounts departments can thus quickly receive duplicates of important documents, which can be conveniently filed away thanks to hole punching. The print24.com online print shop allows you to easily configure and order your personalised NCR pads online, individually or in blocks of up to 5,000 items per batch. We create your printing order reliably and in top quality. And you'll also benefit from fair prices.
We print your NCR pads in four different versions. If you choose the individual pads, you'll receive in portrait-format printed sheets placed loosely on top of one another. This option is perfect for authorities or companies who need to issue or accept contracts or applications. Alternatively, we create NCR forms sets with up to 5 pages that are glued together at the short or long side. You can order the sets starting with 500 copies and you have the choice between printing in portrait or landscape format. Optionally we can add a perforation line and 2 punched holes, for easier separation and archiving.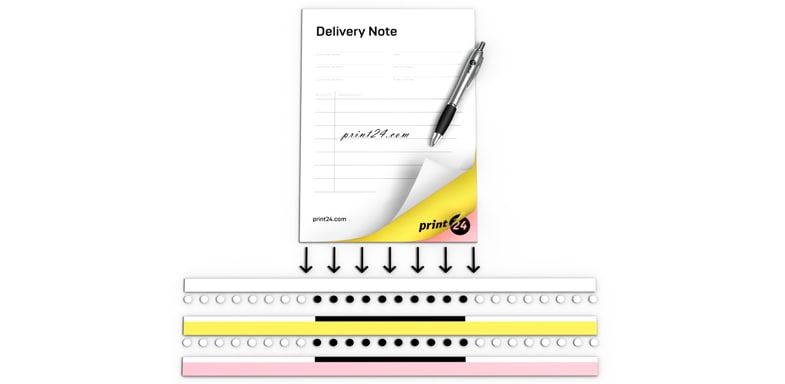 Practical formats to choose from
Order your NCR pads from print24.com in four different formats. We primarily use DIN formats, as these can be practically combined with other products like folders, clipboards or plastic sleeves.
The following formats are available:
98 x 210-mm DL:
Ideal for posting documents in one envelope, without having to fold the forms.
105 x 148-mm A6:
Traditional format for receipts.
All individual pads can only be printed in portrait format, while the block versions can be either portrait or landscape.
148 x 210-mm A5:
Perfect for invoices or small orders.
210 x 297-mm A4:
A popular format for transcripts, bills or applications.
The paper we use for your NCR pads
Depend on your choice of version, we print the top sheet on 80 or 90 gsm white paper with a special coating (CB – Coated Black) on the back so that the print carries through to the paper beneath. The final sheet is is also known as CF-paper and comes on 90, 60 or 57 gsm paper, depend on the version you choose.
The coated top side allows the copy to carry through.
If you need two, three or four copies per pad, you can insert additional yellow middle sheets printed on 86, 60 or 53 gsm paper (CFB – Coated Front and Back). The middle and final sheets are made from coloured paper and you have the choice between yellow, pink, blue and green.
Your printing options for NCR-sets
We can print both the front and back of your NCR pads. In this case, the copy is printed identically to the top sheet. Double-sided printing is ideal when you want to have terms and conditions or important amendments to contracts and applications printed on the back. You can have your text or graphics printed in black, Pantone or the CMYK four-colour process.
When using colours, please note that the final sheet and optional middle sheet are not white, meaning colour print-outs may look different to how they appear on white paper.
Processing after printing
Once we have printed your NCR pads, the products will be cut to your desired format. The narrow sides of individual pads are glued. If you order blocks, the top is glued and grey cardboard backing is added for reinforcement.
Our NCR forms sets can be glued at the short or long side and 2 punched holes can be added. Block NCR pads can be punched with either two or four holes, allowing the individual document copies to be conveniently filed away.