Cinnamon star biscuit
Better print online!
Have cinnamon star biscuit packets printed
Cinnamon star biscuits, like gingerbread, stollen, tangerines and nuts, belong on every Christmas platter in the run-up to Christmas. At print24.com, you can have individual cinnamon star biscuit packets printed as promotional materials and ensure that your advertising message will be remembered fondly, even before Christmas.
What better way to enjoy a sweet biscuit in the cold season than with a steaming cup of tea, cocoa or coffee? Before Christmas, we get together, make ourselves comfortable and feast without paying attention to the calories. Benefit from this special atmosphere, and use custom-printed cinnamon star biscuit packets to remind your customers and business partners of your company in a positive way. Show your appreciation to your employees with a nice Christmas greeting. All you need is a design, which print24.com will professionally print on the packaging for you.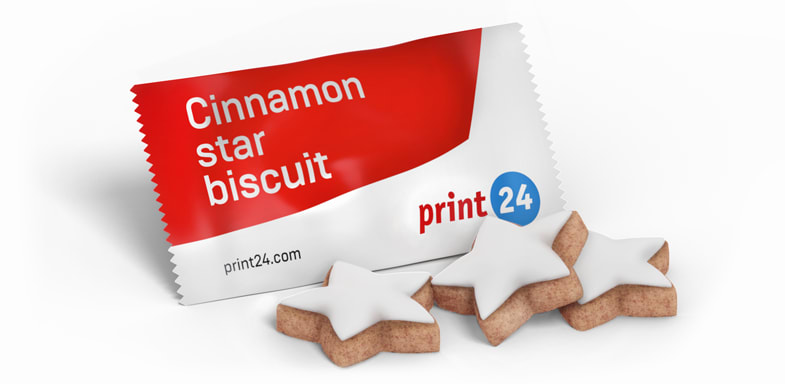 Your advertising messages in a small format
The small biscuit pieces are packed in a shiny white foil in the format 140 x 90 millimetres. This area is partially available for printing. You should place your slogans or logos in the front visible area of 50 x 90 millimetres.
When creating the print file, observe the specifications in our data sheet. In this way you avoid unnecessary complications during printing and we can complete all tasks for you smoothly and promptly.
Best quality cinnamon star biscuits from Lambertz
The name Lambertz has been synonymous with delicious baked goods for generations. The traditional Aachen-based manufacturer's cinnamon star biscuits are made of a fine hazelnut-almond mixture with a shiny layer of glacé icing. This treat will encourage the recipient to think positively about your company and products.
The Christmas biscuits can be stored for approximately six months in a cool and dry place. Details of the ingredients are available from us on request.
High-quality printing
We using the tried-and-tested CMYK four-colour process. This means you can be very flexible in your choice of graphics. From photos to slogans and logos, we can print all possible images onto your cinnamon star biscuit packets.
As standard, we automatically add the mandatory information regarding ingredients, best before date and distributor.
This is done in black lettering on a slightly transparent white field. You do not have to create these areas separately in the print file. Please be aware that there should be no important elements in the place of the mandatory information, or else they will be covered up! If you have any questions regarding the creation of the print file or the available colours, please do not hesitate to contact us during our opening hours by phone or by email.