Gingerbread
Better print online!
Have packets of gingerbread printed
Gingerbread with custom printed packaging is the perfect advertising medium in the run-up to Christmas. At print24.com, you can have packets of gingerbread printed at low prices. This will not only get your customers' or business partners' attention but also sweeten up their Christmas season with delicious Lambertz gingerbread, coated in chocolate and a sugar glaze. Start right here with the configuration of your print file, and let us print delicious gingerbread promotional gifts for you.
Who does not like to indulge a little in the pre-Christmas period? And that includes biscuits, stollen and, of course, gingerbread. So, at this cosy time of year, custom-printed promotional gingerbread gifts are perfect for creating lasting memories in the minds of your customers or business partners. At print24.com, we can print up to 3,000 mini-packets of gingerbread for you per order with customised slogans, designs, lettering or images.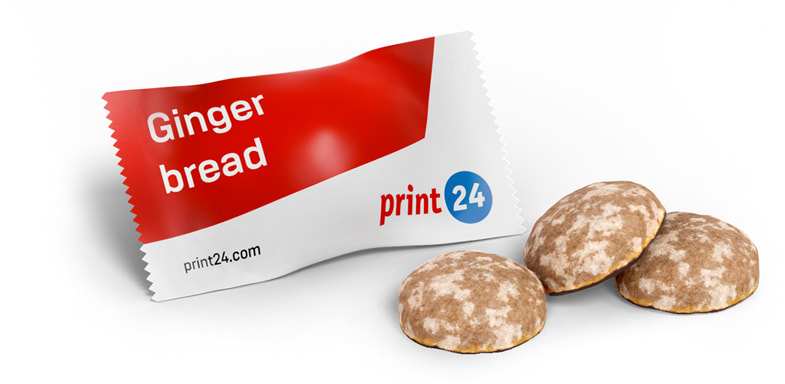 Format of the gingerbread packaging
The gingerbreads are individually packed in a high-quality flowpack made of shiny white foil. On this material we print your motives on the whole packaging of the gingerbread. The visible area on the front, that can be used for your logo and advertising message, has a size of 100 x 55 millimeters.
When creating the print file, observe the specifications in our data sheet. In this way you avoid unnecessary complications during printing and we can complete all tasks for you smoothly and promptly.
Delicious baked goods from Lambertz
The gingerbread comes from Lambertz, a traditional German confectioner. Each piece of gingerbread weighs 13 grams, 10 per cent of which is the chocolate and sugar glaze.
If the recipient does not polish off the gingerbread immediately, it can be stored for approximately six months in a cool and dry place. However, your sweet-tasting promotional gift is bound to be enjoyed much sooner than that.
High-quality printing on flow wrap
We will print your messages, designs, images or graphics onto this material, which is 100 x 55 mm in size, using the CMYK four-colour process. This gives you maximum flexibility in your choice of graphics; photos, monochrome surfaces and brightly coloured fonts can all be easily applied.
In addition, mandatory information regarding the best before date, the ingredients and the distributor of the gingerbread will also be printed in black lettering on a slightly transparent white field.
You do not have to create this area separately in the print file. Please be aware that there should be no important elements in the place of the mandatory information, or else they will be covered up!
If you have any questions regarding the printing process or the creation of the print file, please do not hesitate to give us a call or get in touch via online messaging. We can then help you further on a one-to-one basis.