Pencils
Better print online!
Have pencils printed
Whether it is for drawing or quickly noting down addresses and telephone numbers, pencils are still popular, even in the age of helpful little digital devices. You can take advantage of this popularity and have pencils printed with your customised advertising message at print24.com. Then you will have the perfect promotional gifts for trade shows or small freebies for your customers and business partners. On request, we can create up to 10,000 printed pencils per order for you.
At print24.com, pencils are certainly among the printed products with the least space for slogans, company names or little messages. However, the effect of what is printed can be even greater because the pencil is an ideal and very practical everyday companion. While on the phone, you can take notes at lightning speed. In the job folder for your next order, you can note down ideas, and, of course, pencils are in use every day at university or school. Due to their popularity with almost every target group, pencils are the perfect advertising medium. At print24.com, you can have your pencils printed professionally, whether you are a company, club or organisation.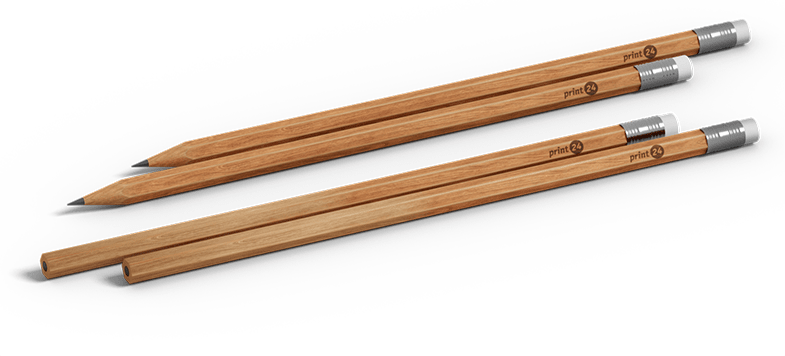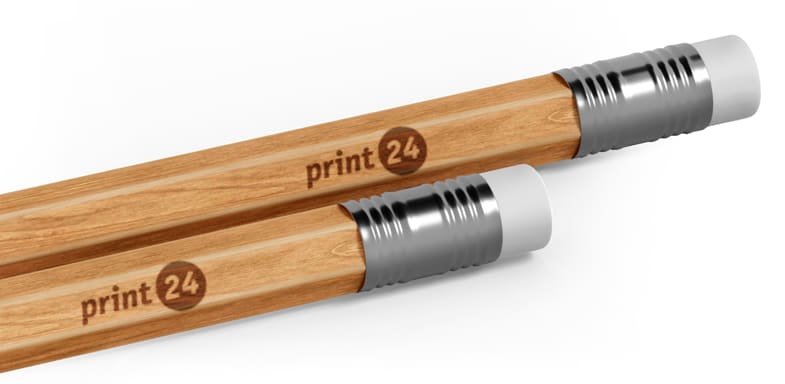 Narrow print area for your advertising message
On the shaft, an area of 70 x 3 mm is available for your slogans, sayings, messages, addresses or other texts. Even small graphics are possible. When creating the print file, please keep in mind that your designs should be recognisable at this scale.
When creating the print file, observe the specifications in our data sheet. In this way you avoid unnecessary complications during printing and we can complete all tasks for you smoothly and promptly.
High-quality design with eraser
We print your words and symbols on high-quality pencils that have a natural colour finish and an HB lead. This makes them suitable for a wide variety of purposes, from drawing or shading larger areas to writing.
The classic hexagonal shape is handy and popular. Your printed products will be delivered unsharpened, in a size of 190 x 7 mm diameter.
Printing options for a great deal of flexibility
We use black or spot colours for printing. You can also have your texts printed in white, red, gold or in another full tone colour. Black, white or other colours are used as standard in one colour. We will be happy to help you with the choice of colours, the creation of print data and the design of motifs. Just give us a call!