Folding rulers
Better print online!
Have folding rulers printed
It unfolds in an instant, and the desired area is measured before you know it. For decades, the folding ruler has been as simple as it is ingenious when it comes to measuring walls, floors or pieces of furniture. Here at print24.com, you can have folding rulers printed. There are two different varieties to choose from, as well as a range of printing options. Folding ruler printing is possible from just one piece, and this can easily be increased up to 20,000 pieces per order.
When hanging curtains at home or when measuring rooms before moving − folding rulers are just a must-have for DIY enthusiasts. That is surely reason enough for you to customise this product and give it to your customers. In print24.com, you have found a reliable printing company where you can have folding rulers printed in top quality and at low prices.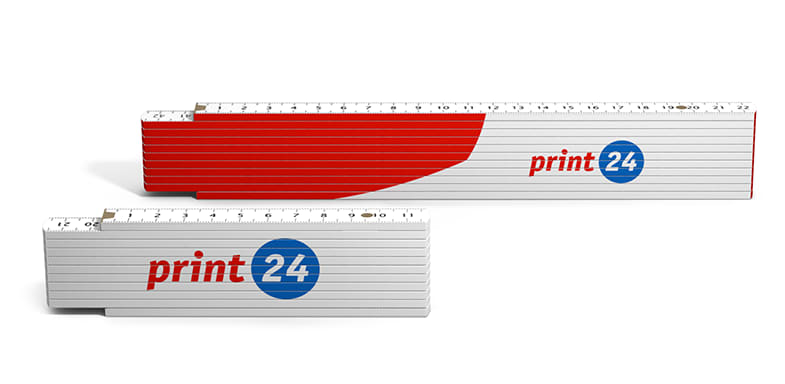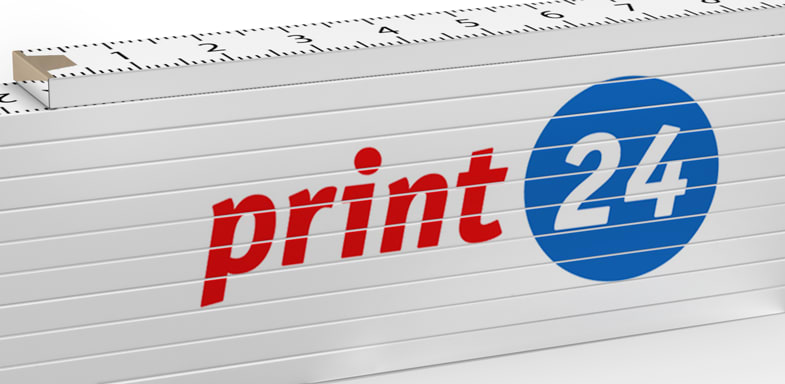 Print area for your designs
The longer folding rule has a larger printing range of 70 x 22 millimetres (Solid colours) and 227 x 26 millimetres (CMYK). The one-meter folding rule offers space for your print motifs on a minimum of 70 x 20 mm and a maximum of 126 x 25 millimetres (white folding rule + CMYK). The folded yardstick can be printed by us on one or both sides.
When creating the print file, observe the specifications in our data sheet. In this way you avoid unnecessary complications during printing and we can complete all tasks for you smoothly and promptly.
Customise one-metre or two-metre folding rulers
For printing, we can offer you a choice of two different folding ruler designs. The first version is two metres long and consists of ten sections. When closed, the product measures 232 x 26 x 15 mm. The second version is one metre long when unfolded, has ten sections and when folded measures 130 x 26 x 13 mm.
All our folding rulers are made of robust, white ABS (acrylonitrile butadiene styrene) plastic and are therefore mainly suitable for household use. The smaller folding rulers are also available in blue transparent and red-transparent.
Classic printing or digital printing with Pantone
We can print your folding rulers in black or solid colour. For the solid colours, spot colours such as Pantone are used. In this way, the uniform application of colour is possible, without deviations in the printed image. For the printing of graphics or photos, CMYK four-colour printing is recommended. It is only available on the white folding rulers.
Do you still have questions about creating your printing data or selecting suitable motifs? Then please feel free to contact us. Our service team is available to you on the phone during business hours.