Light box poster
Better print online!
Light box poster printing
Light box posters or city-light posters have been the tried-and-tested standard outdoor advertising medium for many years. In print24.com you have found a reliable printing company that allows you to configure your light box poster print job easily online. We can print up to 30 light box posters per order for you. In addition to the standard format of 1,185 x 1,750 mm, six further formats are available. Start your print job here with just a few clicks!
Light box posters are omnipresent in today's city centres. Whether it is at bus stops, in pedestrianised areas, at railway stations, on walls or in central reservations, advertising and event announcements on light box posters get a great deal of exposure. If you want to advertise outdoors, light box posters are the perfect product for you. The backlit advertising messages are also visible in the evening and at night. At the same time, the separate available box housing protects the posters from environmental conditions and vandalism. This means that advertisers can be certain that the poster will remain visible throughout the time it is on display, which is usually for one week. The backlighting is not the only great advantage of light box posters; it is also very easy to change the design. Even large-format films are easy to handle and to replace.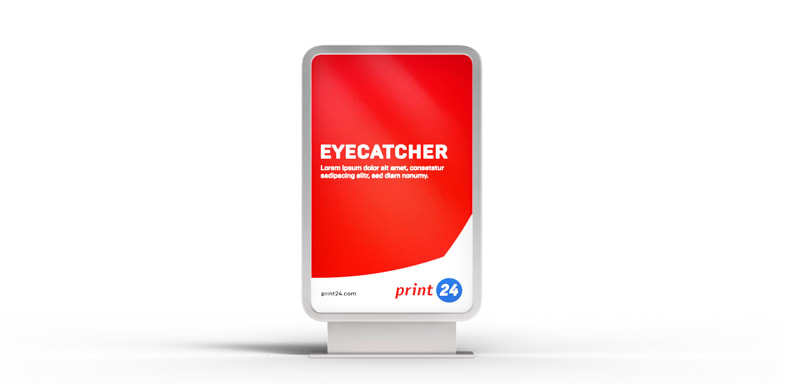 Light box posters in various standard formats
We can print your light box posters in seven different formats. In addition to the standard size of 1,185 x 1,750 mm and the slightly different format of 1,150 x 1,710 mm, you can also have light box posters printed in A4, A3, A2, A1 and A0. The small posters are perfect for restaurants that would like to display their menus in a case outside.
They are also interesting for service providers who want to advertise their services effectively at their retail premises. The large formats are typically used in rented outdoor advertising spaces. You can have all of our light box poster formats printed in portrait or landscape format at print24.com.
Excellent material quality
To print your light box posters, we use a translucent backlit film with a thickness of 210 micro-metres. The film is made of white, translucent polyester with a semi-matt surface.
Enhance your light box posters with refinements
In addition, you can protect the film from abrasion, moisture or yellowing by having your posters laminated. If you would like your light box posters to be self-adhesive, please select the corresponding option in the configuration menu. An additional adhesive layer will then be applied to the material.
CMYK four colours in UV printing process
UV printing using the CMYK-colour process ensures optimal printing results. We print on the front of the film using a non-reversed image. In this process, the ink is cured by ultraviolet light and forms a solid colour layer. The dried ink then has a slightly satin finish and is reminiscent of laminated material. This gives the ink greater strength and better protection against yellowing. UV direct printing does not require any thinners or solvents and is therefore a more environmentally friendly printing technique.
To achieve the best possible print of your posters, please ensure that, in the print file, text and images are at least 1.5 mm away from the edge. All text should be converted to paths. In addition, we recommend a 3-mm bleed. If you want to print large formats, you should select a print resolution of 70 to 150 dpi. For small formats, select 300 dpi. We would be happy to help you with the configuration of your print job. Just give us a call or send us an email!