Backlit film
Better print online!
Backlit film prints
By using light boxes and illuminated displays for your advertising, you can draw attention to your business, even in the dark. Translucent backlit film from print24.com is the perfect advertising medium for your slogans and advertising messages. We can print your backlit film (also known as backlight film or light box film) professionally, whether you're printing just one copy or more.
Advertising needs to have an effect. That is, after all, what it is for. But what happens to your posters or displays when it gets dark or if they are in an unlit location? That's when you need backlit film in light boxes or displays. This special film was developed for exactly this purpose and gives your advertising the desired impact. Let your advertising shine and order your backlit film from print24.com!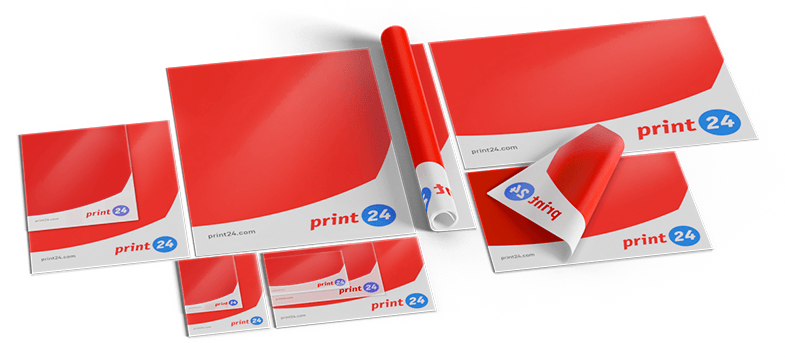 Have backlit film printed in sizes A4 to 1185 x 1750 mm
Whether it is for indoor or outdoor advertising, for smaller messages or very large ones, thanks to different standard formats in portrait or landscape format, you can select the right size for your backlit film using the configuration menu at print24.com. For example, the smaller formats would be perfect for the presentation of a restaurant menu in a lightbox. With the larger sizes, you can draw attention to your retail outlet or bar in the evening. Another option is an effective outdoor advertisement in A0 format printed on backlit film. The known standard formats are 1150 x 1710 mm & 1185 x 1750 mm.
When creating your print file, please note that, for optimum printing results, text and images should be at least 1.5 mm away from the edge. Additionally, please add a bleed of 3 mm. Can we help you with your choice of format? If so, please call us or get in touch by email.
A robust film that is suitable for outdoor use
Our translucent backlit film is a white, semi-transparent polyester film, 210 μm thick, with a semi-matt surface. When we print a lightbox film for you, your advertising messages will remain clearly visible to current and potential customers for many months to come. All you need is a suitable location for the installation of your illuminated advertising!
Better protection through refinement
Do you want to make your backlit film more robust? Then use lamination. This will also protect your advertisement from abrasion, moisture and yellowing. You can also order "self-adhesive" lamination. That would, for example, make sense for long-term advertising. If you're thinking of a temporary advertising campaign, we would recommend using non-self-adhesive backlit film. Our lamination has a matt finish.
Printing process for your backlit films
For printing, we use the tried-and-tested 4/0 CMYK four-colour process. This means that photos, graphics and texts can all be displayed. The range of colours that can be mixed means that there are practically no limits to your colour selection. However, when selecting your imagery, please make sure that the resolution is high enough to avoid pixelation.
When creating the print file, observe the specifications in our data sheet. In this way you avoid unnecessary complications during printing and we can complete all tasks for you smoothly and promptly.