Jigsaw puzzles
Better print online!
Personalised jigsaw puzzle
Puzzles have for many decades been a popular recreational activity all over the world. And since the emergence of digital photography, individual photo puzzles have been in vogue. Personalised puzzles not only provide amusement; they also revive memories and bring a smile to people's faces. We print your photo as a puzzle, whether as a personal gift idea or promotional item, whether as a single or bulk order. Using modern printing technology, high-quality inks and sophisticated logistics, print24.com completes your orders reliably, quickly, in top quality and at low prices. Order your photo puzzle online at our print shop!
Why does it always just have to be a photo frame? For a bit more variety, you can choose a photo collage with your motifs, an individual photo mouse pad, a photo mug or wall pictures. But with a self-made photo puzzle, you'll create an extra special photo gift suitable for many different occasions. Here at print24.com, you can configure your photo as a puzzle quickly and easily, and order it online. Upon request, we also deliver the finished product within a few working days. So we can offer you fast assistance when you need last-minute gift ideas for grandma's or a friend's birthday.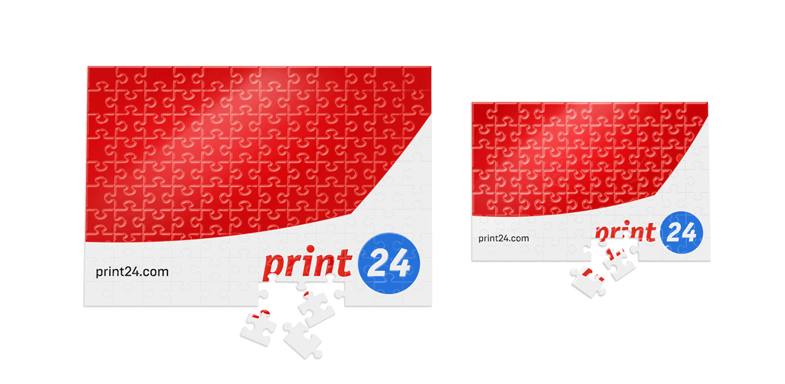 Individual gift voucher
Gift vouchers are often seen as "last-minute gift ideas", as an uninspired way of giving someone something without being really creative. Making your photo puzzle as an individual gift voucher will transform a boring voucher into a unique present. Imagine your girlfriend putting together a small heart-shaped puzzle and discovering you want to invite her away on a holiday! With your photo as a puzzle, the gift voucher becomes a real birthday highlight.
Varied merchandising or promo items
Photo puzzles are not just popular among puzzle-mad private customers. At print24.com, many companies also order individual puzzles. Because the highly customisable product is ideal for merchandising campaigns or promo stands. Individual photo/motif puzzles similarly remain a lasting memory for your visitors as giveaways at trade fairs. Already got a suitable motif created by your design department? Then start configuring your photo puzzles right here. We can make up to 250 for you at a time.
Personalised toy
Children love puzzles. So how about creating personalised puzzles for your children or your friends' children? For example, you can take a photo of your child's favourite fluffy toy and have us convert it into a varied puzzle. Depending on the motif and format you choose, you can even determine the photo puzzle's degree of difficulty. You will receive your finished product in a stable white box. The puzzle also comes with a 10 x 15 centimetre print of the puzzle motif, which can be used as an aid for solving the puzzle.
A great souvenir for your wedding guests
Gifts for wedding guests have a long tradition. With your wedding photo as a puzzle, you can give your guests a personal souvenir to remind them that they were part of the happiest day of your life. Whether as a puzzle in a heart shape or as a rectangle with 70 pieces, we print your wedding picture in top quality to ensure your guests have a great memory of the festivities.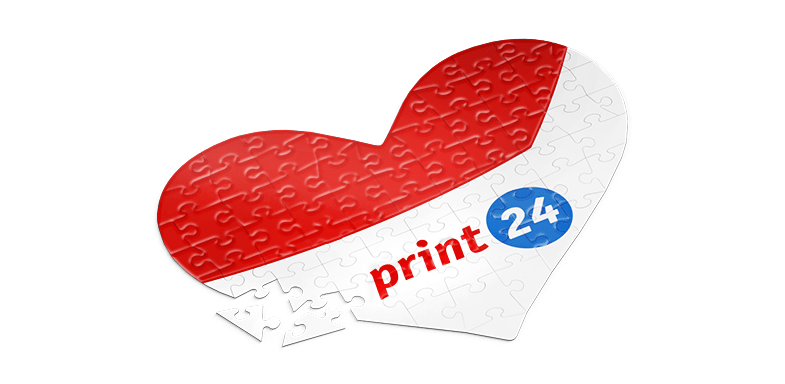 Formats for photo puzzles
We print your photos or graphics in three different formats. On the 70-piece puzzle, 190 x 280 millimetres are available for your desired motif. If you choose the photo puzzle with 120 pieces, you can also print more detailed pictures on 285 x 405 millimetres. You can order the 63-piece heart shaped puzzle from us in 200 x 250 millimetre format.
Print jigsaw puzzle with four-colour printing
You are flexible when choosing your motif - images, logos or coloured graphics are printed perfectly in CMYK four-colour printing. Your photos are applied to the puzzle with quality colours, ensuring a high level of detail for your product.