Photo wall pictures
Better print online!
Photo wall pictures printing
There are many ways to add a photo to a wall. At print24.com, private customers can choose from a wide range of design options when making creations with their personal photos - ideal as a gift or home decorations. But we also offer inexpensive print products for businesses and public establishments, enabling large-format photos to be incorporated easily and efficiently. High volumes of up to 250 items per order are no problem at print24.com either. Whether you want to spruce up your home, office or waiting room, having your top photos will create a unique, impressive effect! As reliable online printers, we fulfil your print orders professionally, in top quality, and at fair prices.
Pictures liven up rooms and give them a special atmosphere. With the right wall designs, it's up to you whether you want to make your premises cosier or more formal, more varied or more personal. With a photo on canvas, you'll add individual enhancements to your office or waiting room, creating an impressive, unique wall decoration.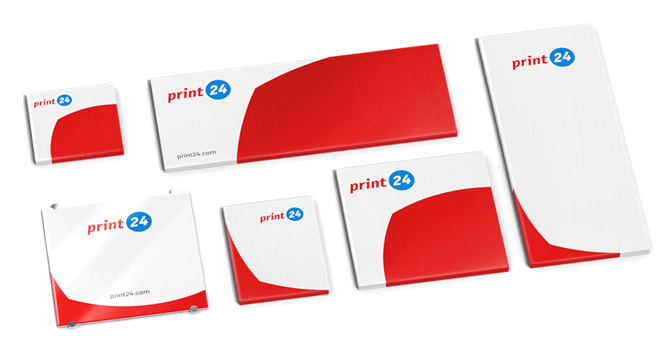 Many formats - from small to large
From small 300 x 300 millimetres up to 600 x 800 millimetres you can have your desired format configured and printed online. You can order wall pictures made of lightweight foam from a size of 300 x 300 millimetres. If you opt for wall pictures made of Forex and canvas board, the selection starts at 300 x 400 millimetres, Alu-Dibond at 400 x 400 mm. All rectangular wall pictures available from print24 can be printed in portrait or landscape format. Please note for your print job: On each side of your photo you have to plan 3 millimetres for the bleed.
Ali-Dibond:
400 x 400 mm, 400 x 500 mm, 400 x 1000 mm, 600 x 800 mm
Forex:
300 x 400 mm, 400 x 1000 mm
Lightweight foam:
300 x 300 mm, 400 x 500 mm, 400 x 1000 mm, 500 x 700 mm, 600 x 800 mm
Cloth-lined board:
300 x 400 mm, 400 x 500 mm, 600 x 800 mm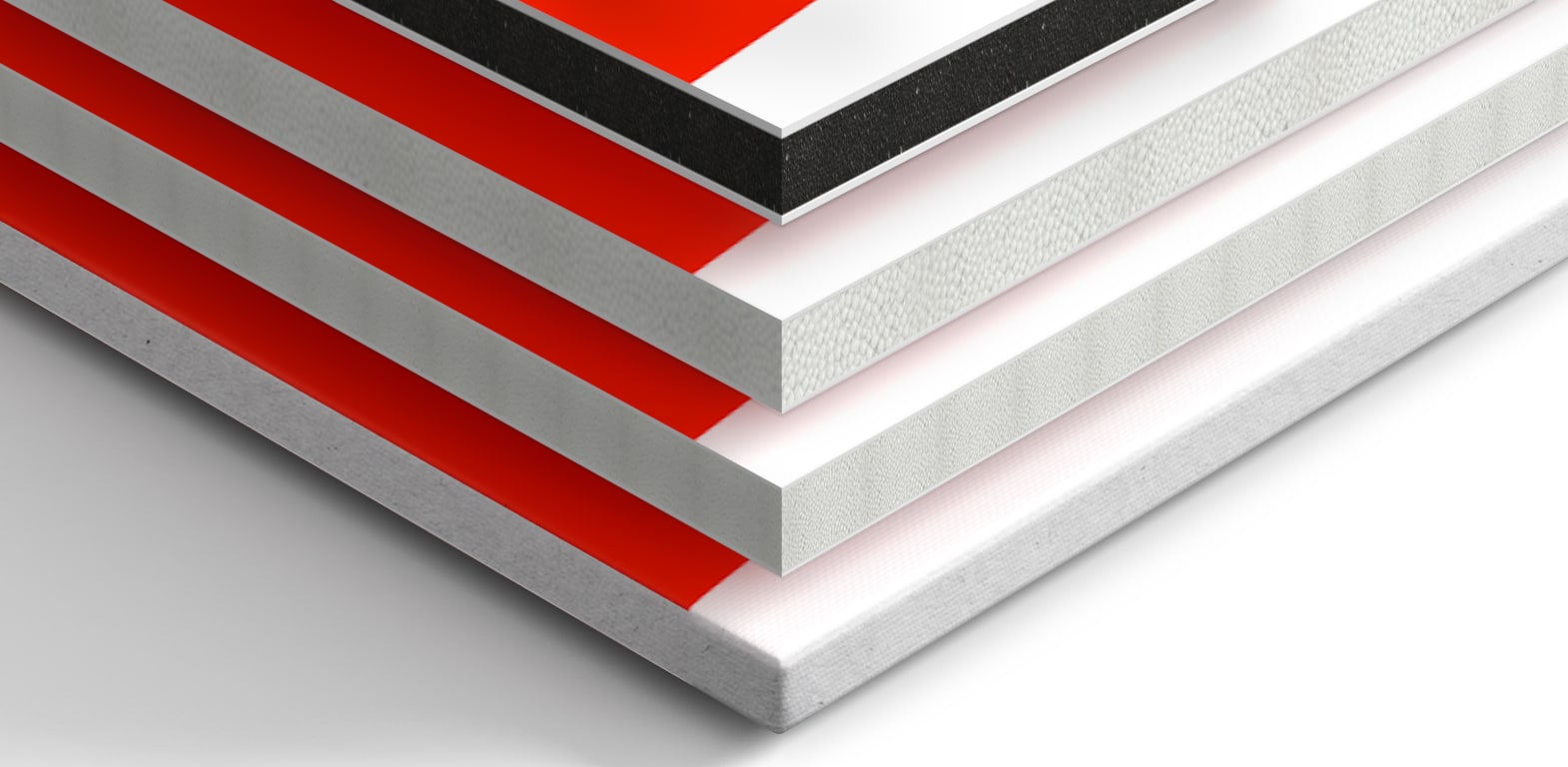 Select the material suitable for the intended use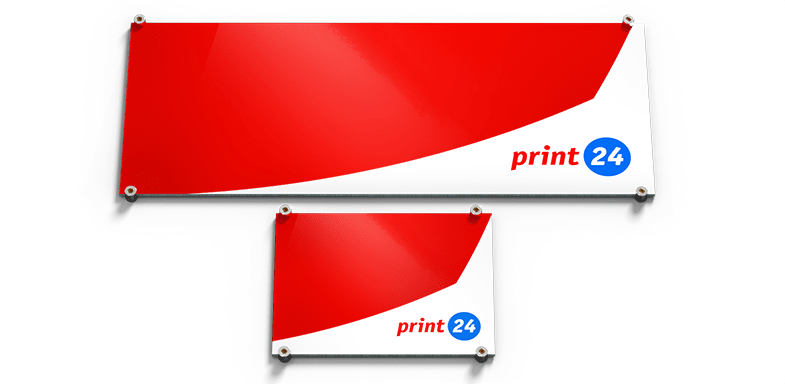 High-quality plastic: Forex
Choosing to print on 8-mm-thick Forex plastic sheets means opting for a pragmatic solution, because these prints are moisture-resistant and fire-safety-certified. But there's much more to it than that. With Forex, you'll be choosing a material which brings photos to life. By using UV-hardening inks, we also achieve a very high degree of lightfastness. And the semi-gloss finish gives your photographs an additional element of visual sophistication. Forex prints are ideal both for public spaces and private homes, e.g. children's rooms.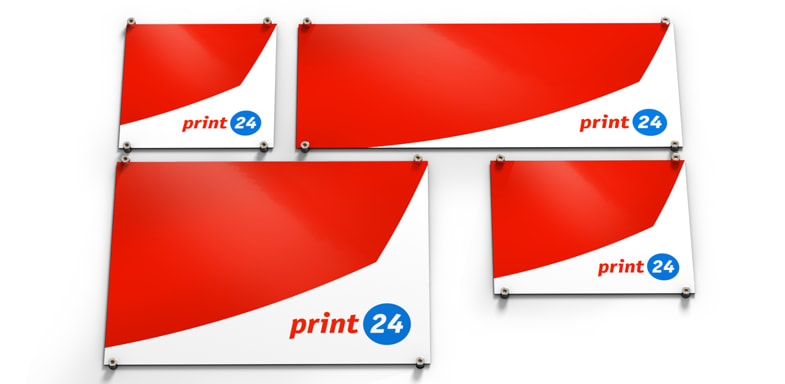 The classy wall picture: Alu-Dibond
Alu-Dibond is a premium material. In these cases, we print 3-mm-thick white or pale grey sheets, particularly distinguished for their brilliant colour, and are able to achieve maximum lightfastness by using UV-hardening inks. This classy wall decoration is ideal for representational premises, such as offices or conference rooms, although photos on Alu-Dibond also look attractive in modern homes.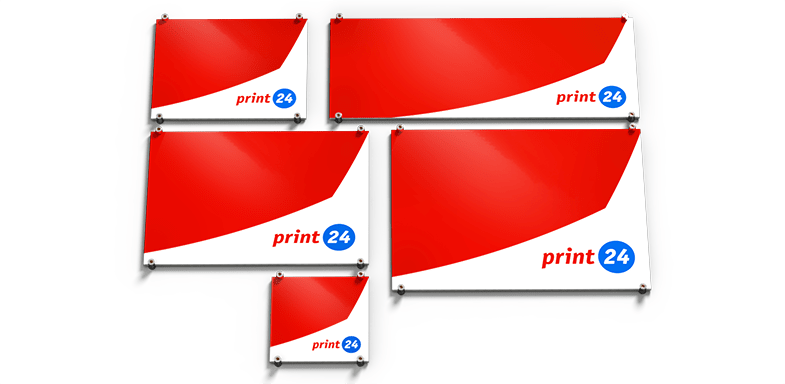 Airy and light: Lightweight foam
Printing photos on 10-mm-thick, white and lightweight foam is a particularly flexible wall decoration option. The lightweight panels are super easy to use and can be applied anywhere – in the office, in your home kitchen or at trade fairs and events. We print your pictures on semi-gloss surfaces using solvent-free inks, and selecting special formats, such as square or panorama, gives you further design options. Thanks to the B1 fire safety certification, your photo prints on lightweight foam can also be used at public establishments or events.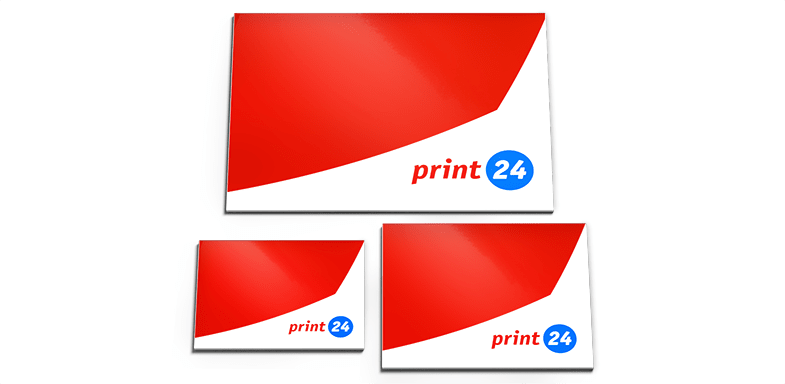 Very classy: Canvas board
Choosing to print your photos on a white canvas board means opting for a very flamboyant, classy material. Our canvas board is lined with a medium-grain cotton fabric. After printing, we flip your pictures over via the side edges and line the back of them with white paper. The very solid canvas print boasts impressive intensity, which we also achieve through UV-hardening ink.
Quality inks for your wall picture printing
For the printing of your wall pictures we use the tried and tested CMYK four-colour printing process and for this purpose print with inks of the best quality. This makes it possible to print both photos and graphics or drawings in the highest quality on the murals.
To get a picture of your canvas before printing, you can select the Screenproof option. When making your selection, please note that the screen proof is not colourfast and that this may result in colour deviations from the later print.
With or without a mounting bracket – it all hinges on the material
print24's canvas prints, Forex prints and canvas cards come without a mounting bracket, giving you flexibility with how you want to hang them up.
If you choose lightweight foam for your photo prints, we can optionally fix a mirror plate to hang on the picture. When it comes to print products on Alu-Dibond, you can choose from three options: without mounting bracket, with reflective metal mounting, or with a clip fastener.