Photo mugs
Better print online!
Personalised Photo mugs
What could be better than combining practical use with a touch of individuality? Having cups printed allows you to brighten up your everyday life and that of your friends, acquaintances, relatives or work colleagues. As a company, you can boost your corporate identity with a printed cup, and convey a uniform image to your customers. The team at print24.com welcomes your cup printing orders, regardless of whether you're a business or private customer. As one of Europe's largest online print shops, we not only offer you excellent print quality, but also very low-cost production. Get started right here and configure your cup print online!
Is there any item of tableware used more frequently than tea or coffee cups? They're the first to accompany us in the morning. In the afternoon, a mug filled with fresh tea revives us for the last few hours of work. A cup of steaming hot tea or coffee essentially represents the idea of socialising with friends. Our favourite mug is there for us when we need comforting or when it's time to celebrate. It puts up with those of us who aren't morning people and is a silent participant in conferences and meetings. So why should you be satisfied with the monotony of a mass design? Here at print24.com, you can have cups printed with your desired motif. Just for yourself or as a personalised gift idea for friends, relatives or even the boss. Get started now and configure your very own photo cup!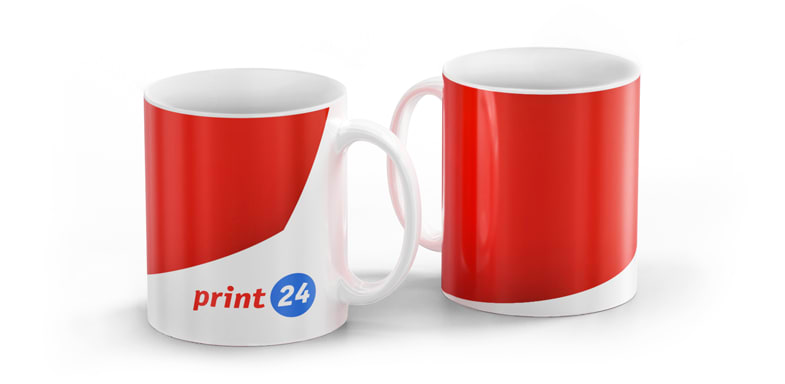 Printed cups as a gift idea
The digitalisation of photography has created many different ways of displaying your own pictures. In addition to photo mouse pads, personalisedphoto canvasandphoto collages, printed cups are also very much in vogue. And it's no wonder because these print products are perfect as personal gift ideas.
Create a photo cup with a picture of the idyllic beach snapped during your most recent holiday! This will take you back to that enjoyable time as you sip your morning coffee.
Have cups printed for your wedding, and give these out to your guests as very personalised gifts. Print a picture of a newborn child or photos of your children onto cups. You'll make grandma, grandpa, aunts and uncles all smile every day as they enjoy their tea or coffee.
Give your partner a photo cup with your picture on it so they always think of you at work!
Themed cups for merchandising
You don't have to produce coffee or run a café to thrill your customers with themed cups. Simply use the personalised everyday item for your marketing. Have cups printed with a catchy saying, funny motif or even just your promotional message at print24.com, and impress your target group with your products or services even at this level!
If you have any questions about the delivery or order volumes, you are welcome to call our customer service consultants.
Photo cups to boost corporate identity
Ever since the time of the legendary dining car, themed cups have been a popular way of advertising corporate identity. At print24.com, you can have cups printed with your desired motif. Whether it be your company logo or a photo of your company headquarters, it's up to you. The printed cups can then either be distributed to your staff or used in your canteen or tearoom.
Space for your motif
Particularly when choosing photo motifs, it is important to remember you only have limited space on a cup. Opting for a white ceramic cup or magic cup gives you a printing area of 95 x 210 mm.
Excellent printing inks
To ensure your themed cups or photo cups retain their appeal over a long period of time, we only use high-quality printing inks which don't wear off in daily use. The actual printing follows the 4/0 CMYK process, ensuring all colours remain fresh and vivid, and text detailed and precise.