Photo collage
Better print online!
Personalised photo collage prints
Collage is the word used in art to describe a process in which something new is created out of many small individual pieces. It comes from the French verb "coller", meaning "to stick". As a result, collages were originally stuck together. With print24.com, you can become an artist without any gluing, because we give you the option to create your own photo collages in just a few easy steps. Have them printed by us at low cost and in top quality. Whether framed or as a simple wall picture, personalised photo collages are a great gift idea. Already chosen your favourite digital photos? Then get started on the process and enjoy your very own work of art in just a few working days!
We all decorated our walls with posters of stars in our younger days. But while photo posters only work with one single motif, you can choose from many other design options when creating a photo collage. For example, you can arrange the top 10 photos from your latest beach holiday into a great overall picture, or produce an attractive montage of the previous year with your family. Put together a family tree with photos of all your family members, create an interesting collage of your closest friends, or present a best-of with pictures of your dog or cat in the form of an amusing photo collage. Just from these few examples, you can see all the different things you can do when it comes to collages. You have virtually free rein over your imagination and creativity. You just need to have the right photos in digital format, then you're all set to get started on a varied poster.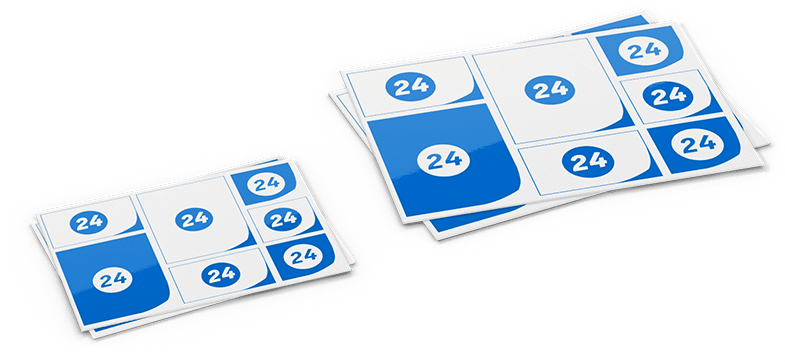 A gorgeous, personal photo gift
Photo gifts are the current trend. And it's no wonder because our Smartphones give us the ability to take great snapshots any time. High-quality cameras have now also become so affordable, that almost anyone can create attractive pictures. But what do we do with all the people, events, beaches, mountains and cityscapes captured in the photos? print24.com gives you many different options to transform your images into personalised photo gifts, such as photo puzzles or photo wall pictures. But if you've decided to create a photo collage, you'll be able to make it even more personal, while also incorporating your creativity.
Posters for your company
How about custom posters for your company? If your employees could design the posters for your office space themselves? Rely on the extensive design options with your photos with print24.com! We offer more than just simple wall murals or printed canvases: with us you can get creative and design your own photo collages.
Do you have any questions about this unique photo gift and want to know what to look out for when creating a photo collage with print24.com? Then simply call our service staff. We are at your disposal by phone. Of course, you can also contact us by mail.
Two practical formats
Our photo collages come in panel format in DIN A5 (148 x 210 mm) and DIN A 4 (210 x 297 mm). This means the photo posters are a small, manageable size, perfect for framing or hanging on walls or bulletin boards.
Proven printing process for your collages
Your photos are applied to the paper in CMYK four-colour printing with quality inks. In this way we ensure a high level of detail for your product. This makes it possible to print images, logos or coloured graphics perfectly and in high detail.
High-quality coated art paper
For the printing of your photo collages we use high-quality paper gloss coated art paper with a density of 250 gsm, which is cut to size. You need more than just a printed photo collage or want to duplicate your masterpiece a hundred times?
With print24.com this is no problem. Our modern print shop has sufficient capacity so that we can also carry out larger orders reliably and quickly. You can order up to 250 photo collages at once per order.
Special refinement for a special product
At print24.com, you can choose the standard printing process or a special refinement option – a glossy UV varnish. This varnish is additionally applied to your photo collage, which is creating a glossy effect to the motif.
If the entire photo collage has been coated with UV varnish, the product looks more exclusive but is also more robust and protected against scratches. The UV varnish option can be found in the configuration menu. Once you have selected it, the price of your photo collages is automatically adjusted.