Binder Slipcases
Better print online!
Binder Slipcase printing
Anyone who uses ring binders to keep things tidier in the office will appreciate the matching binder slipcases even more. These practical products not only help sort folders based on theme, but also protect them. Here at print24.com, you can have slipcases printed with your own personal motifs, including as single items. We then reliably and professionally take care of the printing process. You'll also benefit from the expertise and combination of top quality and fair prices at one of Europe's largest online print shops. If you've already created your print file, you can start configuring your binder slipcase for printing now.
If you want to organise your office in a more standardised manner, protective binder cases are the ideal way to go. You can, for example, have this product printed with your corporate design to ensure your files all have a perfect, uniform look. Another option would be to print the slipcases in different colours for different departments or document types. The system you apply is completely up to you. And where can you print binder slipcases in your corporate design or with other motifs at fair prices? At print24.com, of course! We'll be glad to assist you with any queries you may have about this product.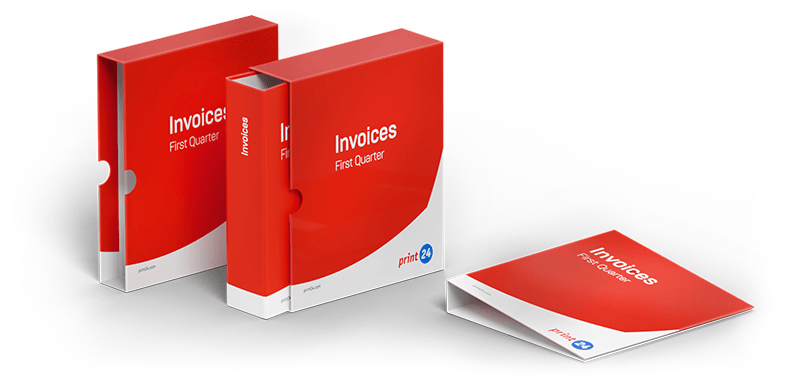 Professional accessories for sales and administration
Help establish more order in your sales department by creating individual slipcases for ring binders. They will provide better protection for binders containing brochures, forms or other documents, and also enable clearer, more manageable filing. The advantage of this system is that the binders are simply slid in, and can be retrieved by pulling them out again.
Your sales and administration staff will thank you for it. These slipcases are also perfect for medical clinics, law firms, public administrations or agencies. All you need to configure your printing order is a print file containing your motifs. The order can be completed in just a few clicks!
Perfect size and shape for printed print24.com ring binders
All slipcases you order from print24.com are suitable for DIN A4 ring binders. Choose between two different fill heights: 30 mm for narrow binders and 50 mm for wider ones. The DIN A4 format is of course also large enough to fit magazine files or brochures.
To make the slipcases, we use 1.8-mm-thick cardboard, which we laminate for added strength and durability. Finger cut-outs are a standard feature for easier handling.
Protected against scratches – lamination as a standard
To ensure your binder slipcases last even longer, we laminate these as a standard feature. At print24.com, you can configure this refinement in four different versions. The "gloss" option creates stylish reflective effects on your slipcases, while "matte" produces a discreetly elegant surface.
Your slipcases will be even more robust with scratch-proof, matte lamination, which prevents the products from getting scratched even when carried around frequently. Finally, laminating the outside of the products with a linen finish not only looks good, but is also pleasant to the touch.
Tried-and-tested printing process and loads of printing options
Want to print pictures on your slipcase or just plain lettering? Want to create a full colour scheme or are you happy with a simple logo on your print product? Whichever motif you choose, the sky is virtually the limit when it comes to print24.com's tried-and-tested CMYK four-colour process.
Let your imagination run wild. We'll reliably take care of ensuring high-quality printing! Before printing, please make sure you add a two-millimetre bleed on each side of your print file.