Magazine file folders
Better print online!
Magazine file folders printing
Magazine files are extremely practical office items, because they allow customers to archive documents quickly and easily, whether these be official forms or travel agent brochures. Perfectly at home on your desk, magazine files are very useful. For example, many people store their invoices in them for subsequent sorting. Here at print24.com, you can have magazine files professionally printed with your own motifs. Thanks to flexible order quantities, our service is aimed at business and private customers alike. In both cases, the printing order can be conveniently configured on your screen. All you need to get started is a print file with your motifs, slogans or pictures.
Magazine files allow documents to be stored standing upright. The advantage here is that loose sheets don't lie around randomly, and are instead stored away tidily in one spot. Another plus is that the papers don't require additional punch-holes in order to be filed; they aren't sorted into binders until later on. Magazine files are commonly used by car rental agencies and holiday-home landlords. Copies of the contracts are filed away at the start of the lease and enclosed with the invoice at the end.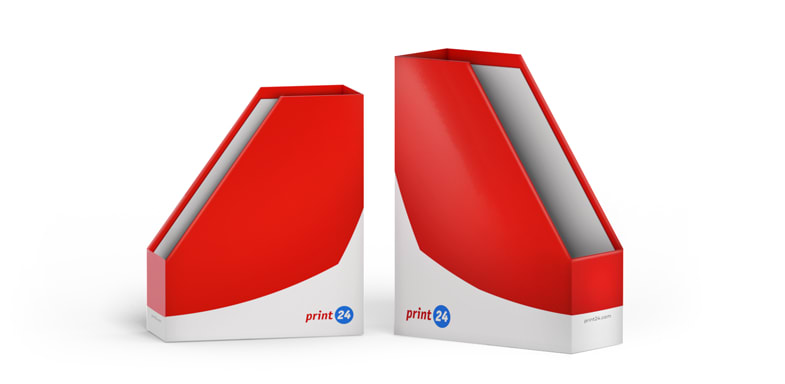 Magazine files in your corporate design
Companies which cultivate their own corporate design generally exude professionalism and style. By creating magazine files in your corporate design, you'll be ensuring a uniform company image down to the finest detail. There are, of course, other printing options available for your magazine files, such as different colours or designs for different storage locations. Or assign each of your departments differently designed magazine files. Already got a design idea ready to go as a print file? Then get going here, and start your printing order with the super easy configuration at print24.com!
Magazine storage at libraries or schools
What's the best way to store magazines neatly and cleanly? Magazine files. By choosing print24.com magazine files, you'll not only be shopping smart but can also have your school's or library's logo printed on them. Perhaps you have your own private newspaper or document archive, which is another great way to use our magazine files. We'll be glad to help you choose the right files.
One format, two different fill heights
All magazine files at print24.com are designed for DIN-A4 paper and documents, though they can also easily hold smaller formats. The quantity of documents or brochures they can fit depends on the fill height.
You can choose between fill heights of 50 mm and 70 mm, with the necessary strength provided by the material – 1.8-mm-thick, long-lasting, laminated cardboard.
Refinement as a standard
print24.com's magazine files are all laminated on the outside, making the cardboard stronger and more robust. You can choose from four different options here. For example, many customers opt for a glossy surface because it looks very elegant, though matte lamination is no less stylish.
The linen-finish is particularly unique to the touch, but if you want a truly robust magazine file, go for the matte scratch-proof version.
Modern printing processes for maximum flexibility
To enable maximum flexibility when selecting your motifs, we use the tried-and-tested CMYK four-colour process to print your magazine files, which even enables easy printing of photos. One plain, all-around colour coating is equally possible. After printing your products, these are then assembled before being delivered to you.
Please note that the edge tuck-in is visible on the inside. If you have any questions about the printing process or want to learn more about it, you are welcome to contact us or email our service team.