Document folders
Better print online!
Printed document folders
A tidy house is a tidy mind – this saying has been passed down for generations. You too can tidy up your documents, with style and a flair for design. Here at print24.com, we can professionally print your document folders with your personalised motifs, allowing you to not only enjoy extremely low prices, but also top quality. As one of Europe's largest online print shops, we also have the capacities necessary to print even very large printing orders of up to 10,000 document folders at once. If you'd like us to print your document folders, you can start configuring your order right here on this page.
Want to store documents, magazines or price lists safely and securely but still want the individual pages to be easily accessible? Then our document folders are just what you need. For example, you can choose a different colour for each quarter, adding more order to your document management system before you even start. Or you can use different designs depending on whether you want to store price lists or magazines. It's completely up to you because you're the one who configures your print products here at print24.com. We are of course available to assist if you have any queries – just contact us by email or telephone.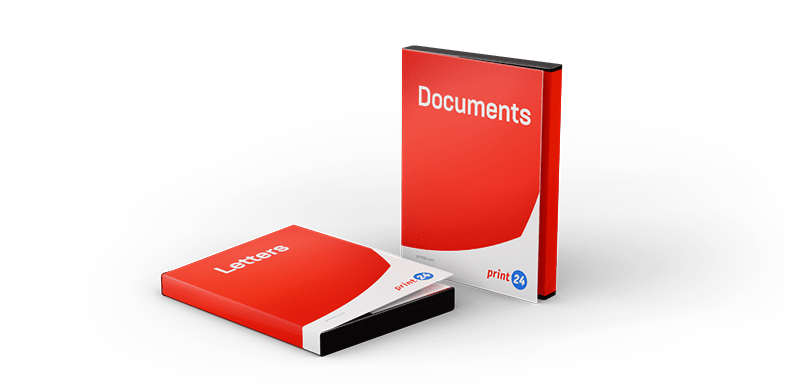 The perfect folder for presentations or trade fair appearances
Wouldn't it create the perfect impression if you and your staff stored all your important documents in uniform folders during presentations and trade fair appearances? Then have your document folders printed by print24.com. It's extremely simple. All you need is a print file with your corporate design or an attractive graphic which generates recognition for your company. In just a few clicks, you can then configure your print order, and present your staff with a stylish, practical product.
Agents or car dealers often work with many different documents when selling their items. And you can use strong, stylish folders to store all of these! They allow your customers to have everything in a neat package while emphasising your professionalism. You can design your folders however you wish. Thanks to modern printing processes, we can print virtually any motif on your folders in top quality.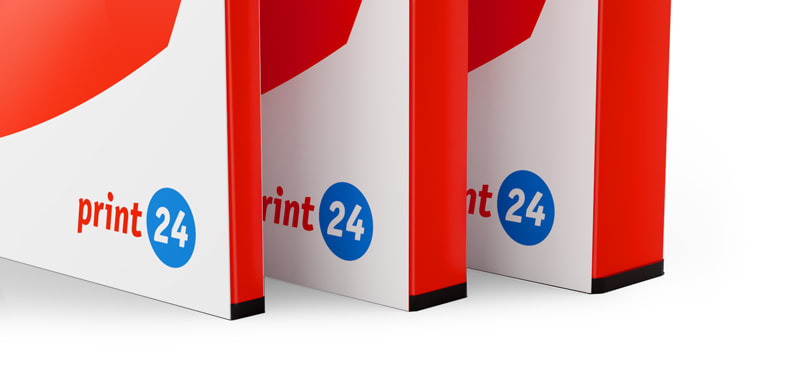 One format and three fill heights to meet your needs
All document folders available at print24.com are suitable for A4 format, though they can of course also hold smaller documents. They come in three different fill heights: 15, 30 and 45 mm.
Thanks to the laminated cardboard, the document folders are strong enough to ensure they can easily be used for extended periods of time without much wear and tear.
High-quality workmanship and an innovative lock
Our document folders display excellent workmanship. The products are all made from high-quality 2.2-mm-thick cardboard, which is further reinforced with lamination. Black or grey plastic caps are also affixed at both ends as added protection for the folder's contents. After printing, the folders are delivered in an assembled format. When creating the print file, note that the two caps will extend 7 millimetres into the print format.
The fastening mechanism is a real highlight. The patented 3M™ Dual Lock™ system is a flexible, self-adhesive, roll-shaped pressure lock. It is essentially a strip of polyolefin with tiny domes on top. When the lock is pushed together, the two parts interconnect firmly but can be opened again just as easily. One major advantage of this special lock is that it does not involve any holes from screws or rivets when being affixed to the folder, resulting in a better visual appearance.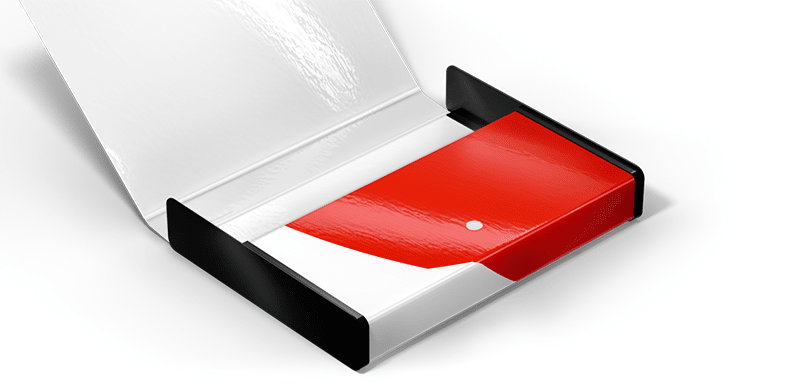 Better protected: A document folder with laminated exterior
Your documents and those of your existing or potential customers will be even better protected in your document folders because they are laminated on the outside as a standard feature. This means we apply an additional coating, which comes in four different versions:
Glossy lamination creates great visual effects, as does the matte option. If you choose linen-finish lamination, your document folders will be particularly pleasant to the touch, while the "matte scratch-proof" variant provides added robustness.