Plastic cards
Better print online!
Custom plastic card printing
Plastic cards are more than just simple plastic print products in credit card format. When we print your plastic cards, they are transformed into chic membership cards, secure access cards or attractive customer cards. You are completely free to choose your motifs and imprints yourself. Whether in corporate design or with simple plain lettering, with print24.com you rely on one of the biggest online printers in Europe to realise the plastic cards professionally and in top-quality at low cost. It makes no difference whether you start with 25 or need 50,000 cards – thanks to our state-of-the-art printing technology, we can reliably and rapidly realise any order size.
We all know them, the moments just before a birthday, before Christmas or another holiday: we haven't got a present. Since gift vouchers have conquered the market, giving presents has become easier for many people. A specific amount of money is loaded on the high-quality designed plastic card for the recipient to redeem later on whatever he/she likes most in the relevant shop. With print24.com, you can have a gift or shopping vouchers printed for your business. You can choose between simple plastic cards or more elaborate print products with a magnetic strip or smart card, which can be loaded with credit over and over again.
Robust material and perfect processing – ready for daily use
All plastic cards, whether equipped with chip, magnetic strip or RFID technology, are made at print24.com from top-quality plastic. This is then varnished or laminated to give the cards the sturdiness they need for daily use.
The format of the cards is always 85.6 x 54 mm. This way, these cards can be comfortably kept in credit card cases and provided with standard covers.
Your requirements - Different versions of our plastic cards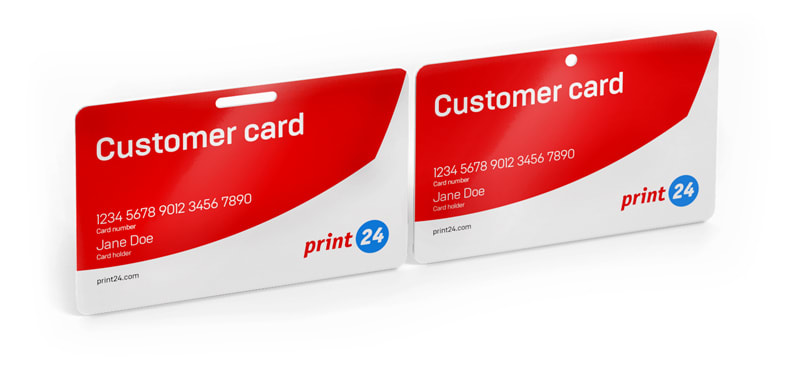 Plastic cards at print24
The simplest version with no extra features are the plastic cards. They are available in varnished plastic and laminated plastic in glossy or matt. Depending on the material you can then choose one of the following extras: LoCo magnetic strip, signature field, round or slotted hole. The matt and glossy cards can additionally be applied with various refinements.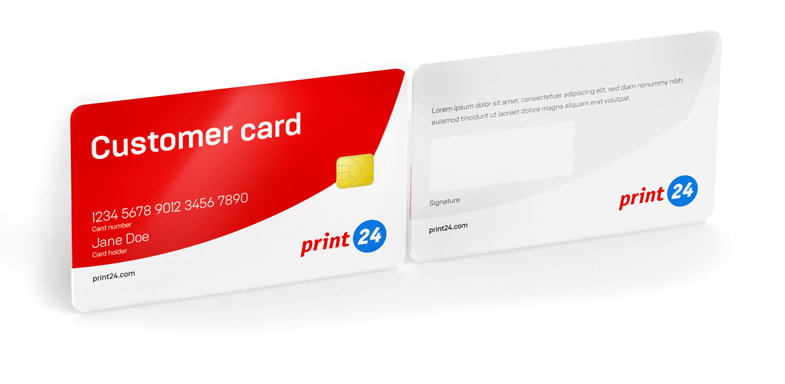 Chip cards
With the chips cards you have the choice between positioning the chip on the left or the right side. As an extra, you can add the following options: LoCo magnetic strip, signature field, round or slotted hole. If you need chip cards, we have two different versions available:
The FM4442 chip card is a medium with an integrated storage capacity of 256 bytes. This form is perfect for identification purposes and suitable as a bonus card for marketing actions. For extra security, this card possesses PIN protection.
The FM24C02 chip card also offers 256-byte storage capacity to be used for marketing or security purposes. The standard chip can be described or read on an open system. To read both chip card versions, both appropriate reading/writing devices and the right software are needed.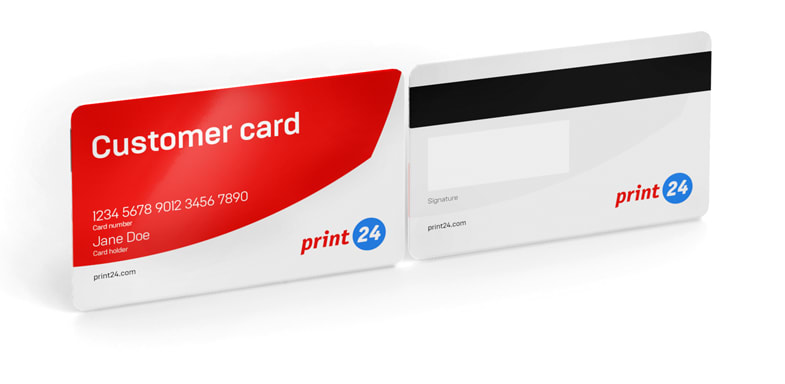 Swipe cards with HiCo magnetic strip
There are two versions of magnetic strips available at print24.com. Our swipe cards are equipped with a HiCo (high coercivity) magnetic strip by default, enabling your plastic card to store data for a longer time because the magnetic strip is more robust. Identity or security cards are often provided with this kind of magnetic strip. LoCo (low coercivity) magnetic strips, in contrast, posses a lower flux density and can be added to our chip, plastic and RFID cards as an extra. These LoCo magnetic strips are used for data that changes frequently, for example, for daily access changes to hotel rooms.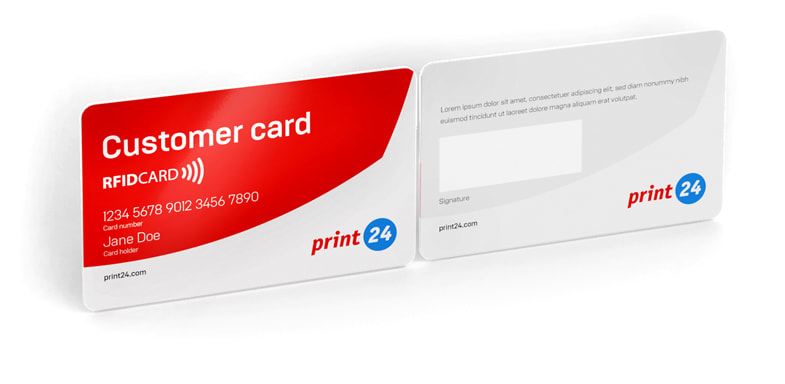 RFID-cards including MIFARE® chip
A special variant of the plastic cards printable here are RFID cards. The use of "radio frequency identification" allows, say, the users of these cards to provide contactless identification. The data on the NXP MIFARE® Classic 1K chip can actually be read by means of radio waves at a frequency of 13.56 MHz up to a distance of 10 cm. This form of plastic cards is in common use today for student identity cards, library passes, time recording systems and access controls. The RFID-cards are made from glossy laminated plastic by default and you can add the LoCo magnetic strip or a signature field as an extra.
Hologram security feature and other refinements
If you want magnetic or plastic cards for your membership cards or other products printed at print24.com, you can choose between various refinement and security options. This makes them better protected against forgery. We use laser technology to insert the hologram into the card. You have two designs to choose from (VIP and a globe). Other available refinement options are hot embossing, embossing on the left/right side as well as a thermal transfer print on the left/right side.
Here is an overview of the available refinement options:
Hot embossing - Gold or Silver
Hologram - Rainbow foil (left/right)
Hologram - Globe or VIP (left/right)
Embossing - Gold or Silver (left/right)
Thermal transfer print - Consecutive numbering (left/right) or barcode EAN128 with consecutive numbering
High quality printing
We print all plastic cards on both sides in landscape format using the 4/4 CMYK printing process. In this way, you have the greatest possible flexibility in the choice of motif and text. With the four basic colours, all possible colours can be produced directly during printing.
At the same time, the high quality of our colours also ensures that you can print photos or high-resolution graphics true to detail and with a high colour depth. In the plastic card version, you also have the option of combining CMYK with the special silver colour.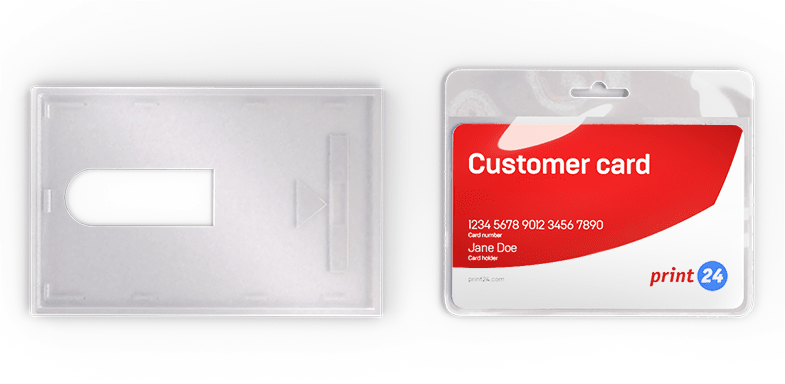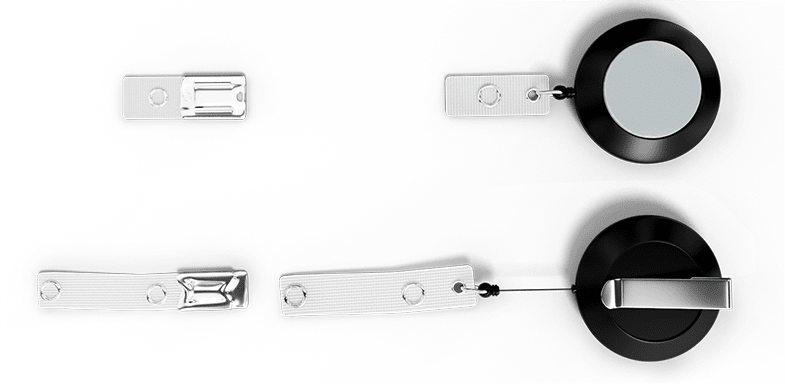 Practical accessories for plastic cards
We can recommend a yo-yo in a small version or oval in black or white-transparent as a practical accessory. As protection for the cards, you can also order a high-quality identity-card holder in portrait format or a soft PVC cover in portrait or landscape format. If your plastic cards are to be used at trade fairs or in companies for employee identification, then we offer practical metal clips with a plastic or textile buckle, which you can choose in the configuration menu.
On request, we can also equip your plastic cards with other functions. We can equip the chip, plastic and RFID cards with a magnetic strip. A field for the user's signature can be added to any version of cards. Additionally, we can include a round or slotted hole with any card, except the RFID-card, for attaching the card to a key ring. The most features are available when printing simple plastic cards.