Lanyards
Better print online!
Printed lanyards
Lanyards and key rings are popular advertising materials, give-aways at trade shows and events or practical equipment for employees. At print24.com, you can create your own lanyards and have different designs and strap colours printed. The print can be configured and ordered online with just a few clicks. All you need is a suitable print file.
With a lanyard, you can keep all your important keys together and simply wear the lanyard round your neck or wrap it around your wrist. At trade shows and events, lanyards also fulfil another important function. Accreditations or event identity cards can be attached to the lanyard, making it immediately apparent to security, or to other participants, who they are dealing with. No matter what you need lanyards for, here at print24.com you can create your desired products to your own design, including your motifs, logos and advertising messages, and in the colours of your choice.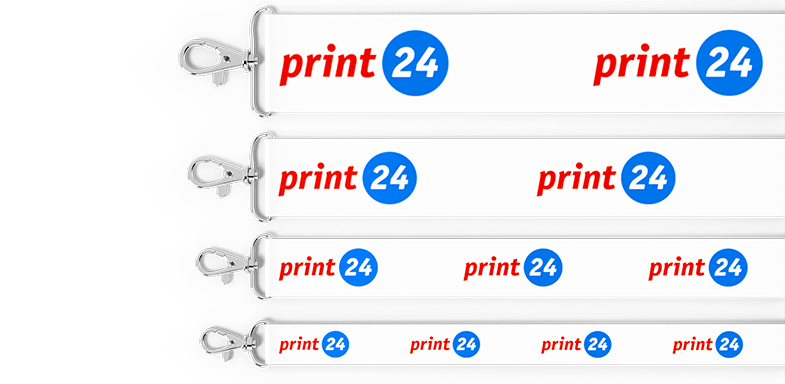 Formats for woven or printed lanyards
Lanyards for printing have a white base colour and can be printed over the entire length of the lanyard, but important elements such as logos and fonts should be placed in the "safe area". The lanyards to be embroidered are available in different basic colours and can be embroidered in an area smaller than the size of the lanyard.
Here you will find the tape measures and the corresponding safe area:
Woven: 900 x 20 (800 x 18) or 900 x 25 (800 x 23)
Printed: 900 x 10 (830 x 6), 900 x 15 (830 x 11), 900 x 20 (830 x 16) as well as 900 x 25 (830 x 21)
Two options for your lanyards
We create two different types of lanyard at print24.com. The woven polyester lanyard is perfect for one-colour designs, with the woven inner side showing a negative image of the design. The design of your woven lanyards is up to you. Everything from text to symbols can be woven into the strap. If you decide on printed lanyards, your designs and text will be applied using dye sublimation printing. This full-surface printing means that multi-coloured designs can be easily realised on the lanyard.
Woven lanyards are available in two sizes. The available dimensions are 900 x 20 mm and 900 x 25 mm. The sizes 900 x 10 mm, 900 x 15 mm, 900 x 20 mm and 900 x 25 mm are available for printed lanyards.
Lanyards available with a practical buckle on request
Optionally, you can also have a buckle on your lanyard. This allows the lower end of the lanyard to be unclipped, meaning that badge holders or other attached items can be quickly removed. Depending on the lanyard version, a plastic buckle in black or white or a half-metal, silver-coloured fastener is available. This is made of die-cast zinc and is particularly robust. The matching part is made of black plastic.
Lanyards from print24.com also have a carabiner. Depending on the product selection, here you can choose between small or large "SecLock" carabiners. These freely rotatable, robust and solid swivel snap hooks have a practical snap fastener.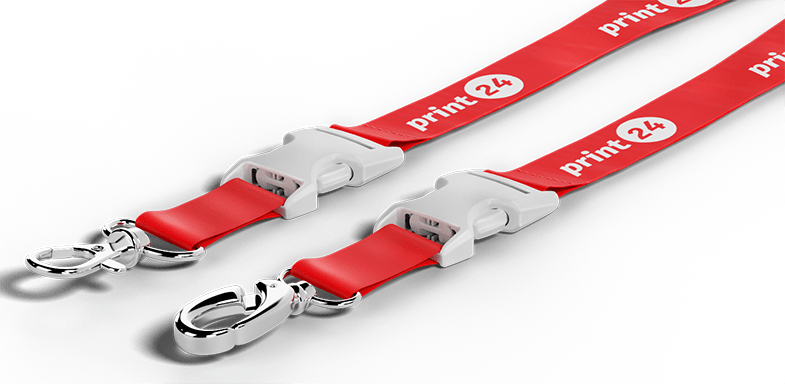 Even more customisation options with a choice of strap colours
If you select woven lanyards, you can choose from the following strap colours: burgundy, dark blue, dark grey, yellow, gold, green, light blue, light grey, light green, blue, orange, pink, red, black, silver and white. Your lettering or designs can then be printed in black or Pantone.
The printed lanyards are a standard white. Using CMYK printing, the surface can be printed with your designs in your desired colours.
Ideal accessories for events, conventions and trade shows
You can also order your lanyards with card holders made of transparent soft PVC. There are three formats to choose from, which can be used, for example, for trade show or convention passes, employee IDs or access cards.