Wristband
Better print online!
Wristband printing
Wristbands, also known as festival bracelets, security bracelets or entry bands, are more than just a ticket. They can be easily checked when entering events, gyms or concerts. At the same time, they usually provide the wearer with access to other services. At print24.com, you can have wristbands printed at low prices and in many different styles. There are not just three different materials and a variety of colours to choose from but also numerous printing options.
A big disadvantage of conventional tickets is that they can be lost very easily. And who wants to be getting a paper ticket out of their pocket all the time to show it at the festival entrance or at food stands? In this situation, a wristband that functions as a security bracelet is a perfect and contemporary solution. It is simply worn on the arm and can be shown quickly whenever necessary. If the products are also presented in appealing colours and finishes, beautifully printed or embossed, festival bracelets or trade fair wristbands can become popular souvenirs of an exciting time. Therefore, it is all the more important to leave the printing of your entry bands to the professionals. In print24.com, you have found the ideal service provider. We will print your wristbands quickly, reliably and in excellent quality.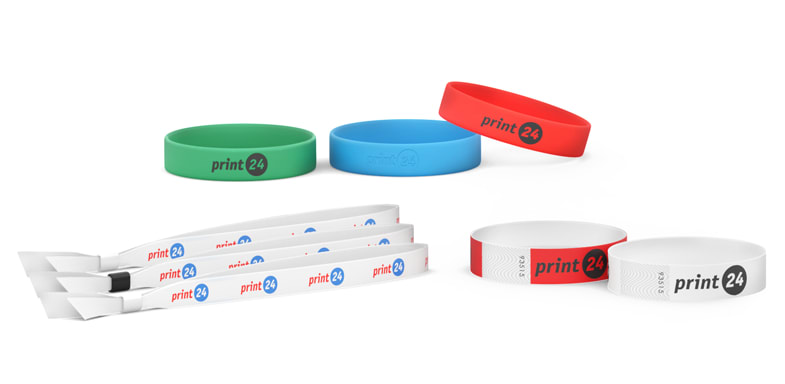 Formats for your wristbands
Tyvek® entrance bands can be printed in the 200 x 15 mm area, but important elements such as logos and fonts should be placed in the safe 150 x 15 mm area. The printed polyester has an area of 300 x 15 mm, but important elements should be placed 1.5 mm from the edge. The woven polyester offers space of 350 x 11 mm.
With the silicone bracelets you have the choice between different arm sizes and thus accordingly different pressure ranges of:
110 x 8 mm (children up to 6 years), 140 x 8 mm (children from 6 years), 160 x 8 mm (teenagers), 180 x 8 mm (women), 180 x 8 mm (standard)
Three materials to choose from for your admission ribbons
When you have your tickers printed at print24.com, you have three different designs to choose from. With silicone admission wristbands, you opt for a very durable, long-lasting and skin-friendly solution. The ribbons can get wet at festivals, for example, and remain completely unscathed. Here at print24.com, you can choose from five different sizes for adults, teenagers or children. Printed fabric admission wristbands are made of polyester. The material makes your admission wristbands very high-quality products that are both resilient and robust.
The polyester ribbons can be sealed with an aluminium seal or a plastic closure in white or black.
With festival ribbons made of Tyvek® you can opt for an inexpensive alternative. The tear-resistant and recyclable material feels like paper, but is much more robust. An adhesive closure ensures that the ribbons do not fall off your wrist during the event.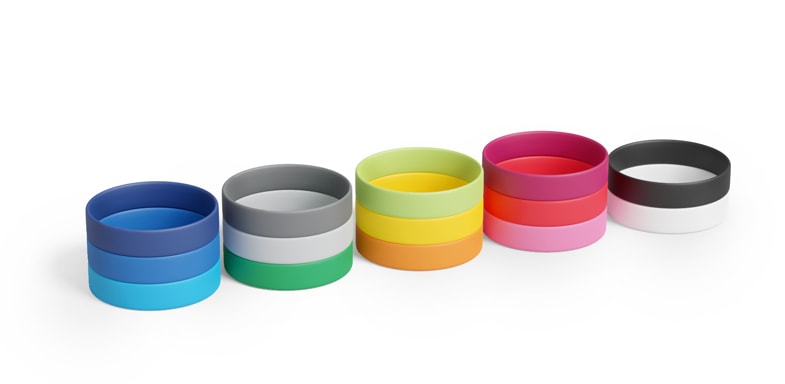 Admission ribbons in a wide range of colours
With Tyvek® ribbons you have the largest choice of colours. We print ribbons for you in apple green, blue, yellow, gold, green, light blue, neon yellow, neon green, neon orange, neon pink, orange, red, silver or white.
The woven inlet tapes can be ordered in 16 colours: Blue, Bordeaux, Dark grey, Yellow, Green,
light blue, light grey, light green, dark blue, gold, orange, pink, red, black, silver or white.
The printed polyester inlet tapes are only available in white.
If you select silicone ribbons, there are these colour options: Bordeaux, Dark Blue, Dark Grey, Yellow, Green, Light Blue, Light Grey, Light Green, Blue, Orange, Pink, Red, Black or White. By combining them with colourful ribbons, you can individualise your festival or admission ribbons even more.
Your print options depend on the material selected
You have the most print and design options with silicone wristbands. You can print designs or text using the CMYK four-colour process or with Pantone colours. In addition, debossing with or without colour filling is available.
Polyester festival bands can be printed or woven with your lettering. For printing, we use the CMYK four-colour process. For weaving, a single colour, either black or Pantone, can be used. Tyvek® wristbands can only be printed in black.